"When you walk in a dream, but you know you're not dreaming….that's amore!" or so serenades Dean Martin in the famous song "That's Amore".  So, if you're looking for the perfect place to celebrate your love in a gorgeous intimate setting, both Europe and North America offer some wonderful romantic resorts with atmosphere and service that will definitely contribute to rendering your next vacation or even a brief getaway, as romantic as they come. Depending on your choice of the continent, here are some of our favorite locations for romance and romancing.
Hotel Cap Rocat – Luxury Hotel in Mallorca, Spain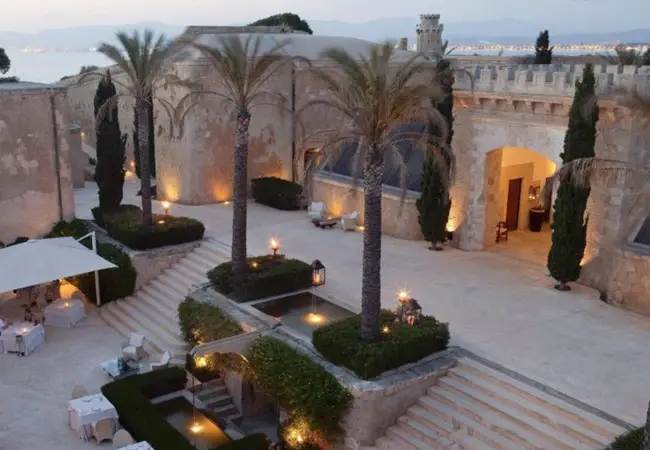 The European continent offers some wonderful romantic spots from refurbished fortresses to spas dedicated to your well-being where you can relax submersed in history, art, and pure beauty. Spain's Cap Rocat in Mallorca was once a military fortress and is now a high-end resort. You will find old-world charm in the unique architecture with top-notch service. This Spanish resort even offers an outdoor eatery with a fantastic view of the Mediterranean. It was chosen as a Unesco Place of Cultural Interest.
Villa Eden – The Leading Park Retreat in Merano, Italy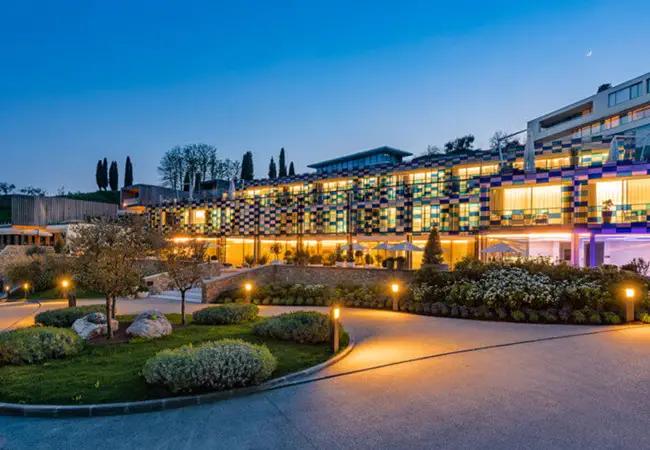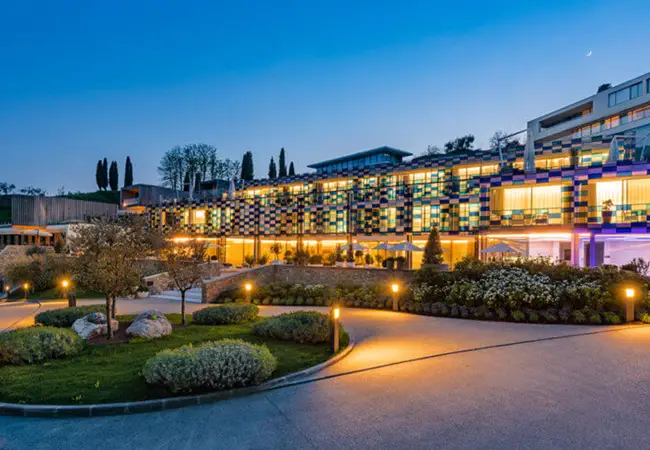 A little farther north, you'll find Italy's delightful Villa Eden in Merano. For romantic travelers dedicated to health and well-being, this spa resort is truly a haven with numerous spa treatments available for guests. They even offer a detox program, a longevity center, and metabolic therapy. This intimate resort, which has just twenty-nine rooms, is immersed in a park and offers tennis, hiking, and even bike tours for those who enjoy the outdoors. Or if you prefer the south of Italy, a visit to the Amalfi Coast's Casa Angelina in Praiano would be worth your while. The Italians are experts in romance and passion combining good food, atmosphere and great wine to assist. Situated on a cliff, the resort offers stunning views of the coast and two wonderful restaurants. The resort also keeps a boat for guests as well as entrance to the very exclusive La Gavitella Beach Club. 
Castello Boutique Resort & Spa in Greece
European offerings wouldn't be complete without considering ancient Greece. A visit to the island of Crete will take you to the Castello Boutique Resort & Spa. This resort is dedicated to luxury and the very finest amenities. It boasts the Callista spa with a heated swimming pool complete with a waterfall, a well-furnished fitness center and a lovely restaurant featuring local dishes. Or if you prefer Rhodes, a visit to the Lindos Blu will offer you incredible views of the sea with a choice suites or villas and some delightful dining at one of the five restaurants within the resort. The Lindos Blu staff is entirely dedicated to personalized service for every guest. What could be more romantic than an island in the middle of the Mediterranean?!
Hotel du Cap-Eden-Roc – Luxury Hotel in Antibes, France
Ooh-la-la c'est l'amour! No romantic resort list would be believable without including France. Antibes' Hotel du Cap is what legends are made of. Famous for F. Scott Fitzgerald's presence in the 1920s, this romantic resort is where Rita Hayworth fell in love with her prince and where Edward VIII and Wallis Simpson stayed following his abdication of the British throne. The resort has nine acres of land with numerous exclusive villas, five tennis courts, restaurants, pools, a boutique and cabanas on the beach for the ultimate luxurious romantic getaway.
Post Ranch Inn – Carmel Luxury Resort in Big Sur, CA, USA
North America can easily compete with the Europeans when it comes to romance. Aided by stunning locations and excellent service, both the United States and Mexico should be considered when looking for the perfect hideaway. California's Post Ranch Inn in Big Sur offers one hundred acres of the garden of Eden for your enjoyment. With fantastic views of the Pacific, this resort has suites, rooms, and even a treehouse. It is home to the renowned Sierra Mar restaurant and offers yoga and a nature walk with guides for guests.
Auberge du Soleil – Auberge Resort in Napa, CA, USA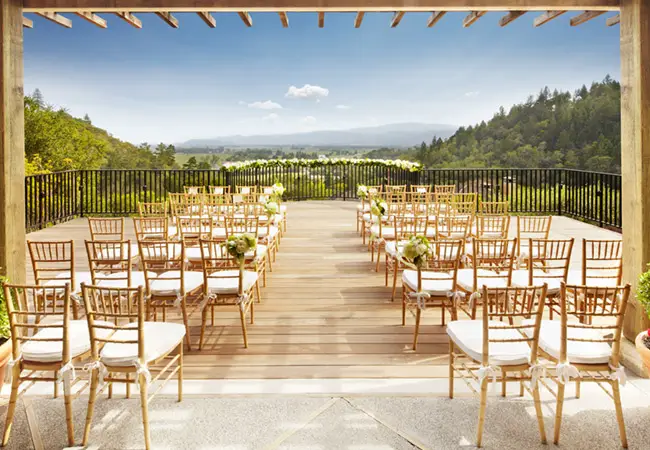 The Auberge du Soleil resort in California's Napa Valley is located in the wine country. The resort features stunning views of vineyards and mountains and the excellent Auberge du Soleil Spa for the ultimate nurturing for you and your honey. You can reserve a romantic dinner for two in the Michelin Star Restaurant with an award-winning wine cellar of 15,000 bottles. All in a spectacular landscape.
Mii Amo Spa Resort – Sedona, AZ, USA
For those who love the Red Rocks of Sedona in Arizona, the Mi Amo is a wonderful choice for a romantic vacation. This resort features a world-class spa with luxury accommodations and amenities. There are two spa services every day during your stay plus both indoor and outdoor swimming pools, a sauna, a steam room and dining featuring local fare. During the day the resort also offers meditation, yoga, and hiking in the beautiful and scenic Red Rocks. 
Hotel Wailea – Boutique Hotel in Wailea, HI
If you prefer a North American island, Hawaii should be on your list. The Hotel Wailea is located on 15 acres of prime Maui real estate. The resort restaurant is perfectly oriented toward the romantic located on the side of a hill with stunning views of the Pacific Ocean and a menu offering selections that bring products fresh from the farm to your table.  The resort offers something for everyone, depending on your tastes, with cooking classes, spa treatments, canoeing and even kiteboarding for the more adventurous. The hospitality service is first-rate and guests can even use the hotel's Tesla autos to explore the island of Maui.
Mi Amor Tulum – Boutique Hotel in Tulum, Mexico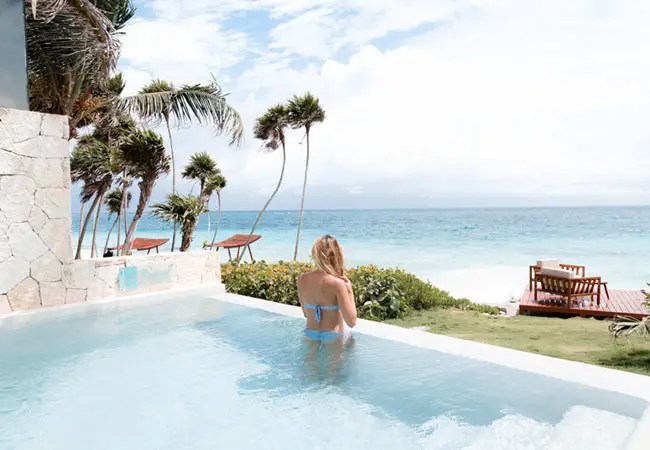 More to the South lies Mexico featuring romance with a Latin twist. The Mi Amor Tulum Resort offers modern luxuries and a fantastic spa, the Colibri Spa for pampering guests during their stay. The Mi Amor has a romantic restaurant with a specialist on-site to create a very special cocktail just for you and your love. The historic area known as the Riviera Maya merits a visit in the company of your special someone. 
Without investigating the entire globe, and the breathtaking resorts in the Caribbean, Polynesia or Asia, both sides of the Atlantic are well-equipped to offer you the romantic voyage of a lifetime. Beautiful scenery, great food and drink, top-notch service and couples' pampering are the basic ingredients guaranteed to create the perfect setting for your romance. The poetry is up to you.