Nabisco's Oreos are loved worldwide as a sweet cookie treat and are dubbed as "milk's favorite cookie" that has been around for over 100 years. This classic cookie has a sweet vanilla creme-filled center sandwiched between two round and yummy chocolate wafer cookies. It's no wonder this unique American cookie has stood the test of time and no other cookies can compare or replace what the oreo offers.
When it comes to design and flavors, the classic style of the oreo never goes out of style but throughout the years there have been many releases of different flavor spins on the cookie. From fruit-flavored, spicy, and international flavors, there are some interesting and unique flavors that might make your head turn the next time you find this cookie on the store shelves. This list of weird oreo flavors will show that sometimes, keeping it simple is best, and classic will remain strong. So pour yourself an ice-cold glass of milk and get ready to dunk these unique oreo flavors into your brain.
1.

American Creme Oreo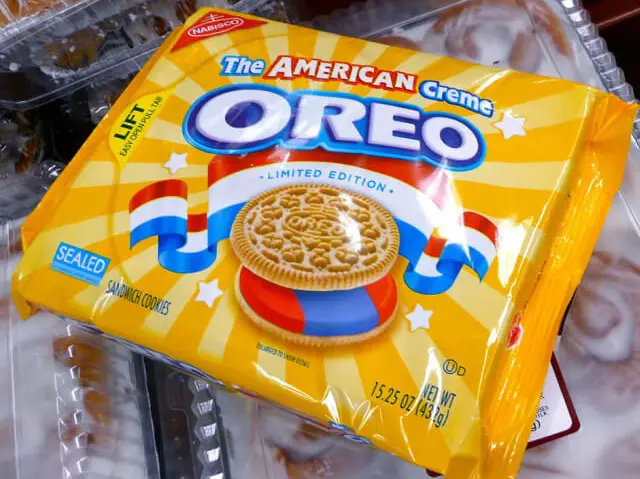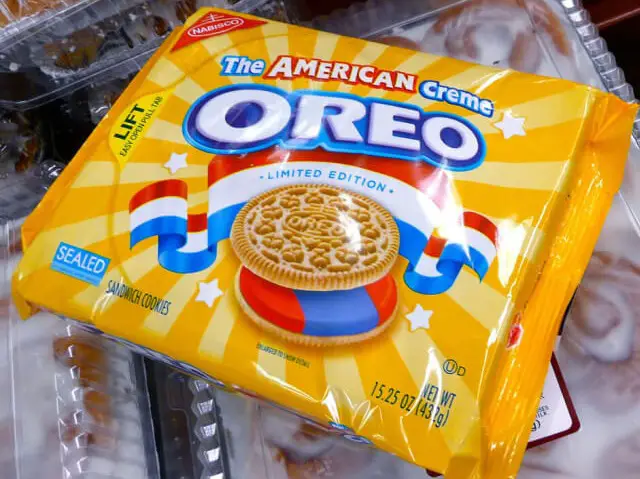 Nabisco released the Oreo in 2012, and it was a limited edition. It is characterized by two yummy vanilla Oreo cookies with sandwich red and blue flavored cream filling. The Oreo dessert is one of a kind you can't miss to take the treat while traveling or for an outing. The Oreo is said to be American's most favored cookie due to its exquisite taste. Americans also love Oreo because of their colors: red, white, and blue Oreos.
2.

Apple Pie Oreos
An Apple pie a magnificent candy on its own. However, Nabisco tried something different, which is blending it with a cookie. He released the Oreo in 2017, and people were pleased with it. Apple Pie Oreo is characterized by crisp flavored cookies and sandwiched apple pie colored cream filling at the center. Serve it with a glass of milk, and it is excellent. It is a limited edition that is found at Walmart.
A commentator said that the cream was among the softest in many Oreos, and its taste is magnificent.
3.

Bacon Cream Oreos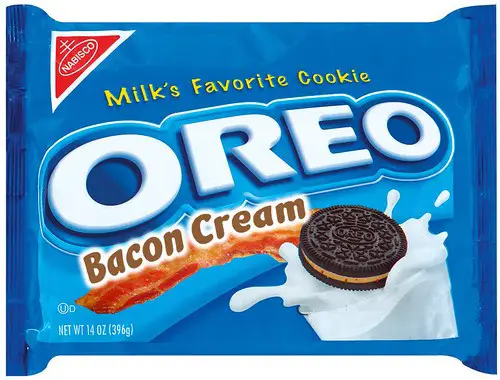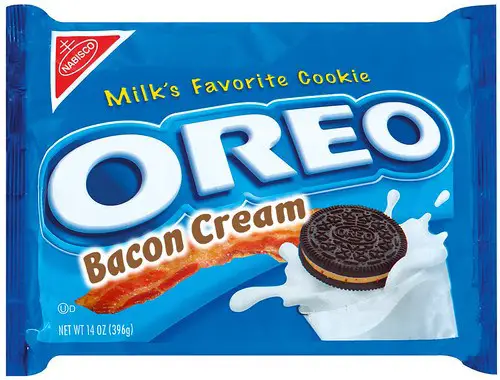 Bacon Cream Oreos were launched in a limited edition by Nabisco in 2013. On its own, Bacon is yummy; you can ask yourself, how will it be when combined with a delicious Oreo? The Oreos features two tasty chocolate Oreo cookies that sandwich a piece of delicious Bacon flavored cream. Bacon Cream Oreo is excellent when you enjoy it with milk. Most people like any treat that has Bacon in it because it is usually mouthwatering. However, it is a bit disappointing since this dessert no longer exists.
4.

Banana Split Oreos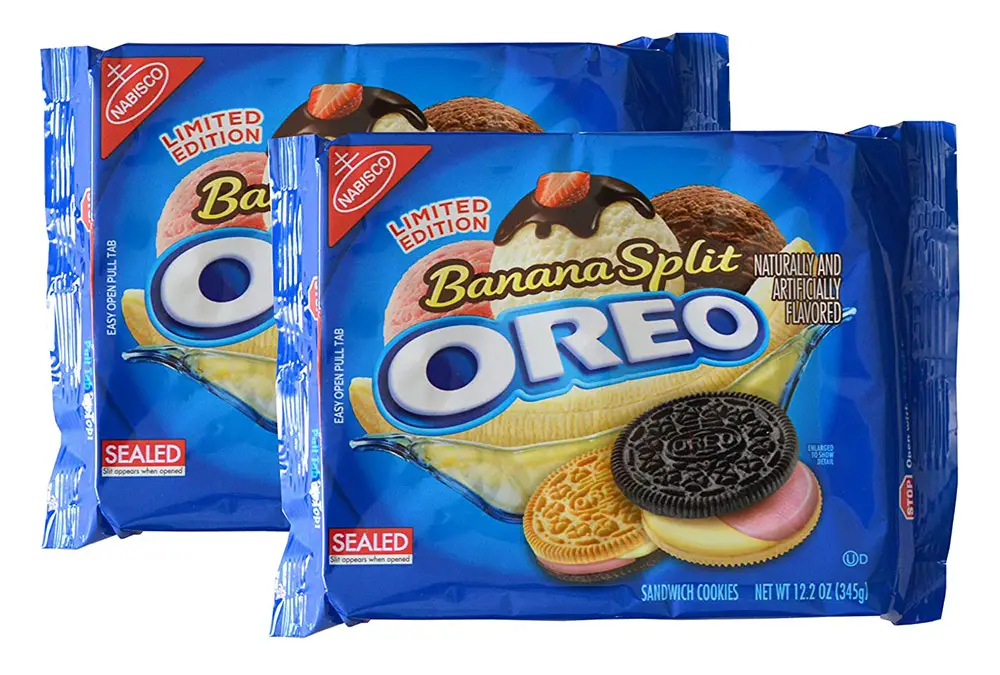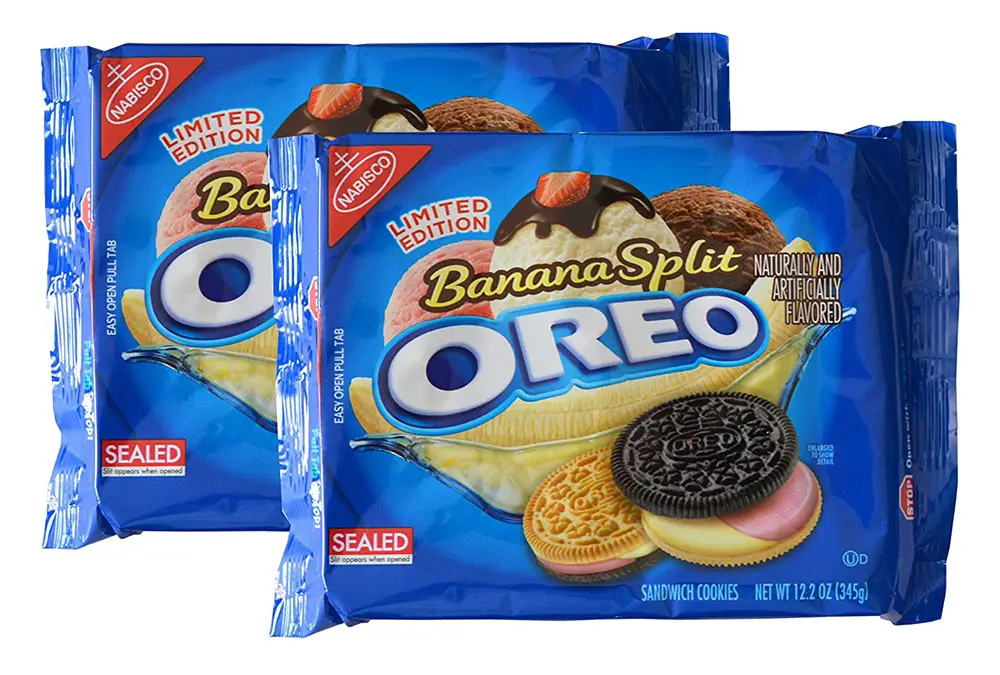 The Oreo has two varying creams, which are banana and strawberry. It also has chocolate and vanilla cookies. The mouthwatering Banana Split Flavors of limited edition were launched in the year 2013 by Nabisco. Amazon suggests that the Oreo was one of a kind. People enjoyed the Oreo and requested for many to treat their families. Sadly, Banana Split Oreos no longer exists. The Oreo dessert is naturally and artificially made. The combination has golden Oreo cookies that sandwich strawberry colored cream together with banana colored cream filling. It is a magnificent Oreo.
5.

Birthday Cake Oreos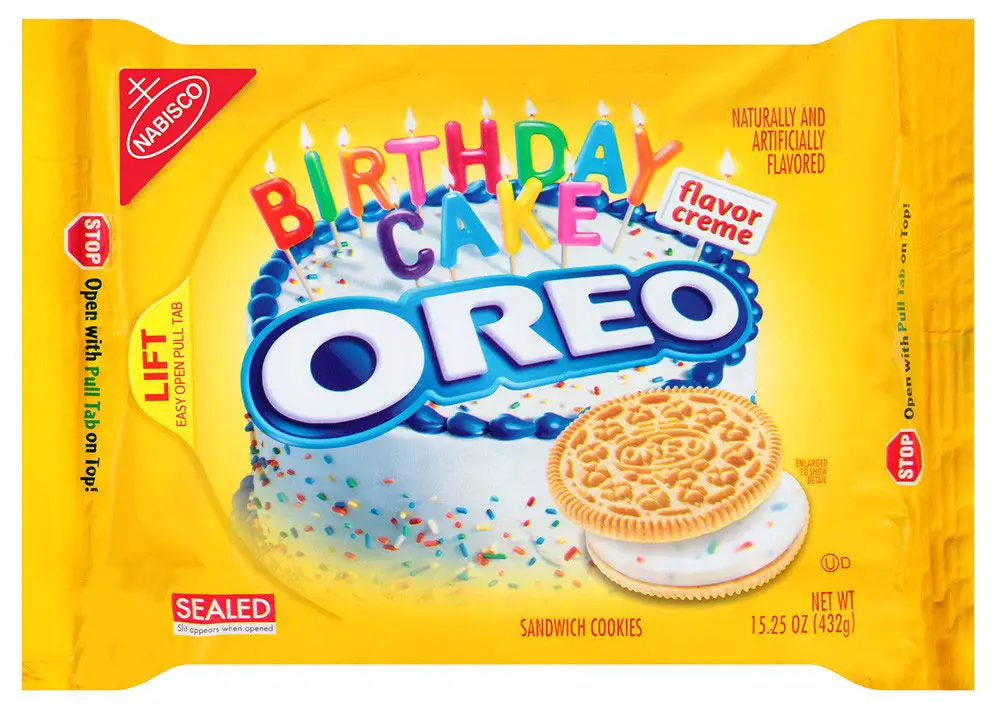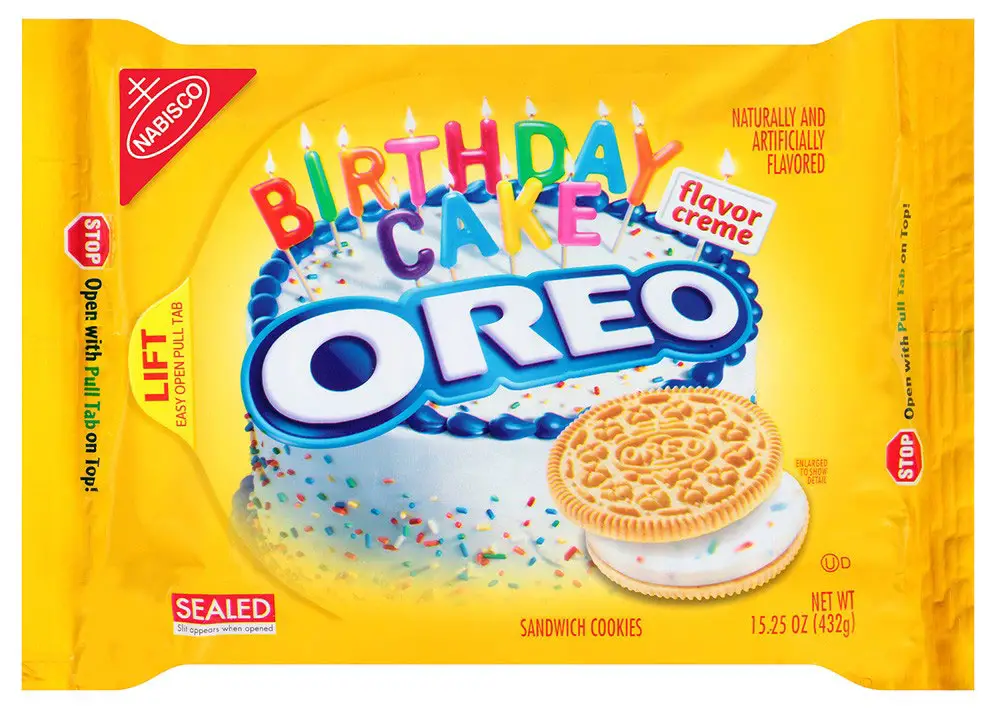 Released on a half-year basis back in 2012, this Oreos flavor is one of the strangest that ever existed. It was released to celebrate the company's 100th anniversary, hence the name. Just as the name suggests, this particular flavor tasted like birthday cake, but that didn't stop it from being weird.
6.

Blueberry Ice Cream Oreos


The dessert is more than you would have expected because it sounds interesting. Blueberry Ice Cream Oreo was launched in various places; Singapore, Malaysia, China, Indonesia, and Thailand in 2010. The Oreo has a perfect taste. It consists of a combination of a blueberry-flavored ice cream filling sandwiched in tasty chocolate cookies.
7.

Blueberry Pie Oreos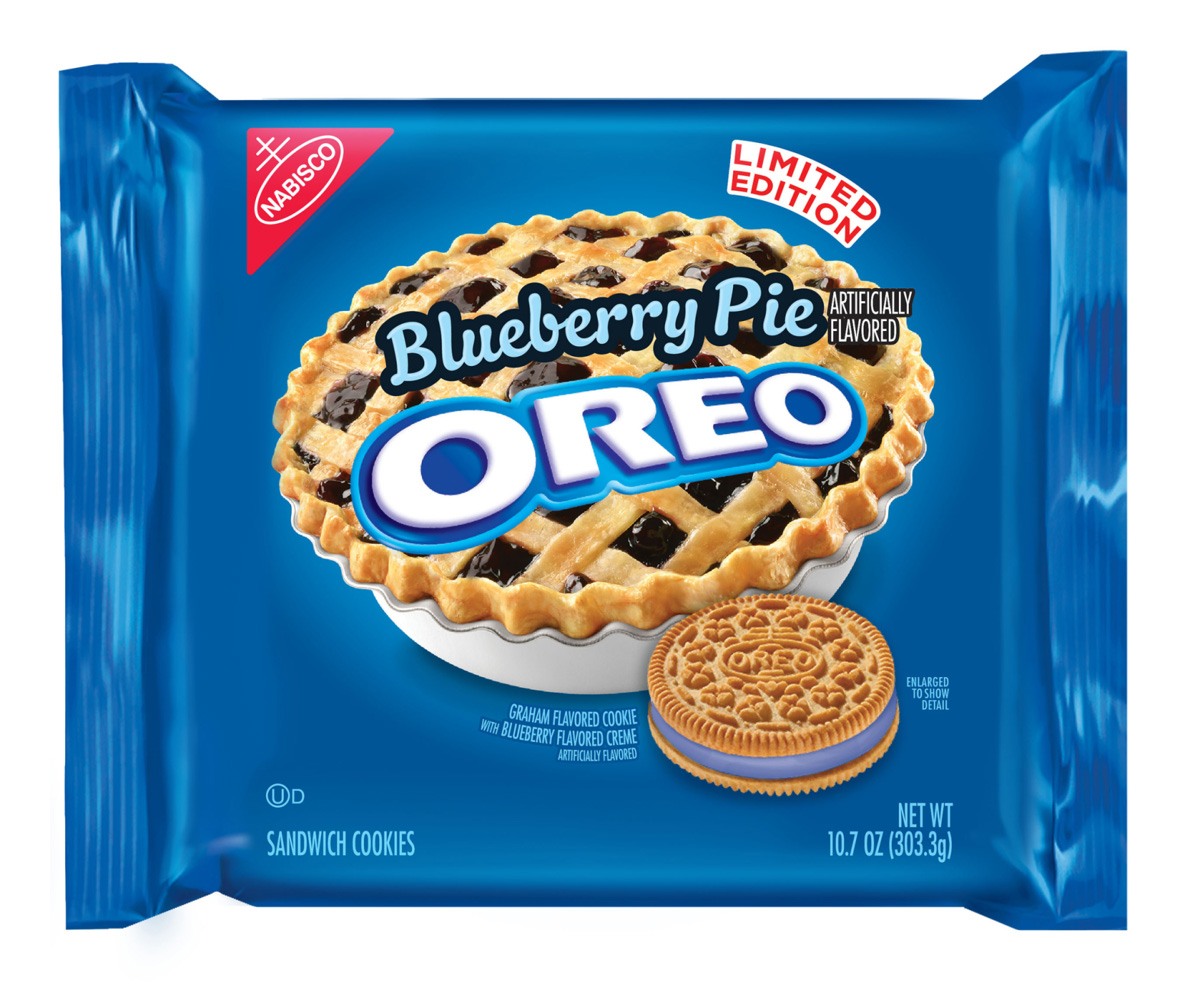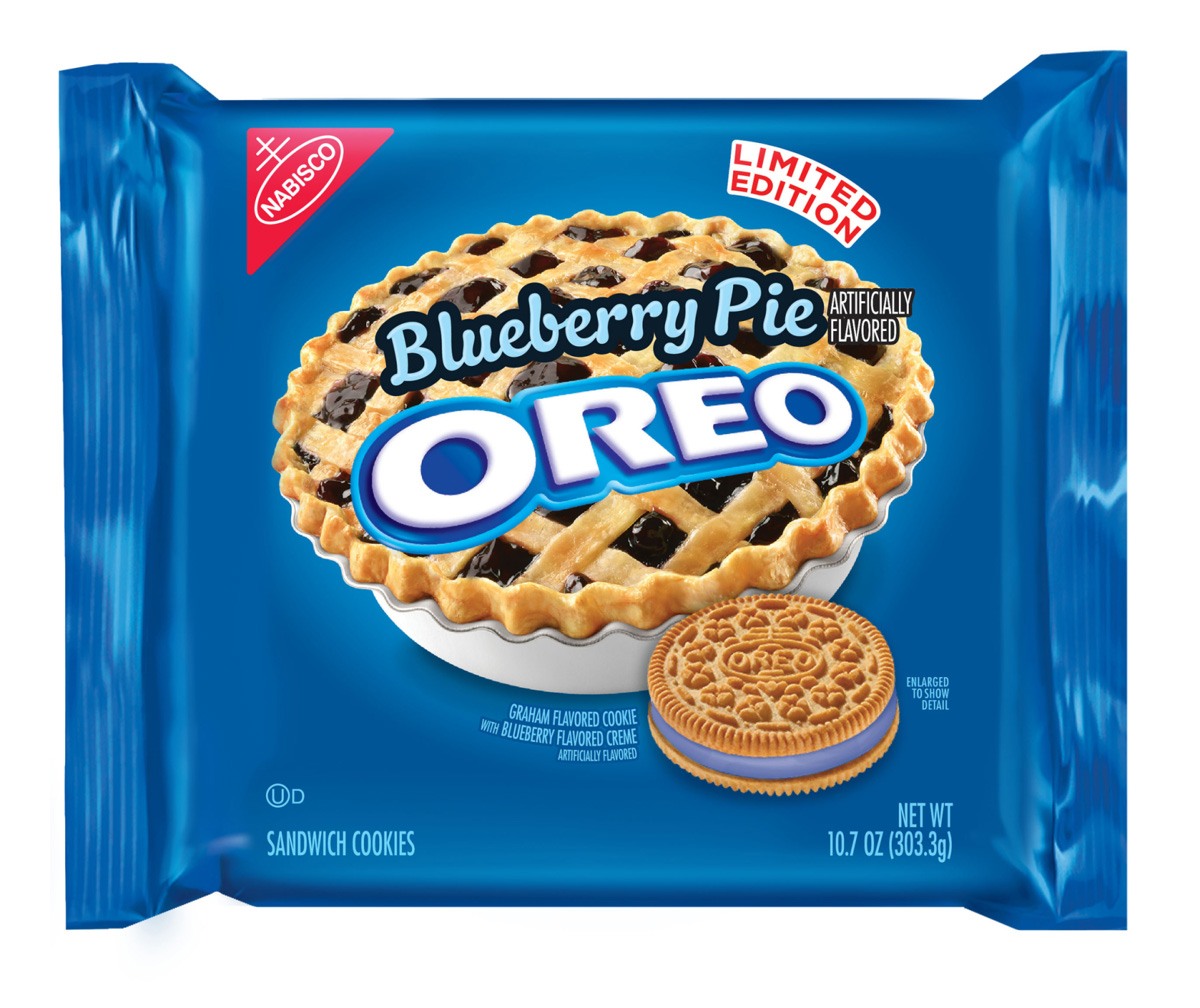 The limited-edition Blueberry Pie Oreo features two graham cracker colored Oreo cookies sandwiching blueberry flavored cream filling. One analyst said that the weird cookie is yummy, but they managed to take half of the cookie. It was launched during the summer of 2016 by Nabisco Company.
8.

Buttered Popcorn Oreos
You can easily make your own because you will mix a chocolate dessert and popcorn. When watching a movie theater scene, the combination will keep you busy as you enjoy the movie. Buttered Popcorn Oreos were launched in 2019 as well. The Buttered Popcorn Oreo has sweet and salty tastes that are somehow contradicting, but Nabisco found it excellent. It has a pineapple flavored cream taste. It consists of a golden cookie and sandwiched buttered popcorn flavored cream.
9.

Candy Corn Oreos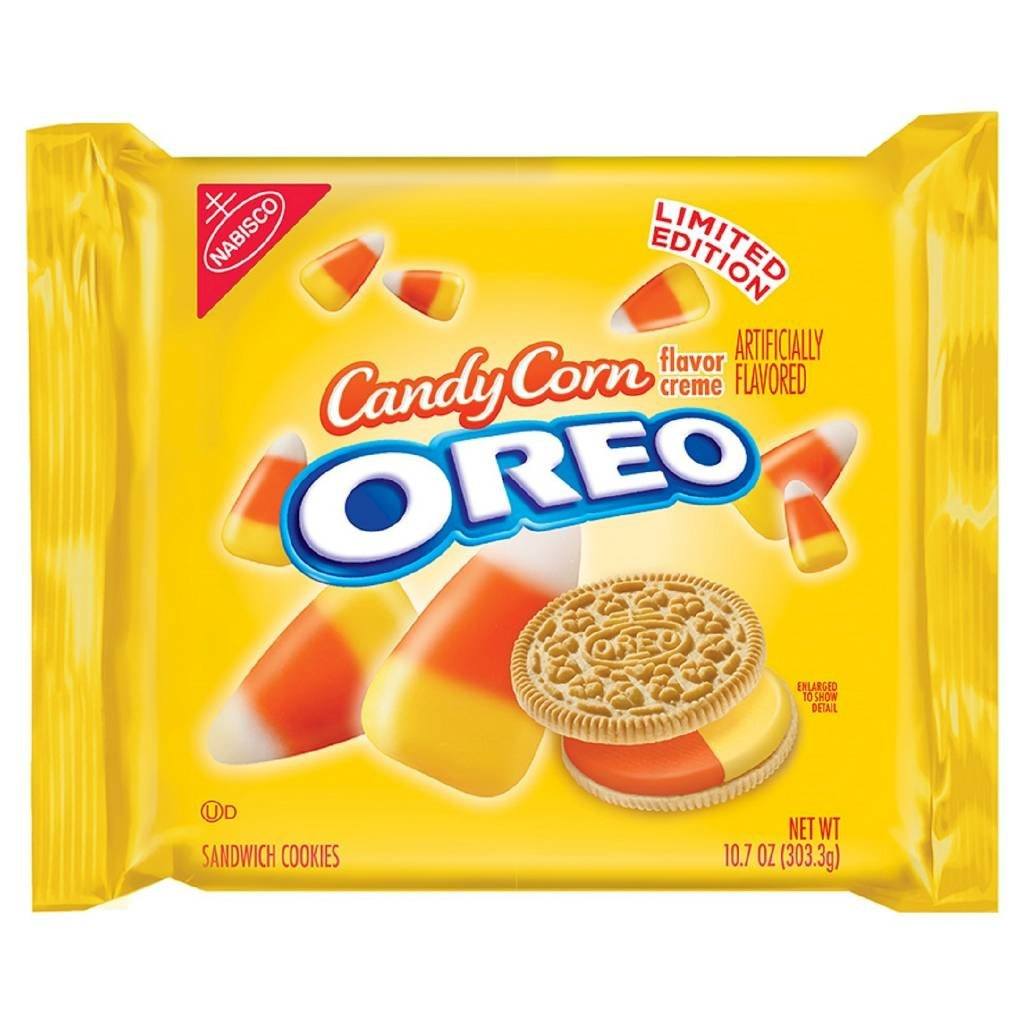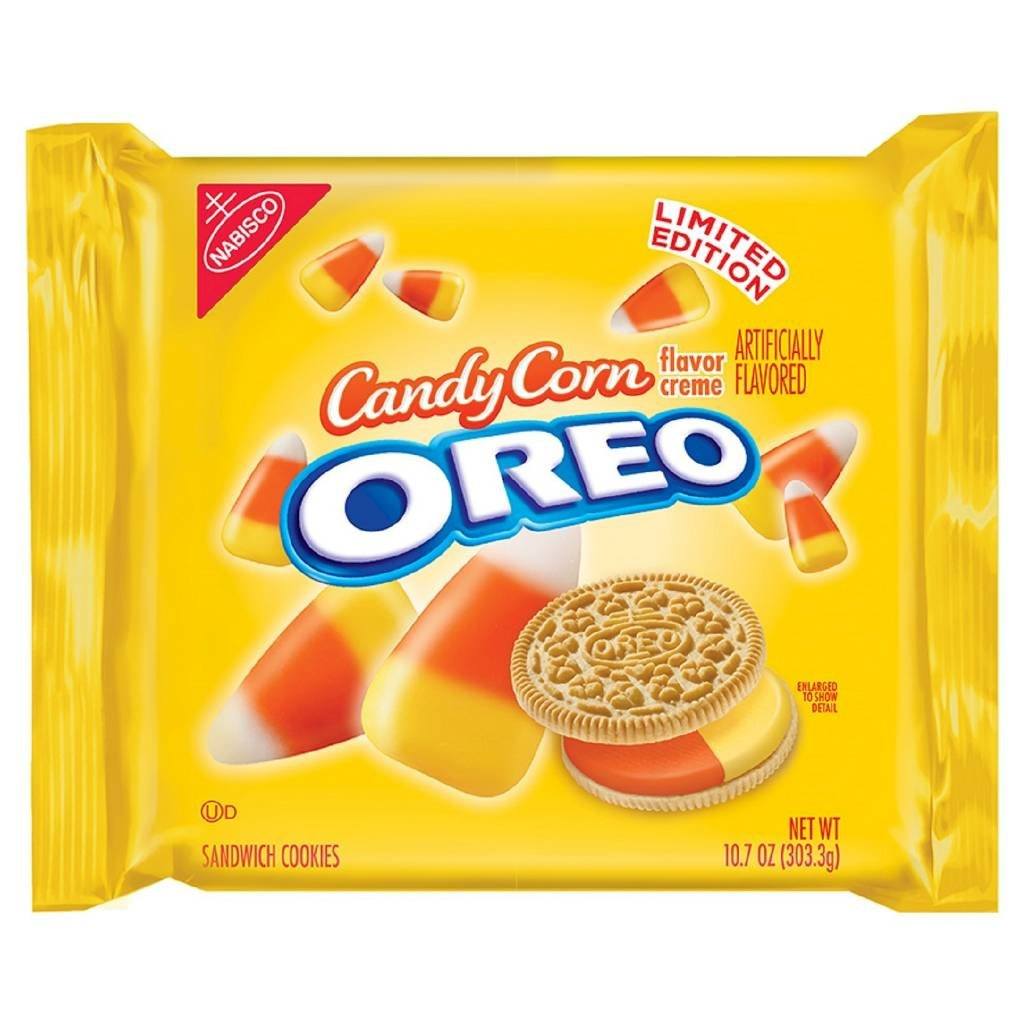 Candy Corn is excellent when eaten by itself. But when mixed with an Oreo, it gives a questionable treat. Candy Corn Oreos were launched just before the 2012 Halloween. It has the following features; yellow and orange cream layer and vanilla Oreo cookies. It then varnished but was rereleased in 2013, it disappeared again, and another launch happened in 2016. It looks like the manufacturer is torn between supplying the product to those who love it or discontinue it because some people find the taste a little too weird.
10.

Caramel Coconut Oreos
Coconut Oreos isn't among the weirdest Oreo. It has a brown filling. The features of the Oreo are a tasty chocolate cookie, a caramel coconut flavor cream, and some coconut pieces inside the cream. But analyst Junk Banter suggested that the Oreo is neither good nor is it bad. It is balanced. For those who love caramel and coconut, the Caramel Coconut Oreo should be your priority. Enjoy the Oreo dessert for sweet moments, special treats, road trips, gatherings, breakfast, and even lunch together with your favorite drink.
11.

Carrot Cake Oreos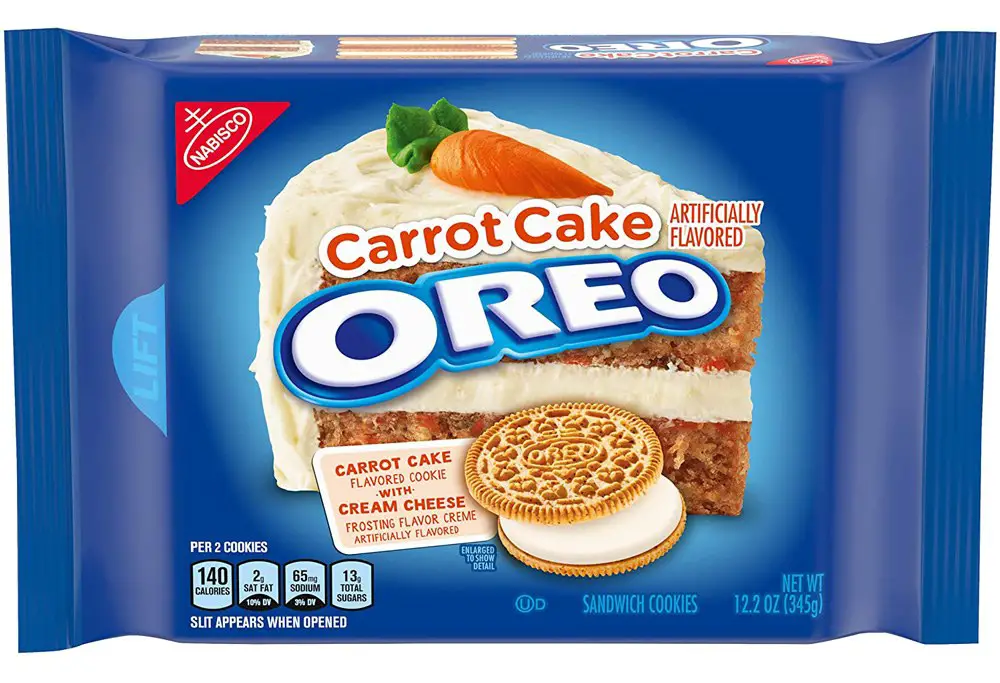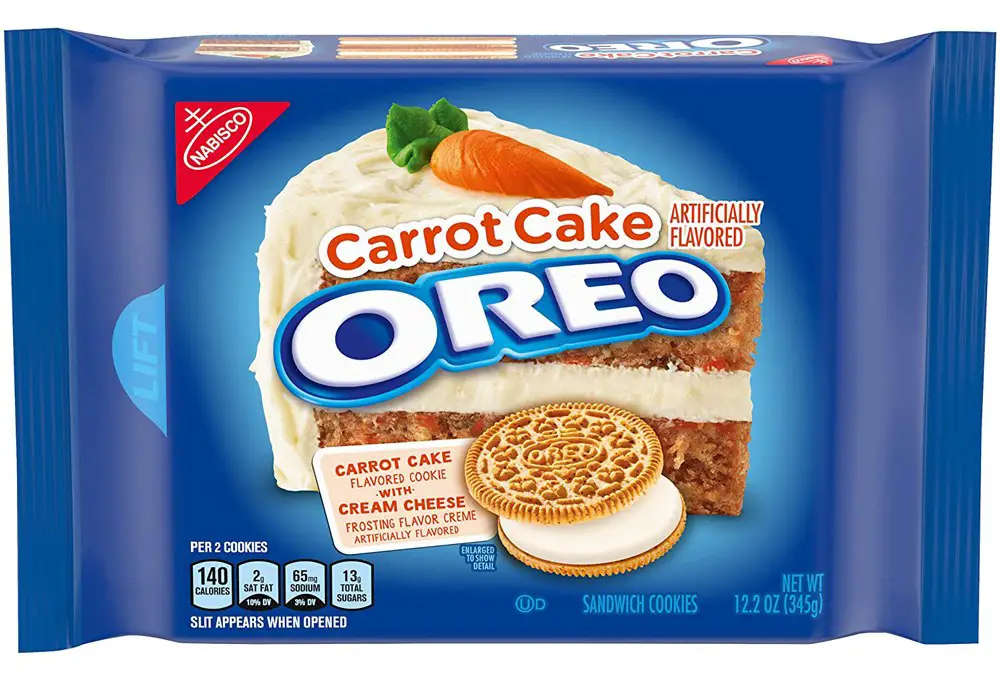 The name of the Oreo sounds interesting. I know you are wondering how the combination is even possible. However, Nabisco Company made it happen. Its artificial taste has been minimized, but the carrot's ordinary flavor has a little bit been improved. The taste of the Oreo is almost similar to that of red velvet and birthday cake types. It comprises of a cream cheese filling sandwiched between carrot cake cookies. Carrot Cake Oreos were released in limited edition.
12.

Cheeseburger Oreos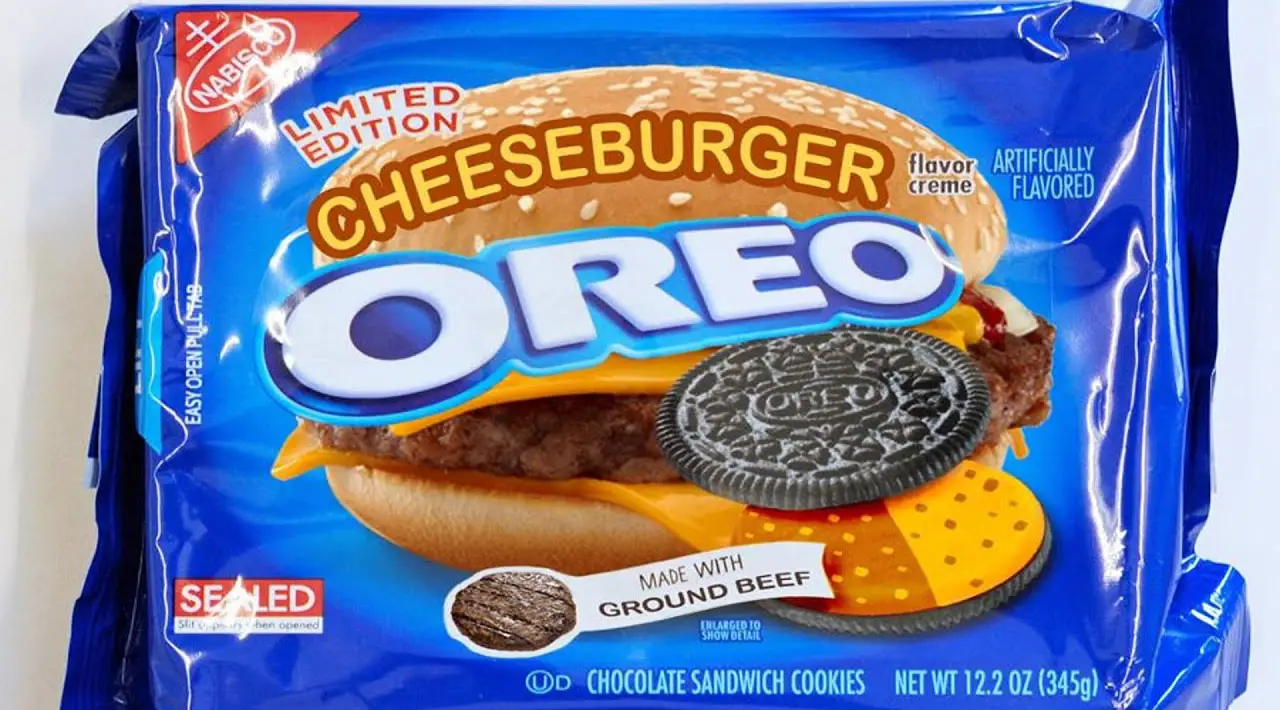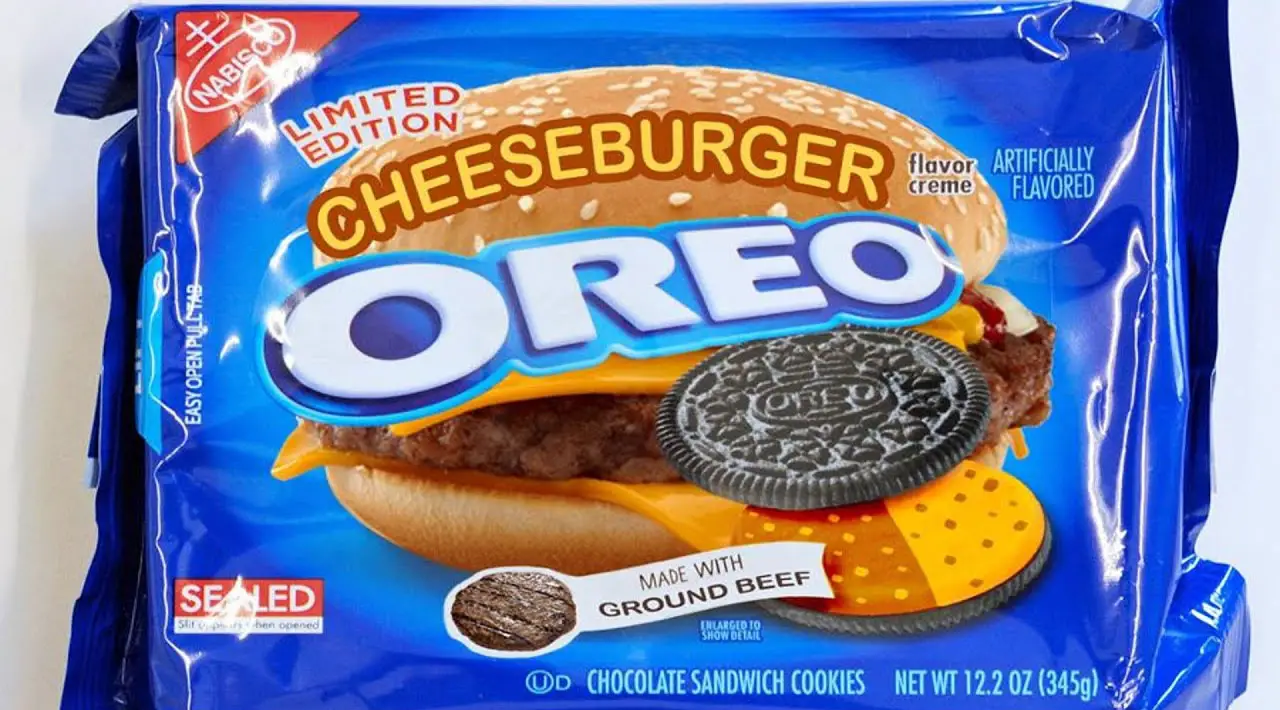 The weird Cheeseburger Oreo does not exist. Cheeseburger on its own is the same delicious case as an Oreo. But the Oreo is not real it was only a photo-shopped image that was going around the internet posted by the Wreckless Eating channel on November 23, 2014. The picture indicated that the Oreo launched in limited edition, and it was characterized by two chocolate cookies that sandwiched cheeseburger flavored cream. Cheeseburger cream filling consisted of smashed beef. Generally, the weird Oreo is a mere imagination.
13.

Cherry Cola Oreos
It consists of yummy Oreo chocolate cookies that sandwich cherry cola-flavored cream filling. The Oreo was invented in the 1950s by Nabisco Company. Cherry Cola Oreos was among the top three in My Oreo Creation Contest. And like the Firework Oreos, it has a popping candy filling with the aim of fireworks sensation in your mouth, or you feel as if your mouth is filled with a carbonated soda drink.
An evaluator from a Junk Food Bunter said that the cookie is suitable for people who like to combine an Oreo with soda rather than milk.
14.

Chocolate Peanut Butter Pie Oreos
Chocolate and peanut are a perfect combo. However, Chocolate Peanut Butter Oreos are not so pleasing. You can get to know about them on Amazon. Treat yourself with the Oreo and milk while traveling, snacking, or when sharing with your family. Nabisco released Chocolate Peanut Butter Pie Oreo recently, that is June 2018. Chocolate Peanut Butter Pie Oreo consists of a yummy chocolate cookies layer, another layer of peanut buttercream filling, and another Oreo cookie crust layer. Crust comprises of smashed Oreo and melted peanut butter. It is made within 20 minutes. It is a perfect candy for Valentine's or an extraordinary occasion. The Oreo is magnificent.
15.

Churro Oreos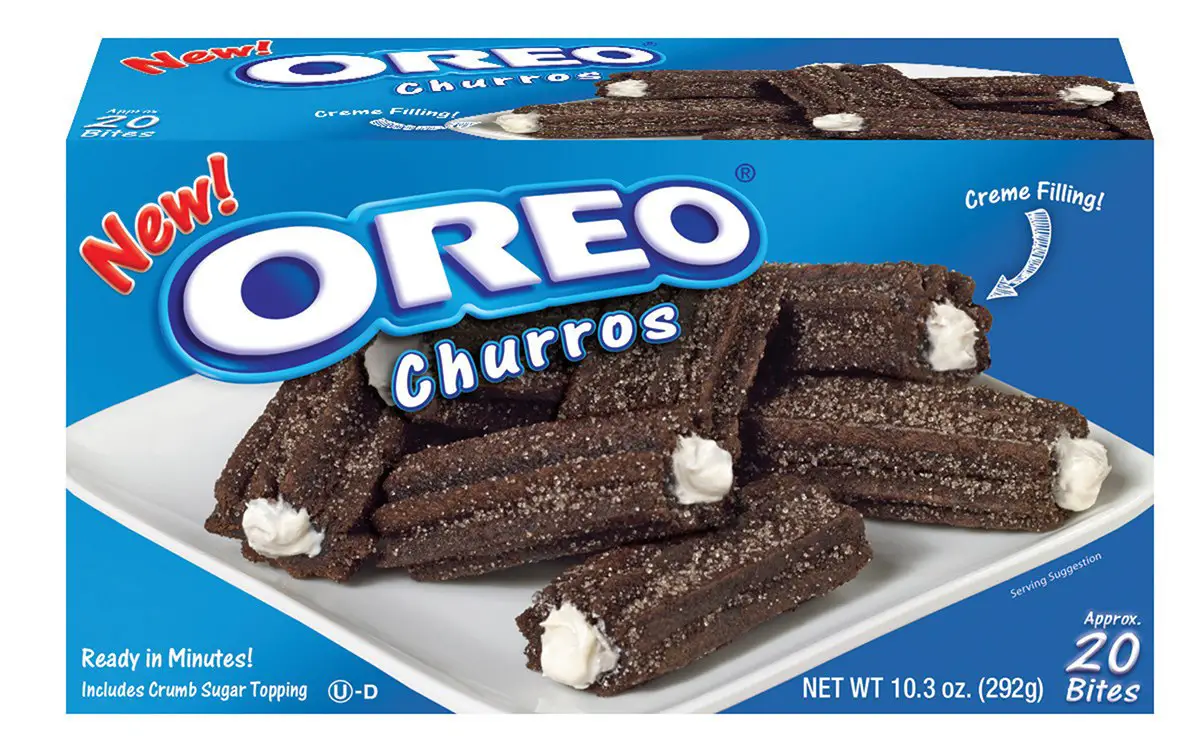 It a mystery cookie that is stuffed with churro flavored cream. The combination of churro and Oreo brings out a great combo though it is weird. The Oreo was released recently, which is early in 2020 by Nabisco and as a limited edition. But the dessert is mouthwatering. You can enjoy it with or without a drink of your choice. Two classic chocolate cookies characterize it, and churro flavored cream filling. You can purchase the treat from Walmart or Target stores.
16.

Cinnamon Bun Oreos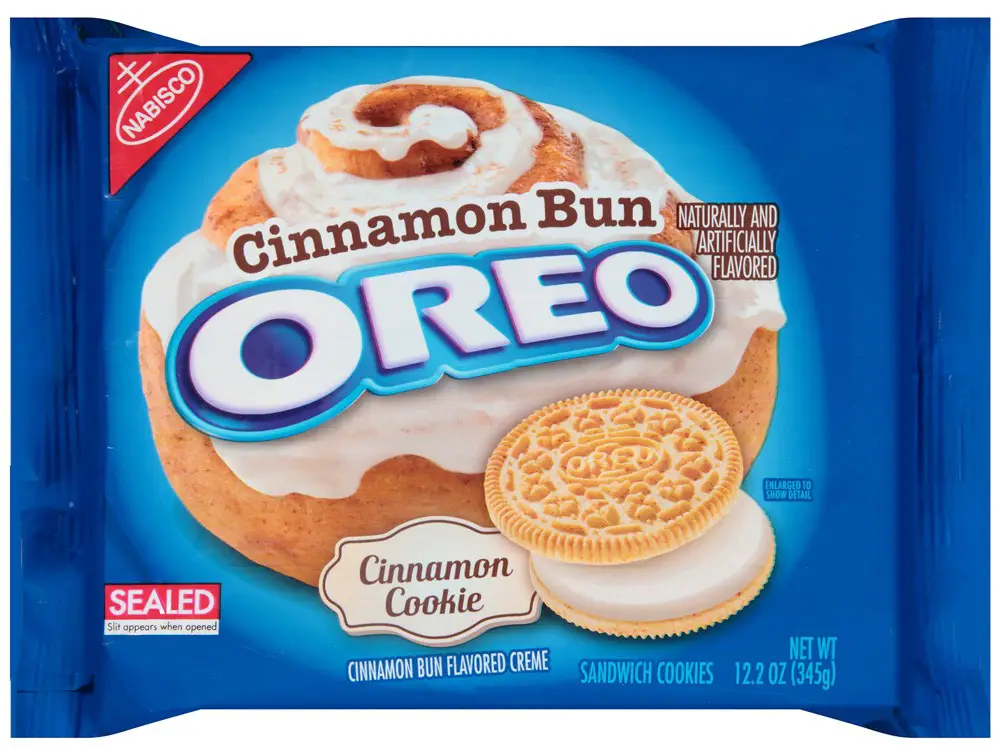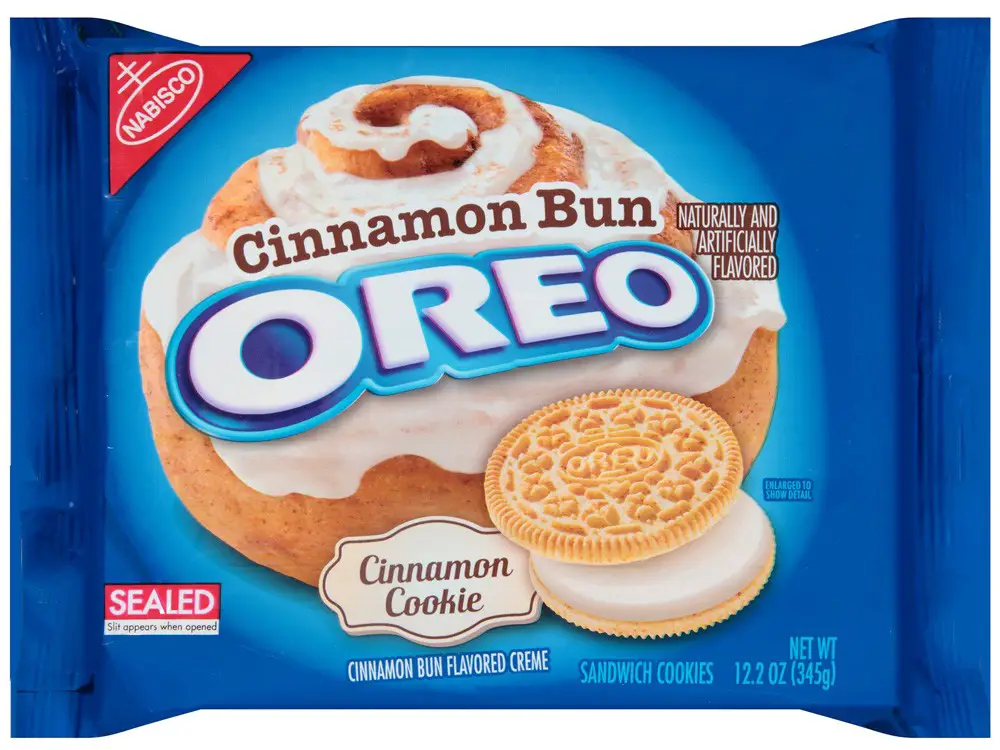 Cinnamon buns are excellent on their own, and Oreo is too great on its own. The Oreo was released in 2016 by Nabisco and was an American flavor. But when it comes to Cinnamon Bun Oreos, the combo is not very impressive. Cinnamon Bun Oreo consists of two cinnamon and sugar cookies and is joined together by delicious cream filling. The filling has a taste like that of the cinnamon frosting. They originated from Sweden and Denmark though they no longer exist. Still, it was initially meant to be permanent.
17.

Coconut Delight Fudge Cremes Oreo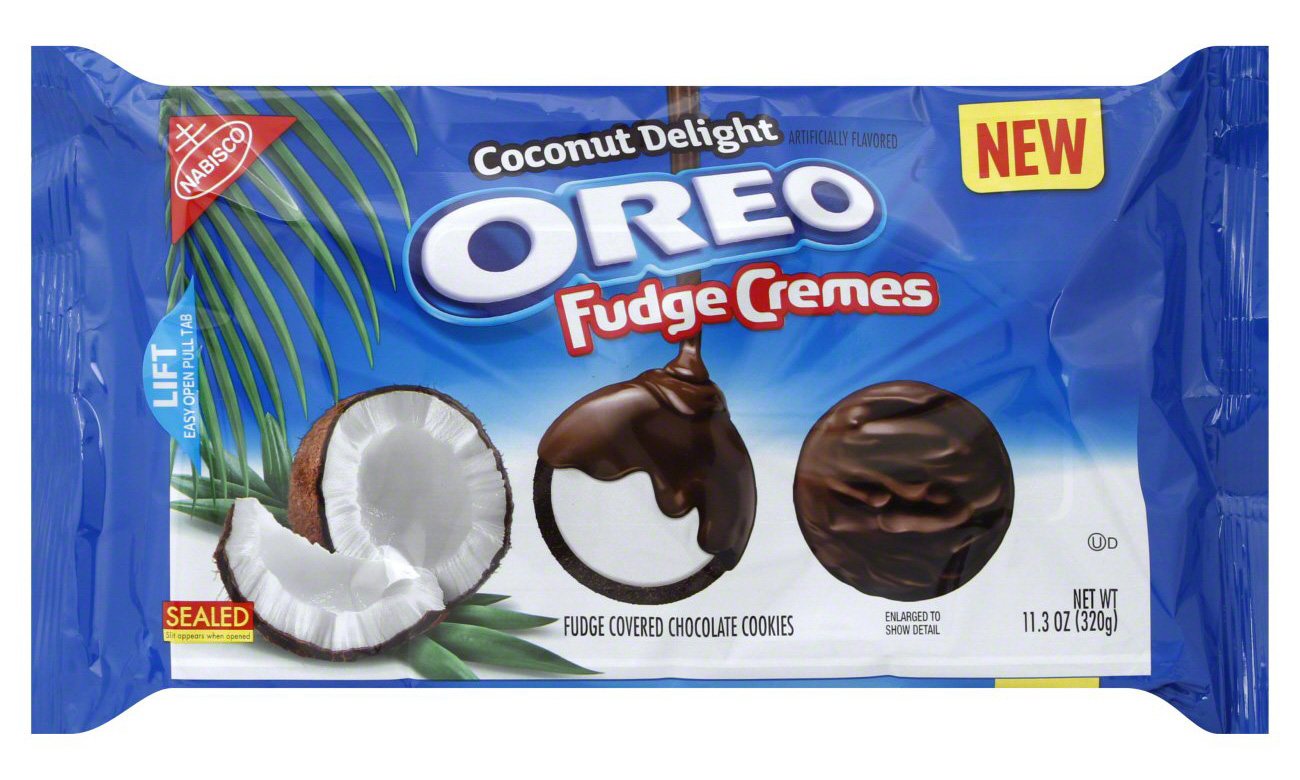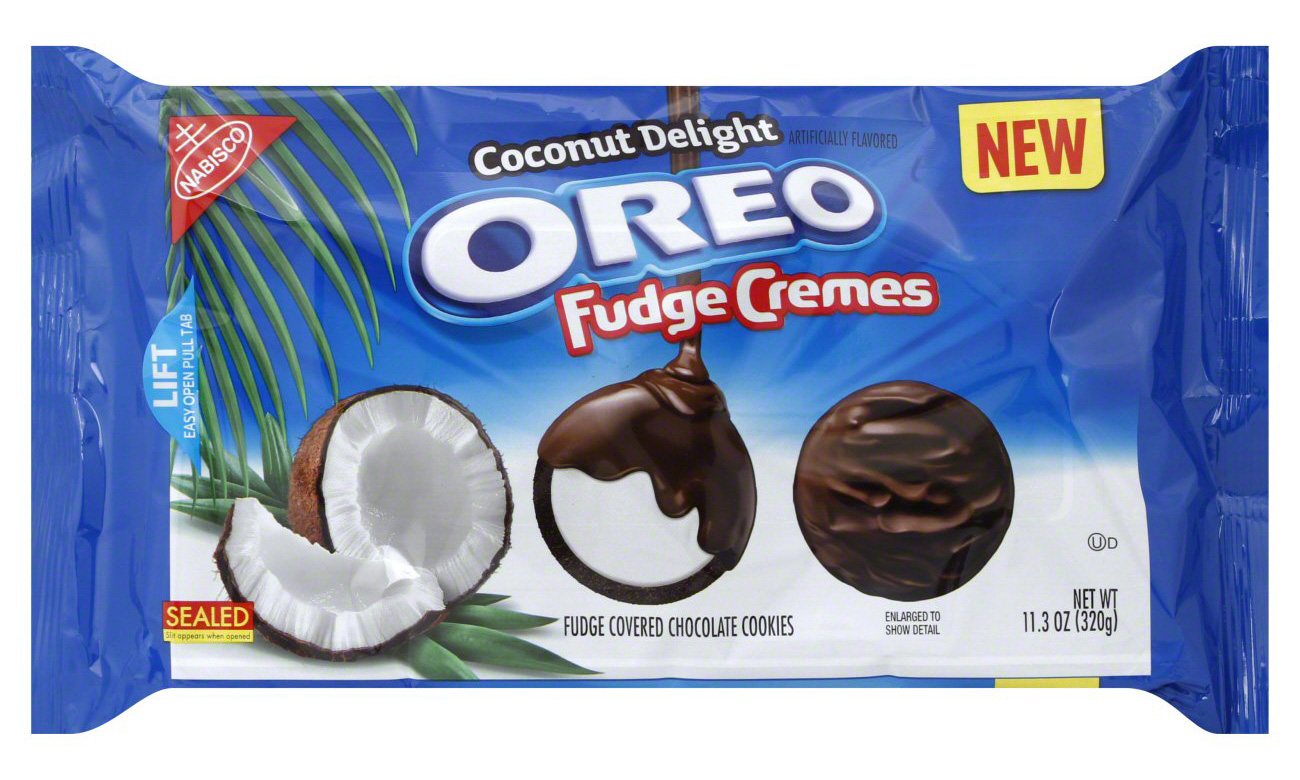 It is a Nabisco artificially flavored Oreo. The Oreo is featured by coconut delight chocolate cookies and fudge cream. The coconut in it is yummy and tropical coconut that is silky, smooth chocolate making the Oreo cookie combination is excellent.
18.

Chocolate Wafer Strawberry and Choc Crème Oreos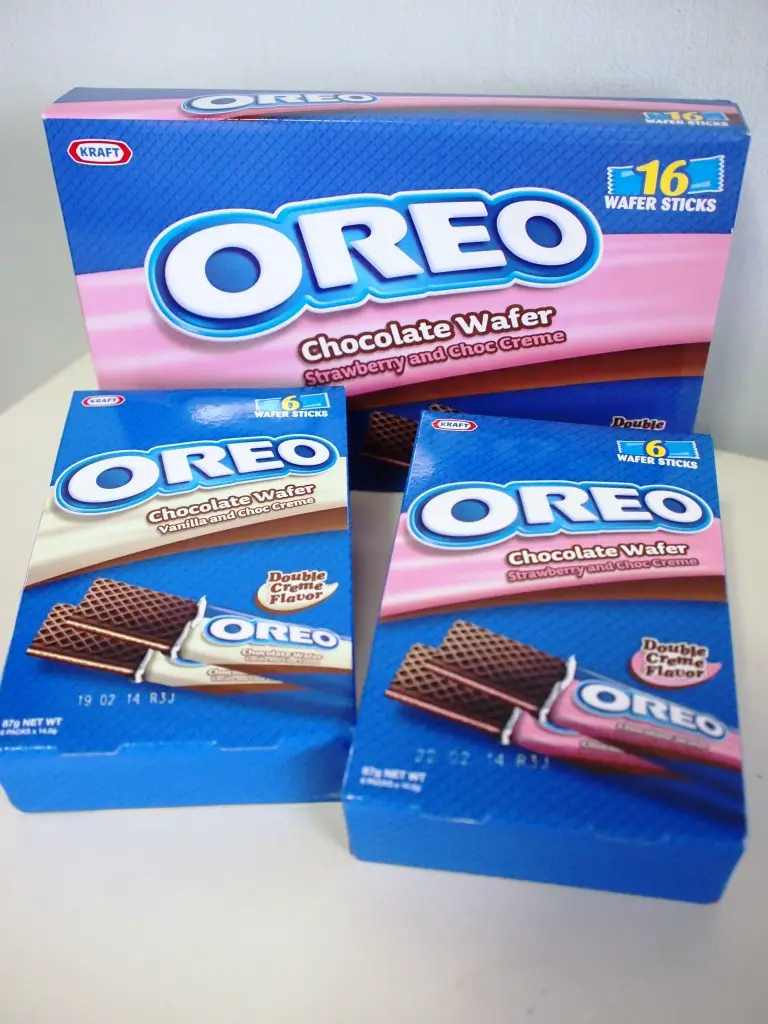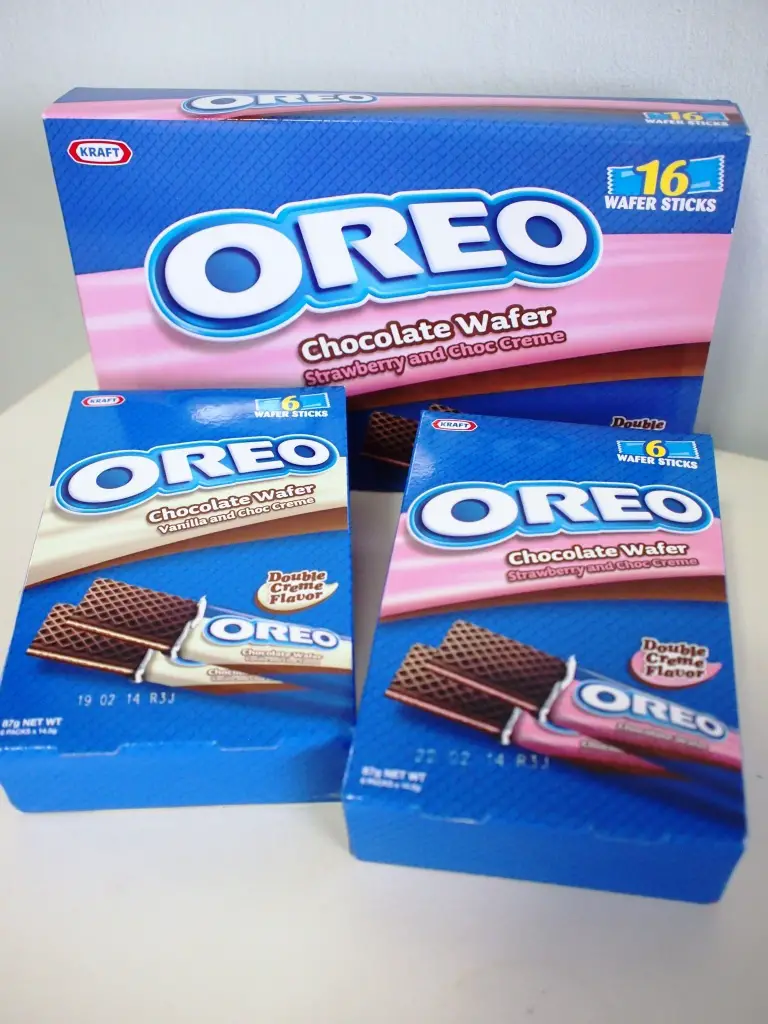 It is made of a small amount of Strawberry cream and chocolate cream filling sandwiched between Chocolate Cookies. Also, Chocolate and Strawberry Still exist and are an excellent choice for celebrating Galantine's Day, which is the day that people celebrate with their friends. It is usually celebrated on February 13. However, this Oreo is not available currently.
19.

Chocolate Wafer Vanilla and Choc Crème Oreos

It consists of a double cream flavor. It is also a limited edition wafer produced by Nabisco. The Oreo is characterized by a classic chocolate wafer that sandwiches vanilla flavored cream and chocolate cream filling. You can take it with milk, and you will desire to take more of it. The two cream flavors make it attractive and mouthwatering.
20.

Cream Wafers Strawberry Or Vanilla Oreos

The Oreo is mostly sold in China. The Nabisco limited edition is available in strawberry and vanilla flavors. Cream wafers strawberry or vanilla Oreo comprises two classic chocolate Oreo cookies and strawberry or vanilla flavored cream filling. Enjoy the treat with milk when going for a road trip, an event, or with a family outing.
21.

Creamsicle Oreos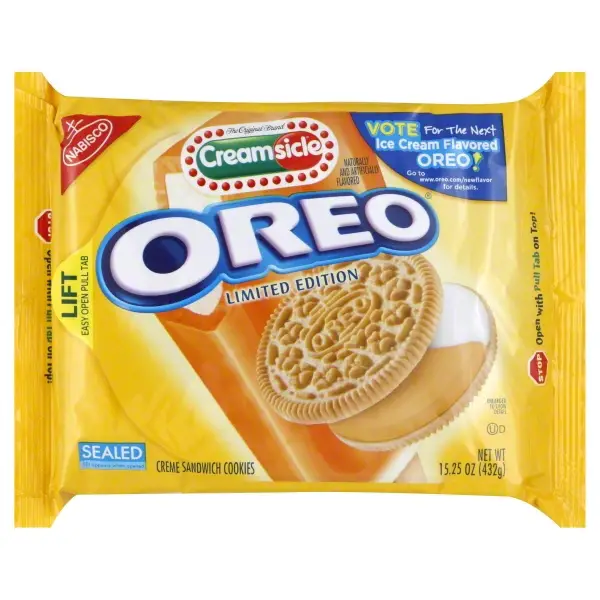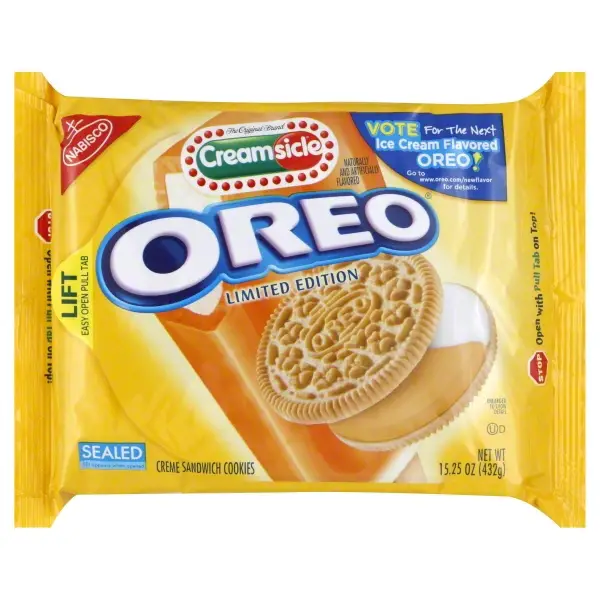 They had a semi-white and a semi-orange filling that are sandwiched between two tasty golden Oreo cookies. But they do not exist. Creamsicle Oreos came into the limelight in 2011 by Nabisco and was a limited edition. Impulsive Buyer analyzed that the Oreo doesn't contain the Creamsicle taste, but its flavor is like Fruity Pebbles.
22.

Duo Dulce De Leche And Banana Oreos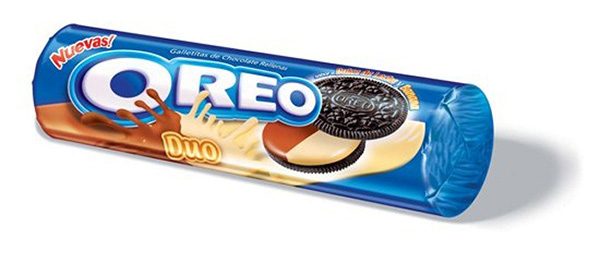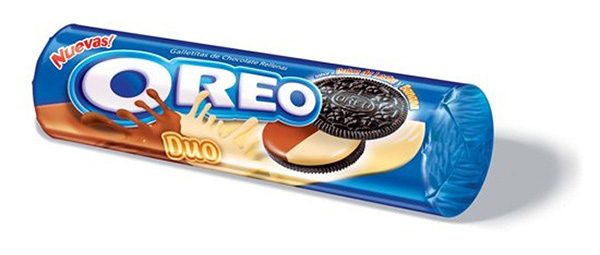 It is commonly found in Argentina. The name suggests that the Oreo is a duo, which means that it has two cream flavor fillings. The interesting combined flavor is rare in most places, making it unique and weird. The Oreo is characterized by Dulce de Leche cream and banana cream flavored fillings sandwiched by two chocolate Oreo cookies.
23.

Duo Strawberry And Vanilla Oreos


The Oreo is also found in Argentina. Like its name, it has two fillings: strawberry cream filling and vanilla cream filling and sandwiched by classic chocolate cookies. The two flavors make the combination to be mouthwatering. If you bite the Oreo, you have left craving for even more of the cookie.
24.

Filled Cupcake Oreos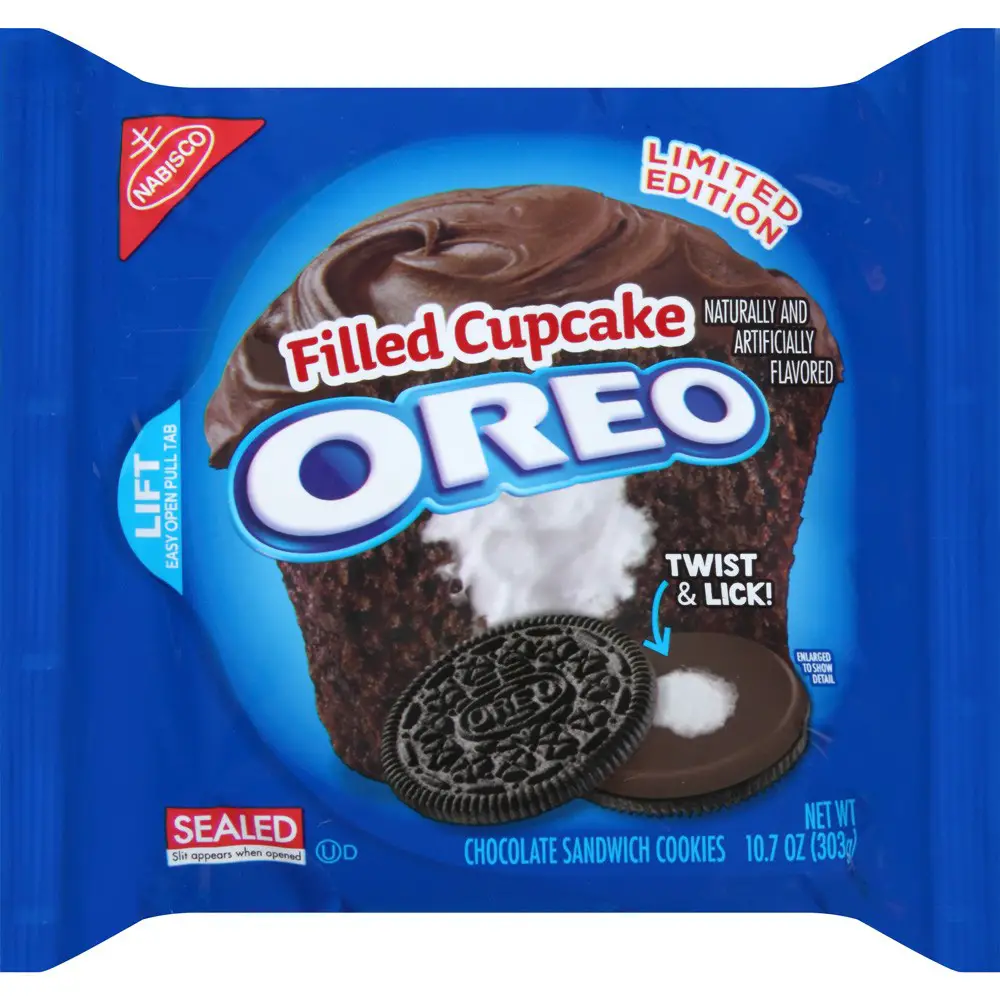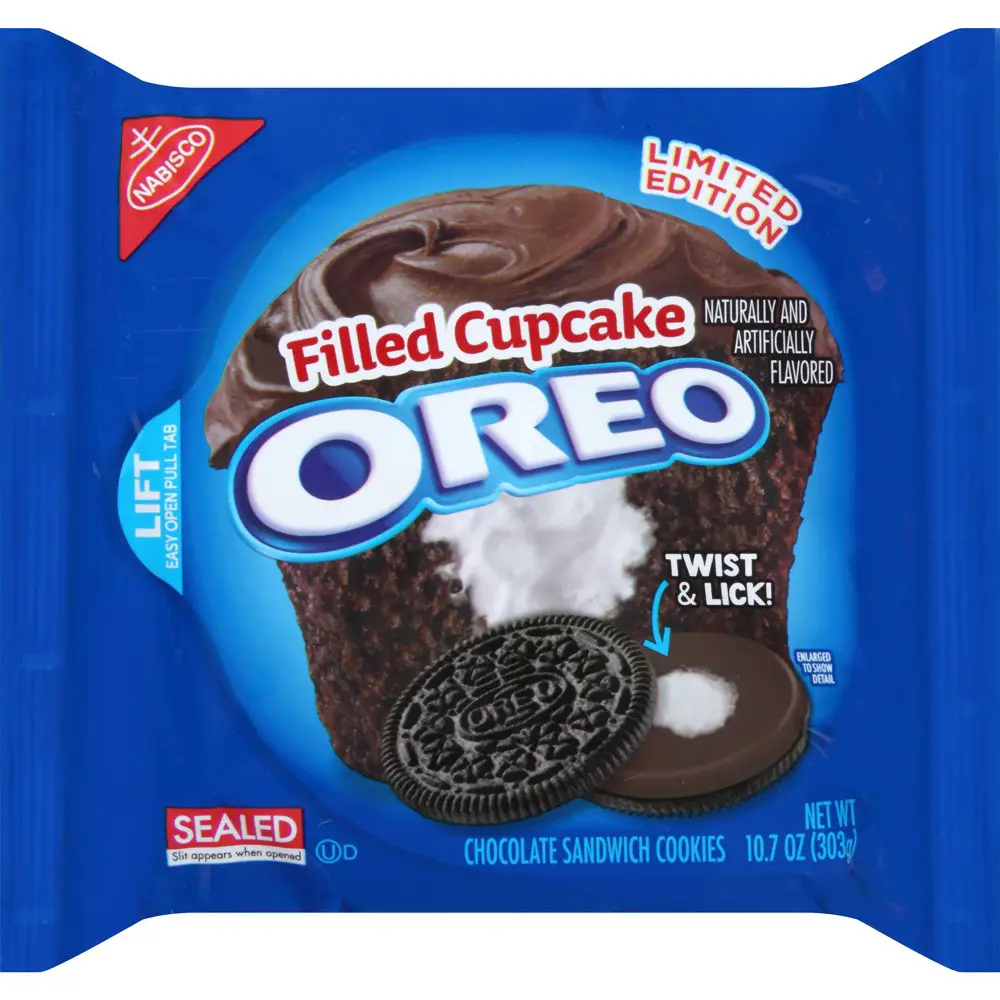 Filled Cupcake Oreo will entice you to treat yourself with a hostess dessert cake. Nabisco made this Oreo by combining two chocolate cookies sandwiching a small amount of cream just at the cookies' center.
25.

Firework Oreos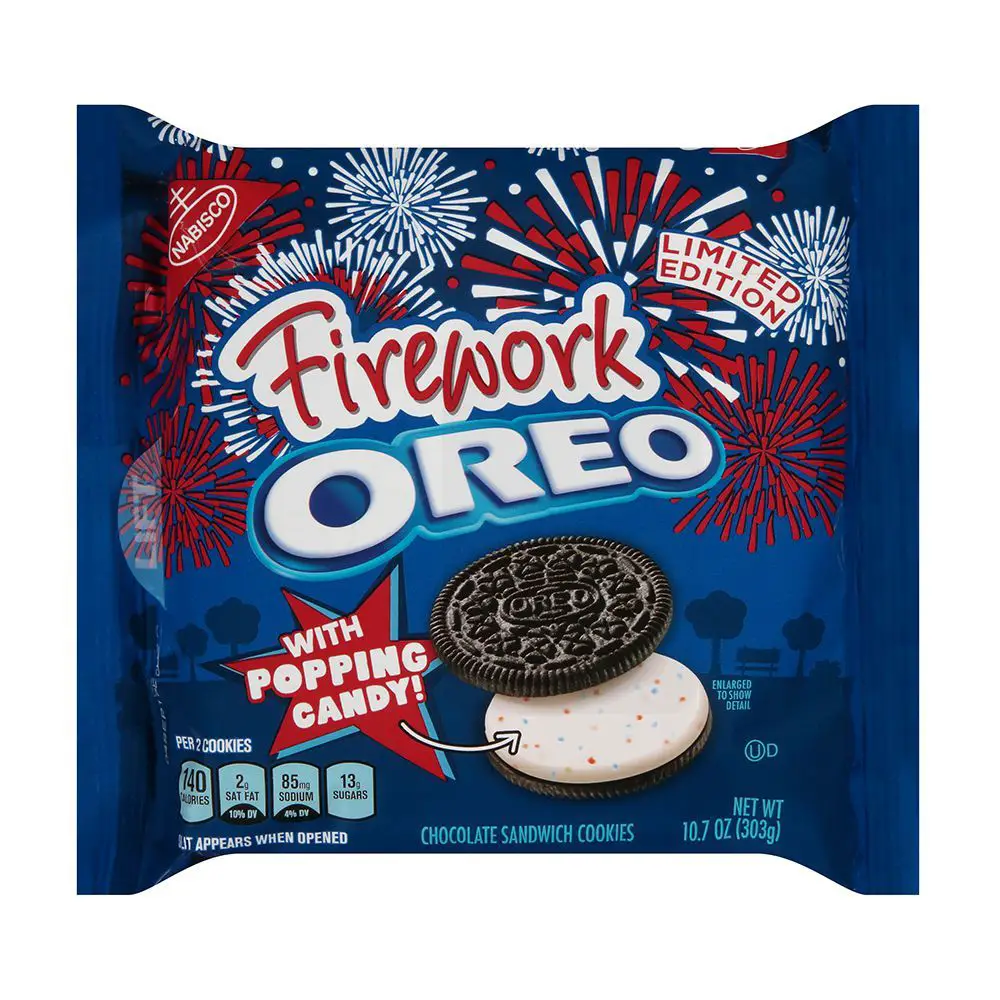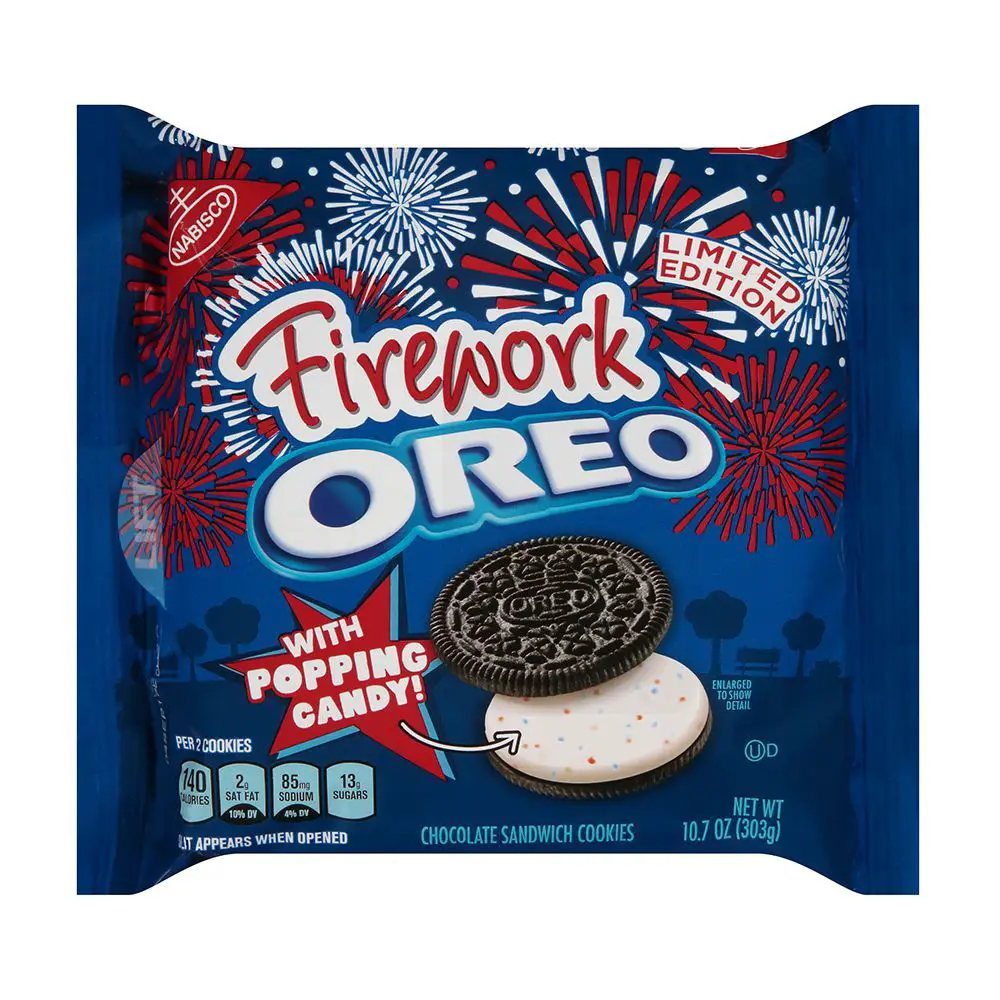 Kaboom! Fireworks Oreos made an explosive, limited-edition launched in 2017. This flavor has a popping sweet taste that was intentionally supposed to represent the 4th July fireworks in your mouth, but the reason for this is not apparent. The Firework Oreo contains traditional ingredients of Oreos. Firework Oreo consists of chocolate cookies that sandwich a red or blue popping flavored cream filling.
A particular evaluator commented that Oreos and Pop Rocks are excellent when eaten singly, but they bring a good taste when paired. It doesn't have cholesterol, so it should be your first since it won't result in many fat problems.
26.

Football Oreos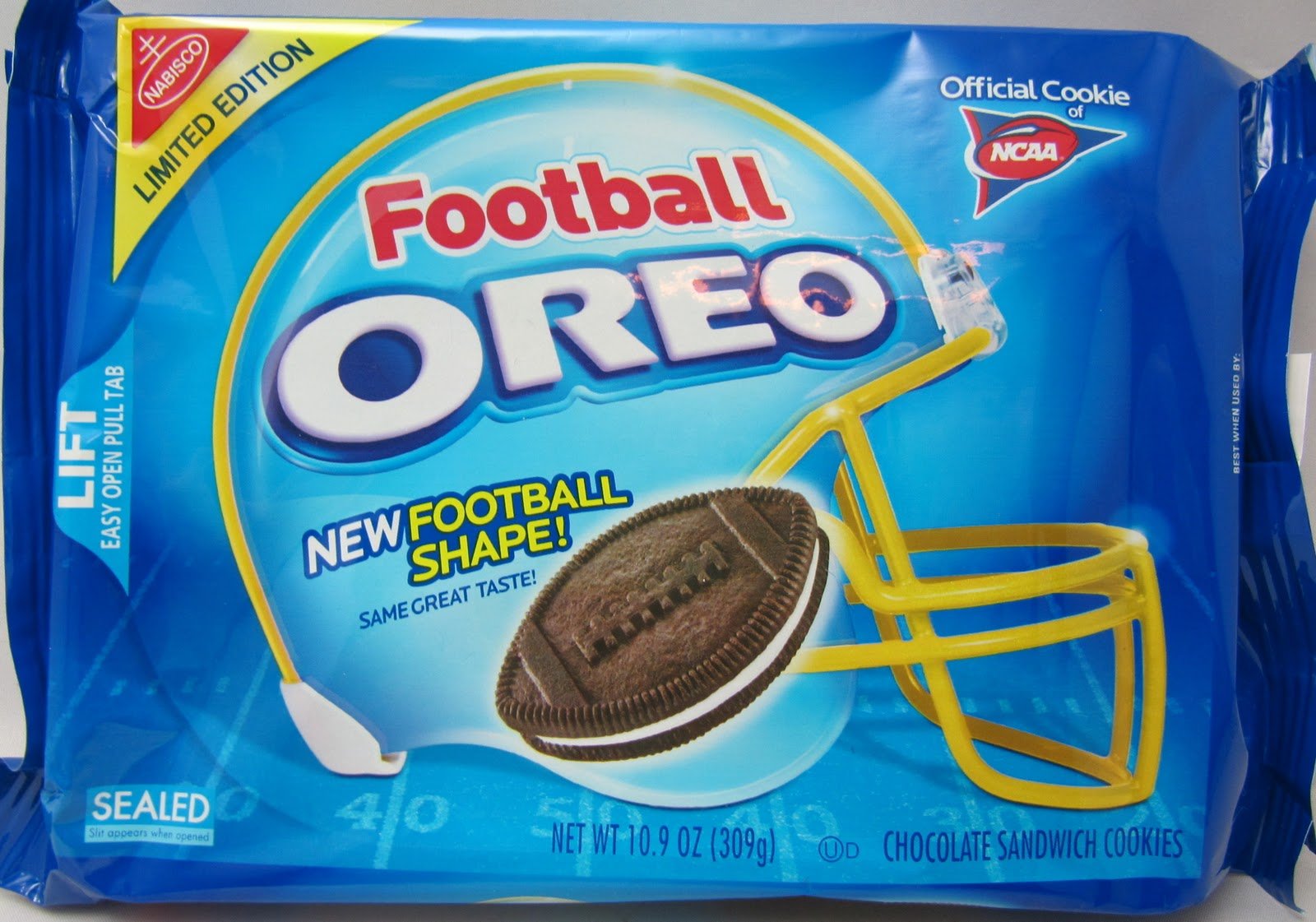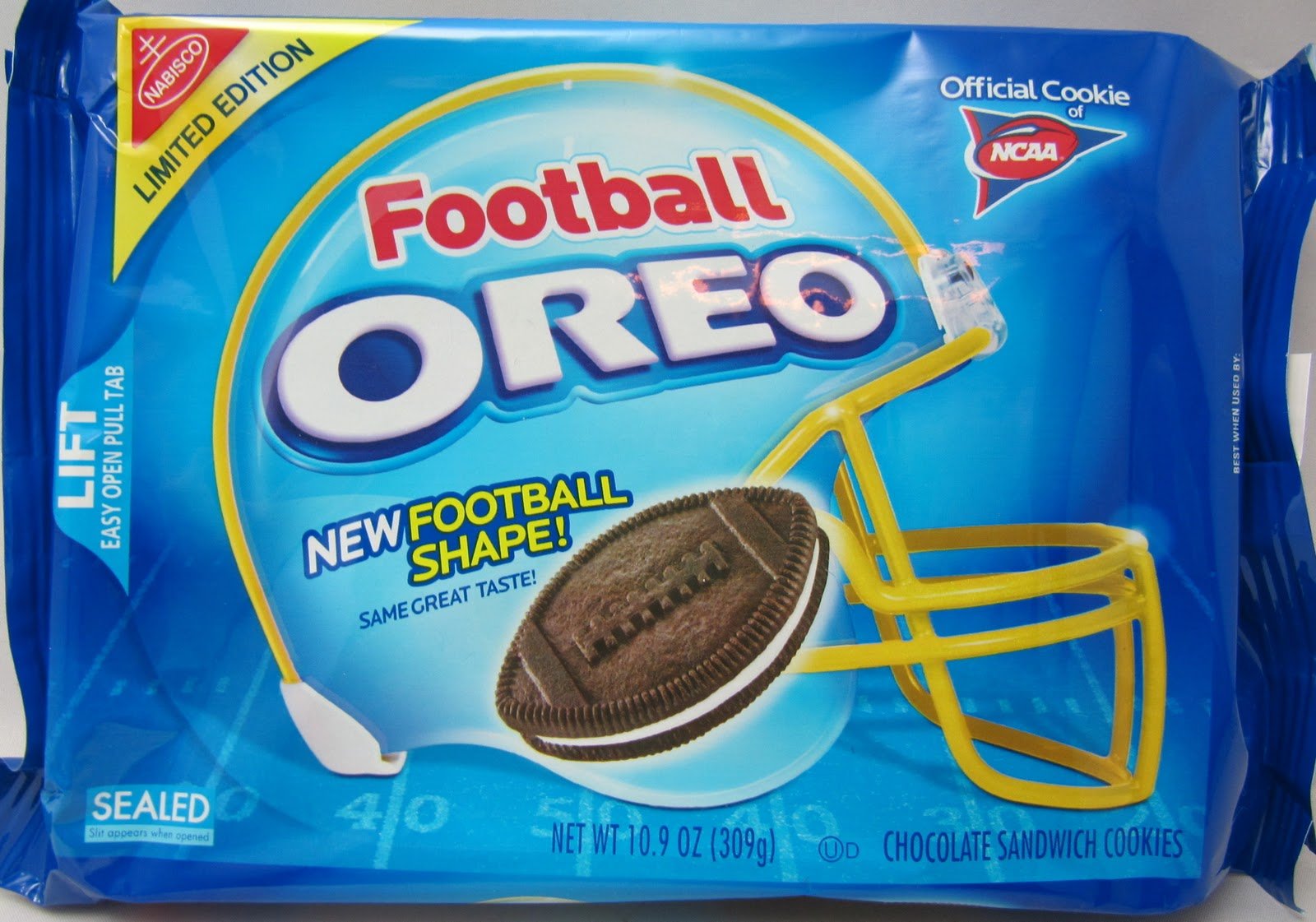 Nabisco introduced Football Oreo in 1976, and it was a limited edition as well. The reason for this name is because the Oreo had a football shape. The Football Oreo is perfect for a football party, tailgating parties, or you can use it as a snack during a football game. The combination consists of cheese cream and crumbled Oreo cookies. You can make your own Football Oreo at home, and you will determine its taste because you will choose your favorite flavors.
27.

Fruit Punch Oreos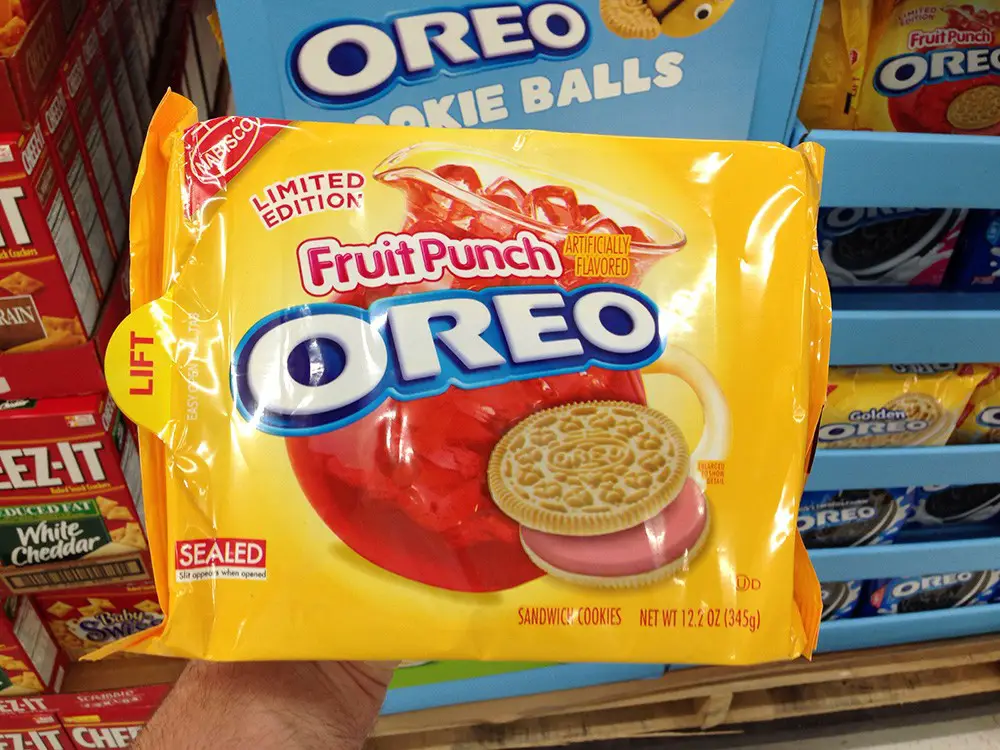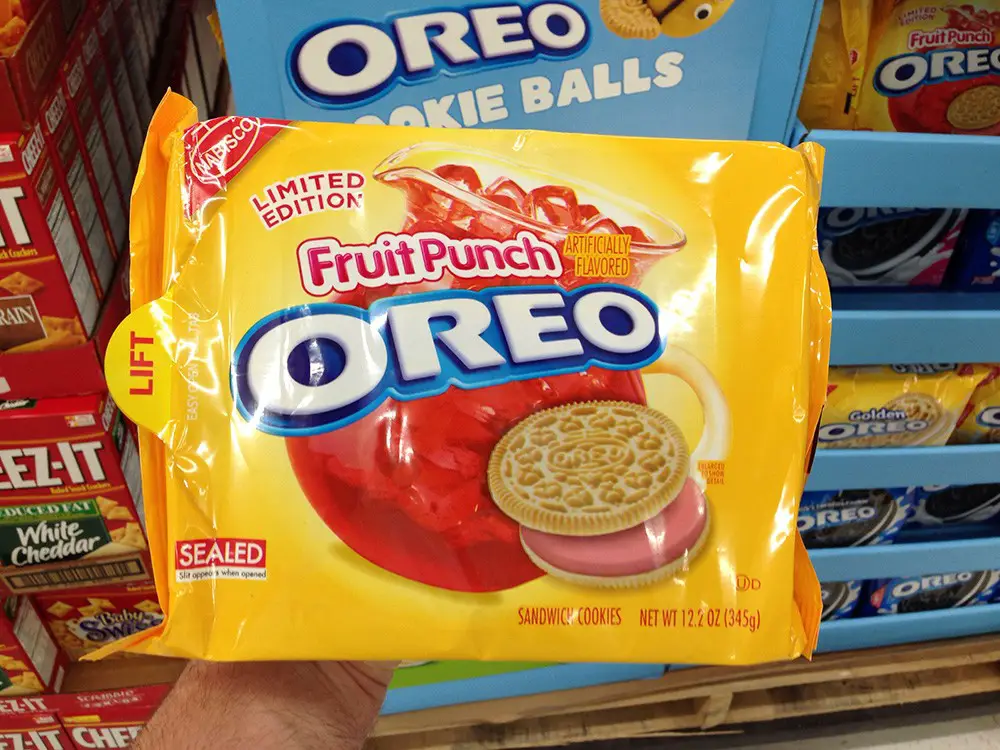 Fruit punch is usually an artificial flavor, so combining it with a perfect Oreo cookie is unnecessary because when used alone, they are all great. Nabisco created the Fruit Punch Oreos at Walmart on 28th April 2017. However, people were not pleased with the cookie since it wasn't bought by many. It consists of classic vanilla cookies sandwiching a red fruit punch colored cream filling. The Fruit Punch Oreo is a limited edition.
An Amazon commentator said that the Oreo tasted like Tums, a medication for various stomach upsets. Although this is not medically proven to be accurate, it looks like some people have had a pretty pleasant experience with it.
28.

Fruity Crisp Oreos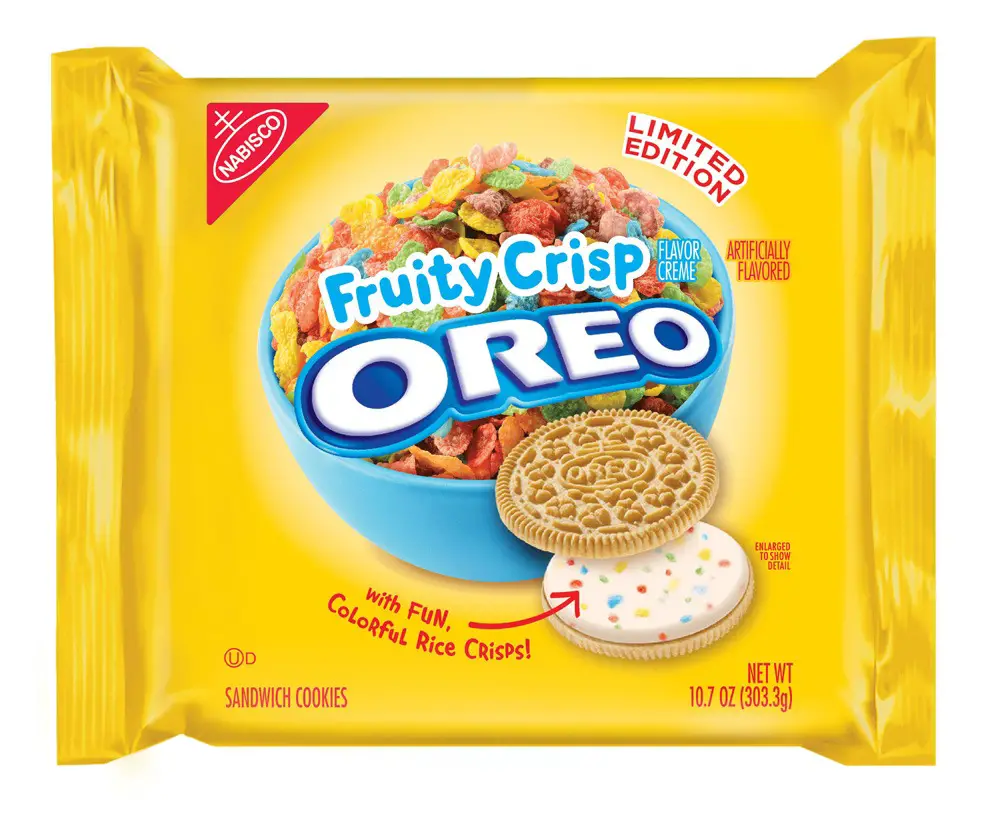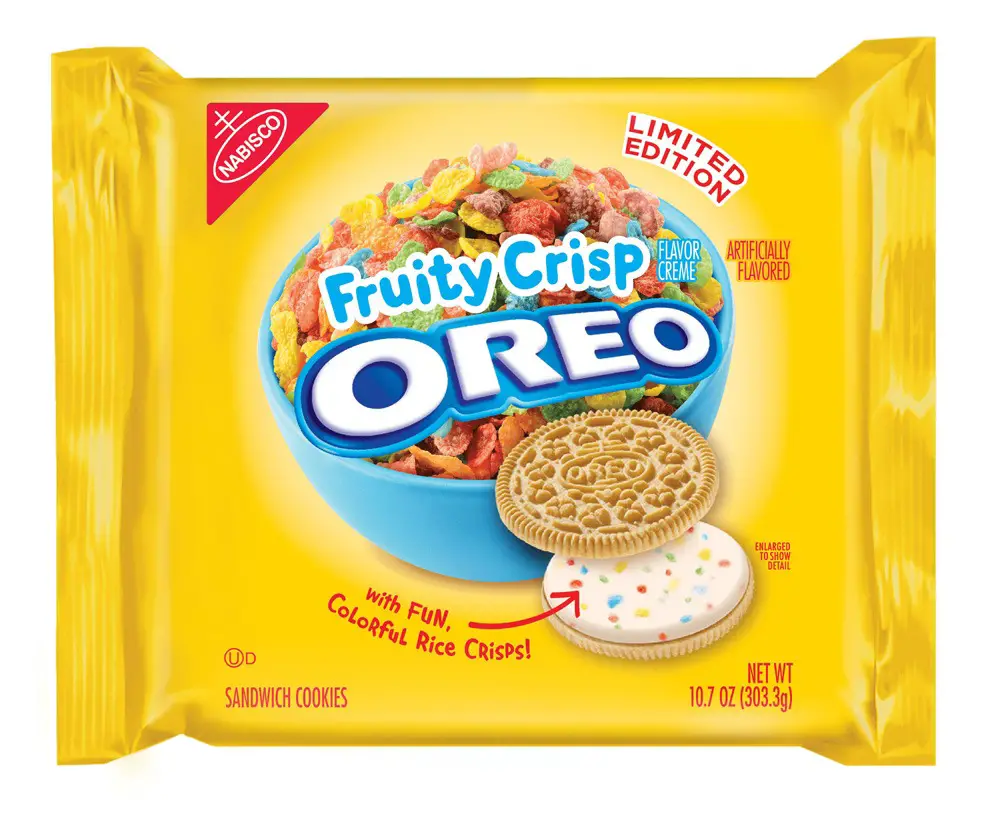 This flavor is similar to the Marshmallow Crispy Oreo and sandwiched between two Golden Oreos. The fruity, crisp flavored cream is centered in the middle with colored rice crisps. Eating this is like having breakfast cereal in a bite or two.
29.

Fudge Cremes Oreos
Just like the name suggests, the Oreo is a mixture of chocolate cookies that sandwich vanilla-flavored cream filling and the top is the chocolate fudge cream covering the Oreo. One reviewer said that the Oreo has too much chocolate though it was loved by many. The whole combo is finger-licking. But the analyst suggests that it would have been great if the combination was half vanilla-dipped and half chocolate-dipped.
30.

Glow In The Dark Halloween Oreos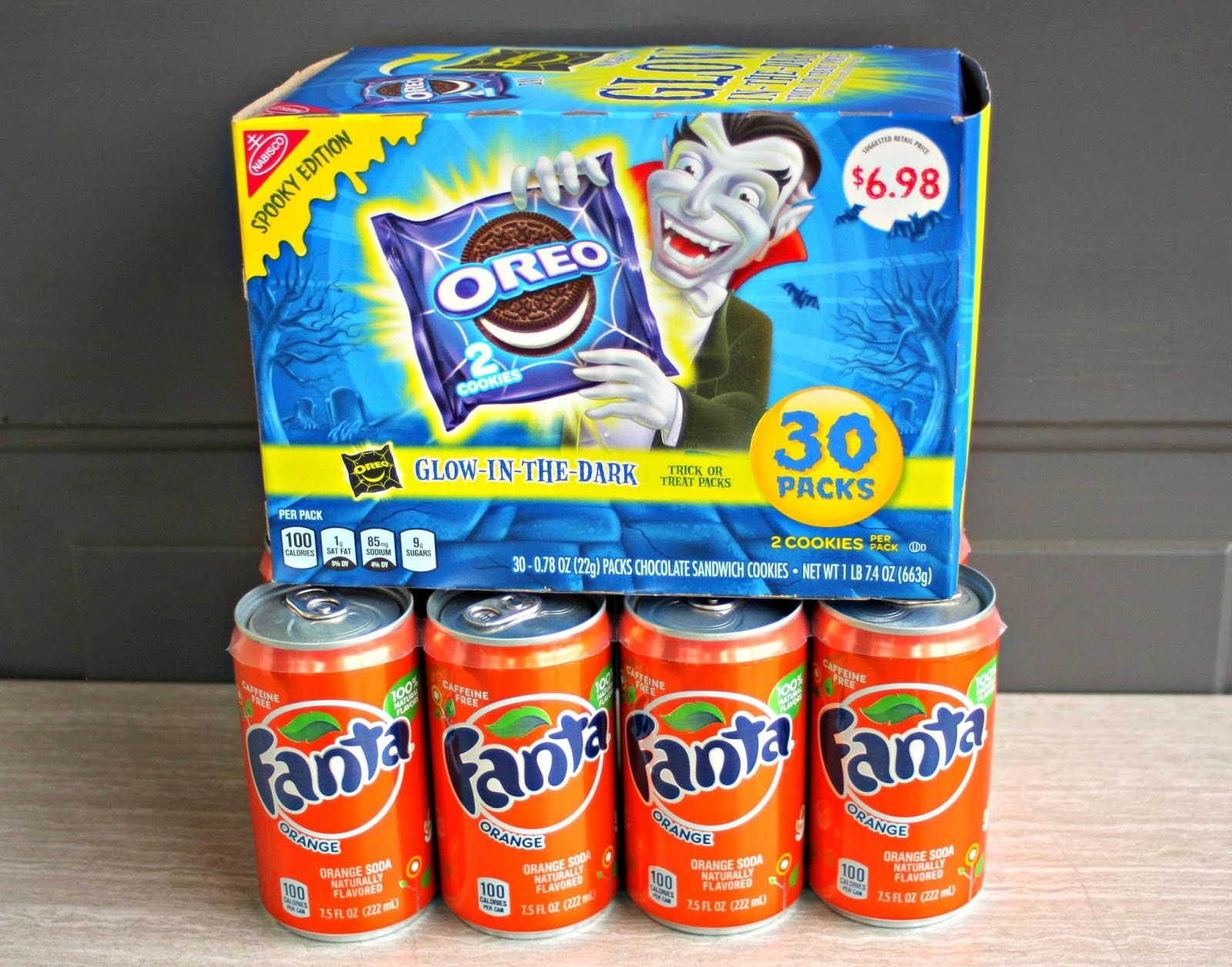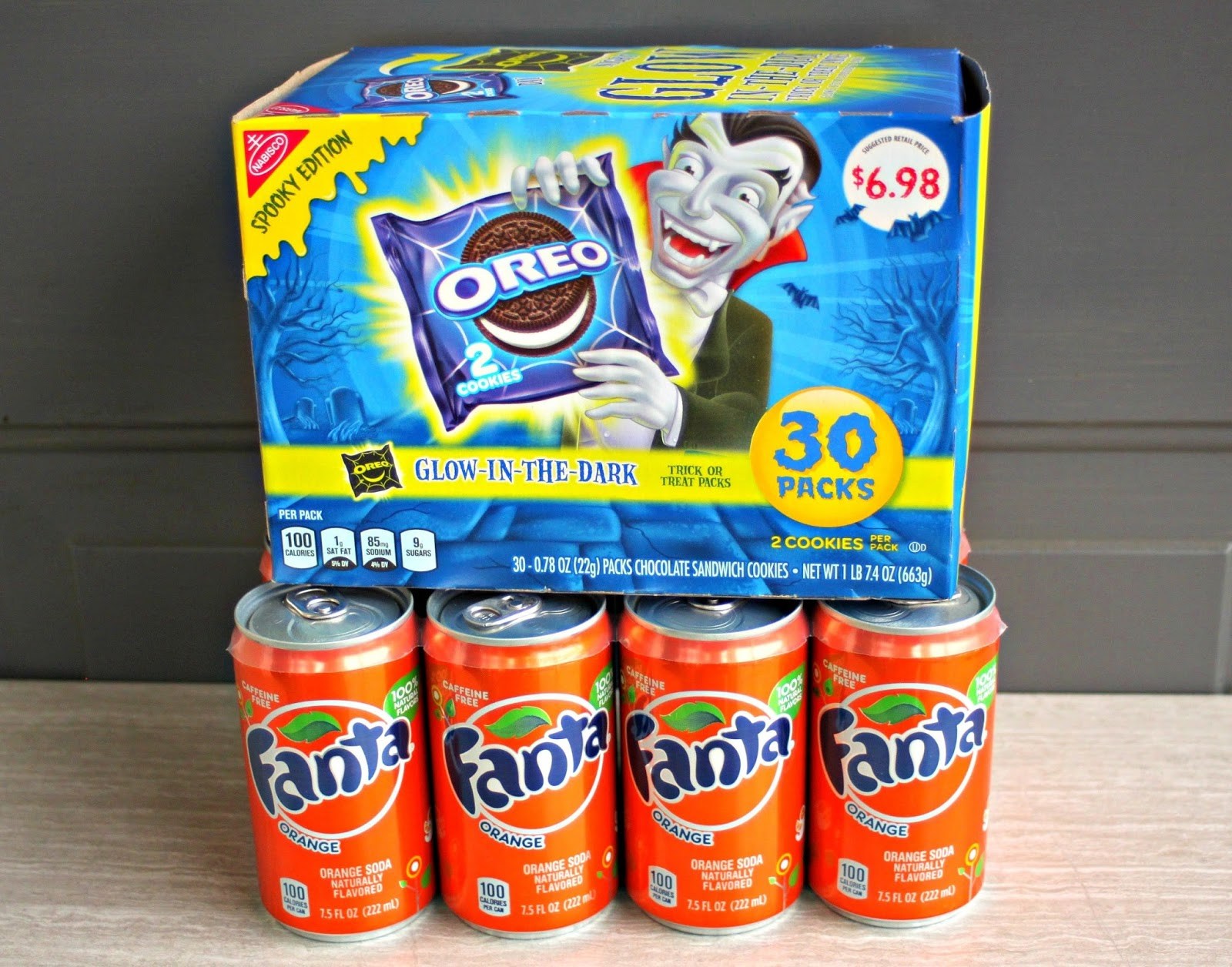 These festive treats are the perfect spooky snack for Halloween that actually glows in the dark! These are limited and seasonal only so grab them while it's available.
31.

Good Humor Strawberry Shortcake Oreos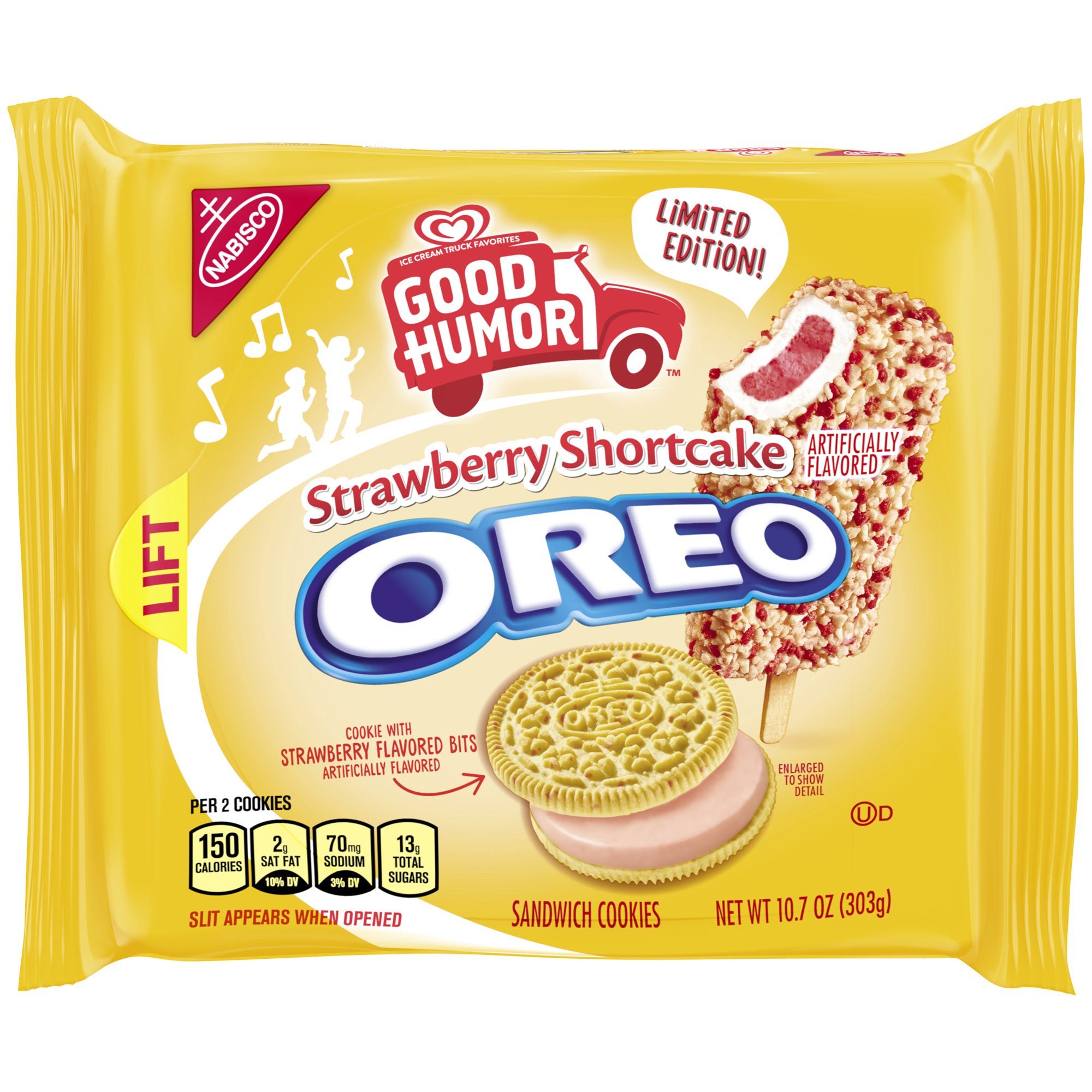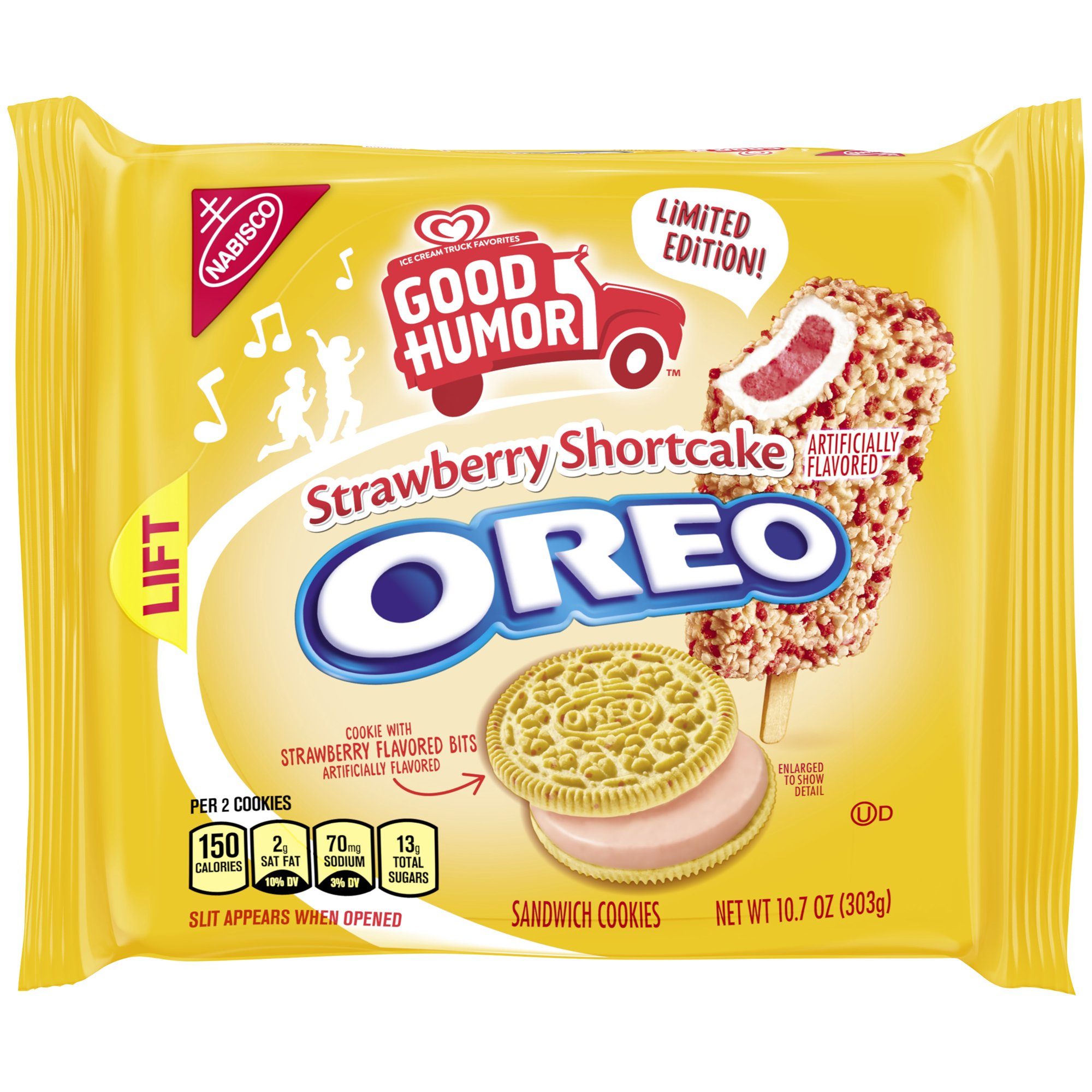 Nabisco found pleasure in converting American candies into Oreo flavors. He was determined to invent new cookies that would impress most people. The limited-edition Oreo consists of classic golden Oreo cookies that sandwich strawberry flavored cream filling. The Oreo is among the best cookies that were released. Enjoy the yummy cookie with your family or when going on a road trip. An Impulsive Buyer viewed the cookie as a Golden Oreo with a strawberry taste and was quite delicious.
32.

Grape and Peach Oreos
A weird combination no doubt. But how does it taste? Well, it's something similar to sweet tarts and reminds our testers of fake fruit. Would we try them again? Probably not.
33.

Green Tea Ice Cream Oreos
Just by its name, it sounds exciting and strange, but it is there. Green Tea Oreo is featured by a green flavored cream filling between tasty two chocolate cookies. The Oreo came to be known globally from China and Japan. I know you desire to taste the Oreo so that you may confirm what the combination is like. However, it is an excellent combo.
34.

Heads or Tails Oreos
Usually, some people are destitute in deciding the right Oreo that they should go for. Heads or Tails Double Stuff Oreo should be your choice. Simply because the Oreo is made of Vanilla and Chocolate Cookies; hence its choice of two flavors.
35.

Hot Chicken Wing Oreos
Chicken-wing spiced Oreo was also released in China in 2018 by the Oreo inventors, Mondelez International. The Oreo is characterized by two tasty chocolate cookies that sandwich an orange spicy cream filling. The Hot Chicken Wings Oreo had an orange cream just like the color of a hot sauce.
A commentator said that the Oreo spice was not impressive, and chocolate does not go so well with Buffalo Chicken Wing Sauce. Sadly, the Oreo dessert is only found in China. A bite of the Oreo snack gives you pleasure.
36.

Jelly Donut Oreos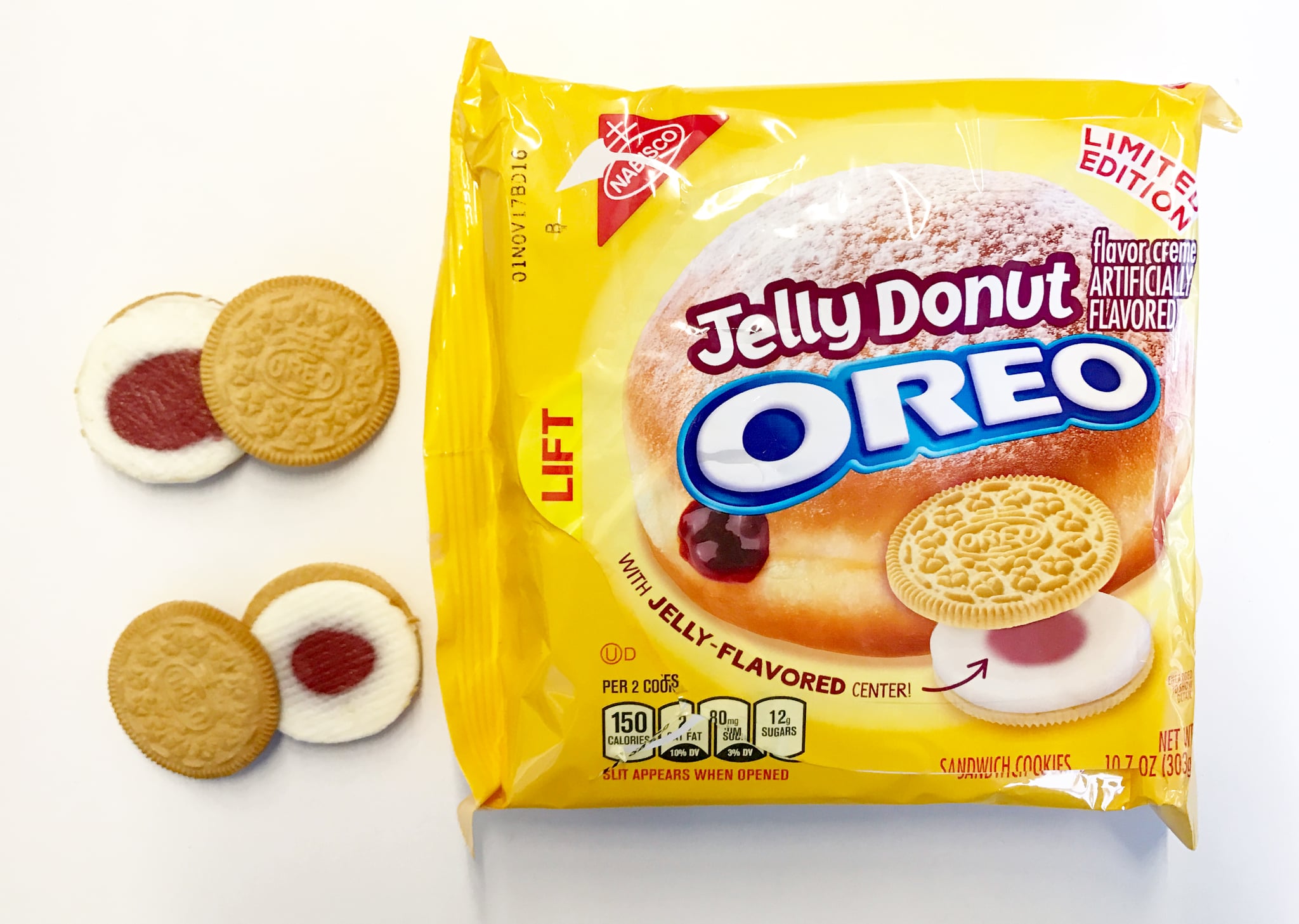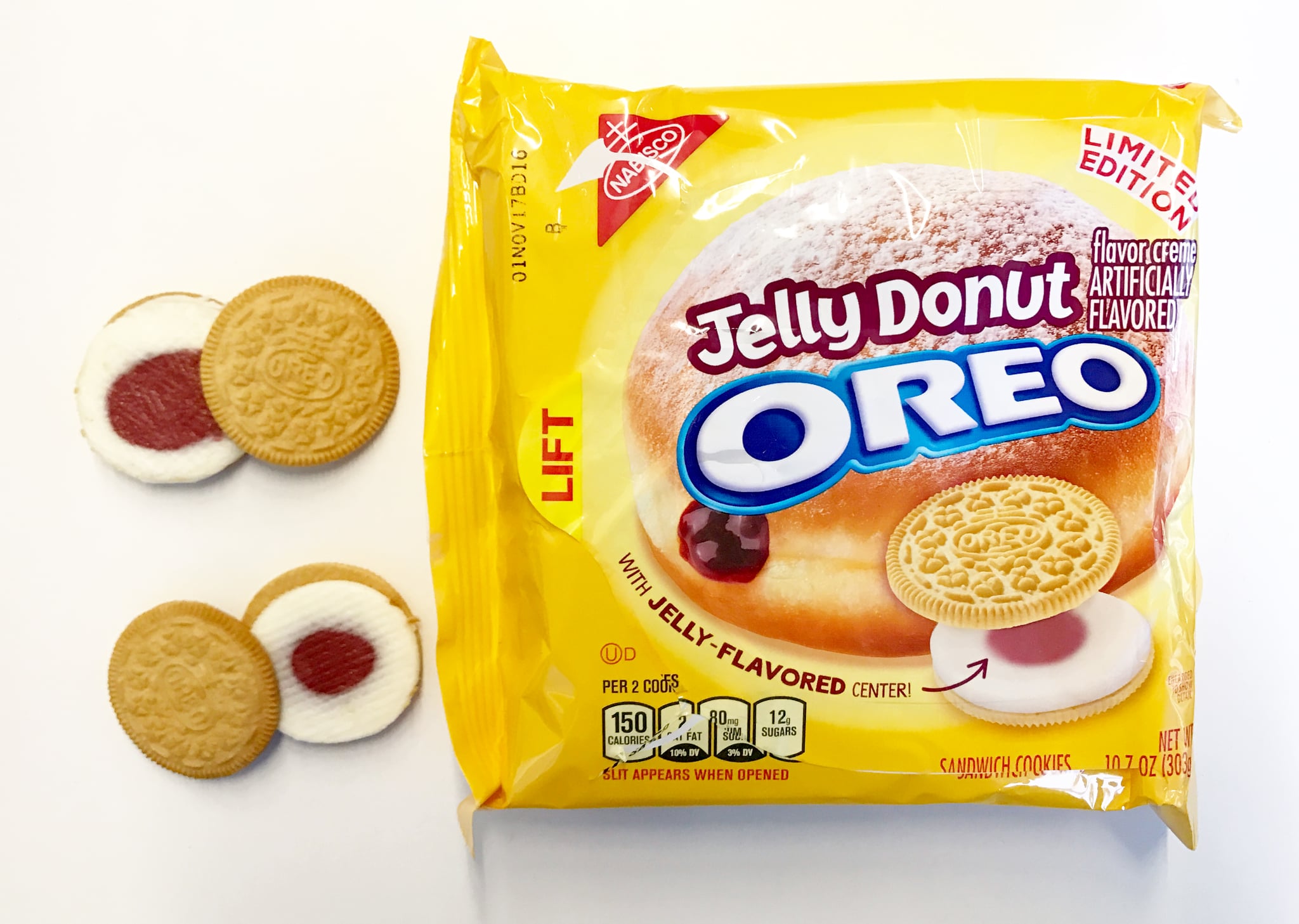 It has a strawberry flavored cream. The Jelly Donut Oreo is characterized by a classic cookie, strawberry flavored cream, and jell at the middle of the cream. But do not resist it because the jelly center won't spill on your clothes. You will enjoy the Oreo peacefully. It was a limited edition that was launched in May 2017.
37.

Kettle Corn Oreos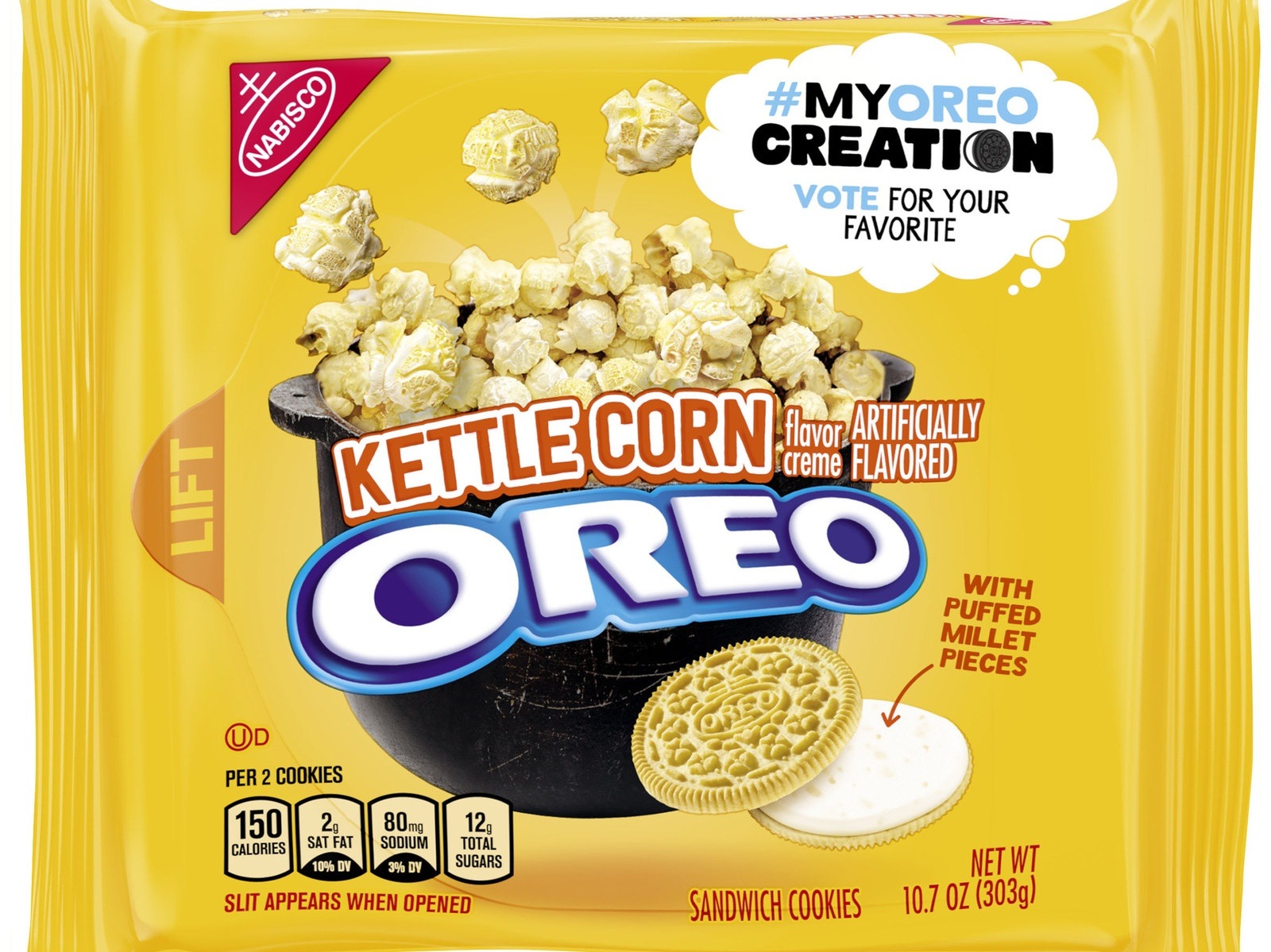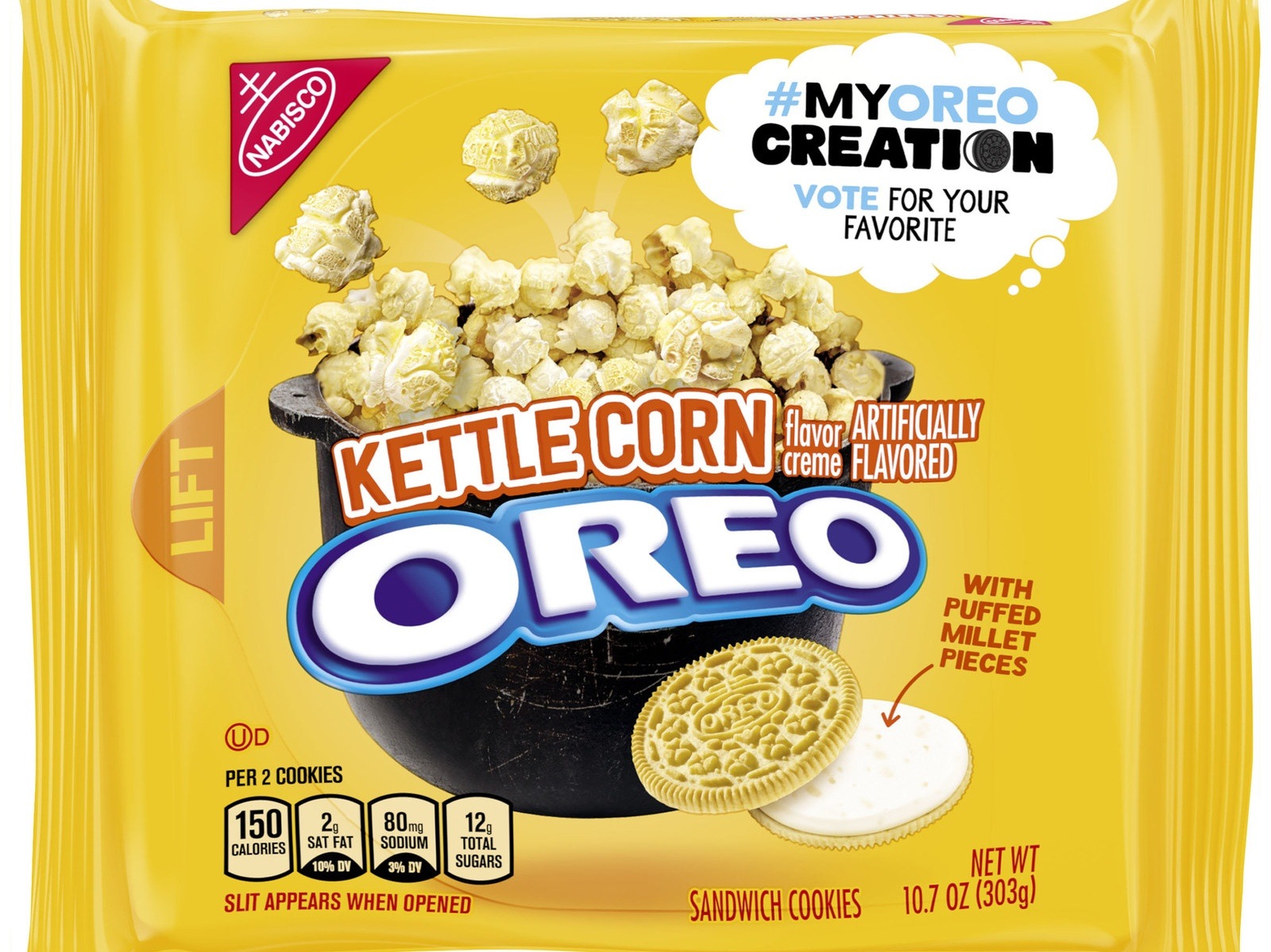 Oreo lovers prefer the Kettle Corn Oreos. In 2018, Nabisco challenged Americans to ballot their most preferred Oreo Flavor, and Kettle Corn Oreos were at the top of the list. The contest was called My Oreo Creation Contest. The Kettle Corn Oreo is three-layered. It sandwiches kettle corn flour cream; puffed millet pieces are in between two yummy golden cookies. Take the Oreo with milk because it is a perfect match. Though Amazon clients had different views concerning the Oreo-like, one said that the smell almost made them puke, and another said that the taste was excellent; thus, it met their expectations.
38.

Lady Gaga Oreos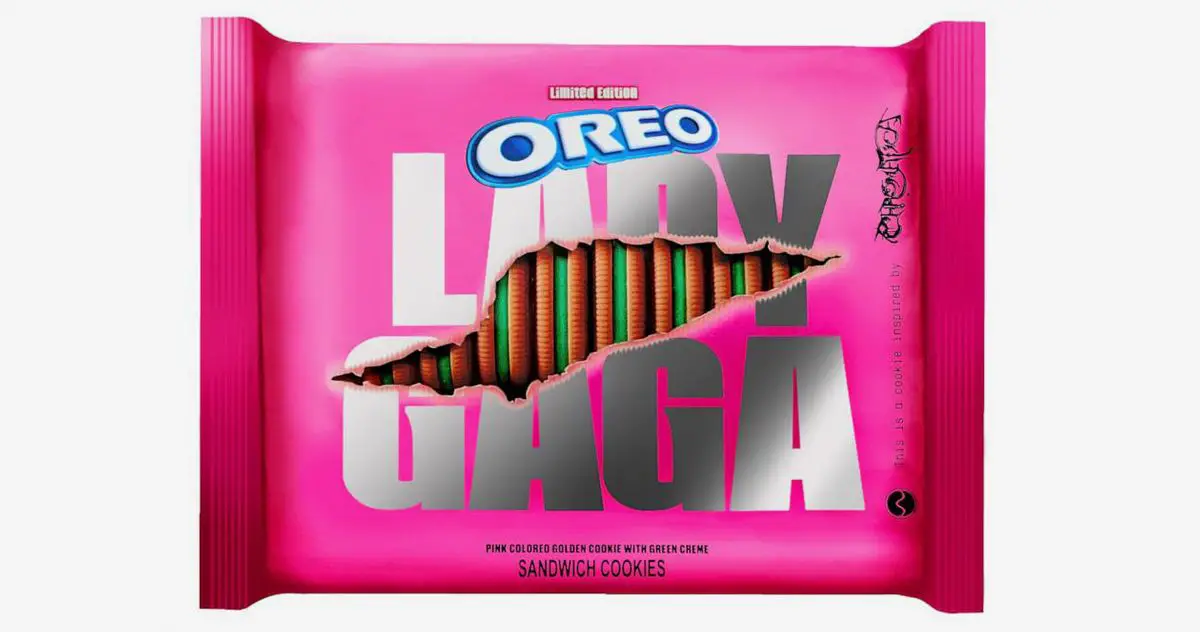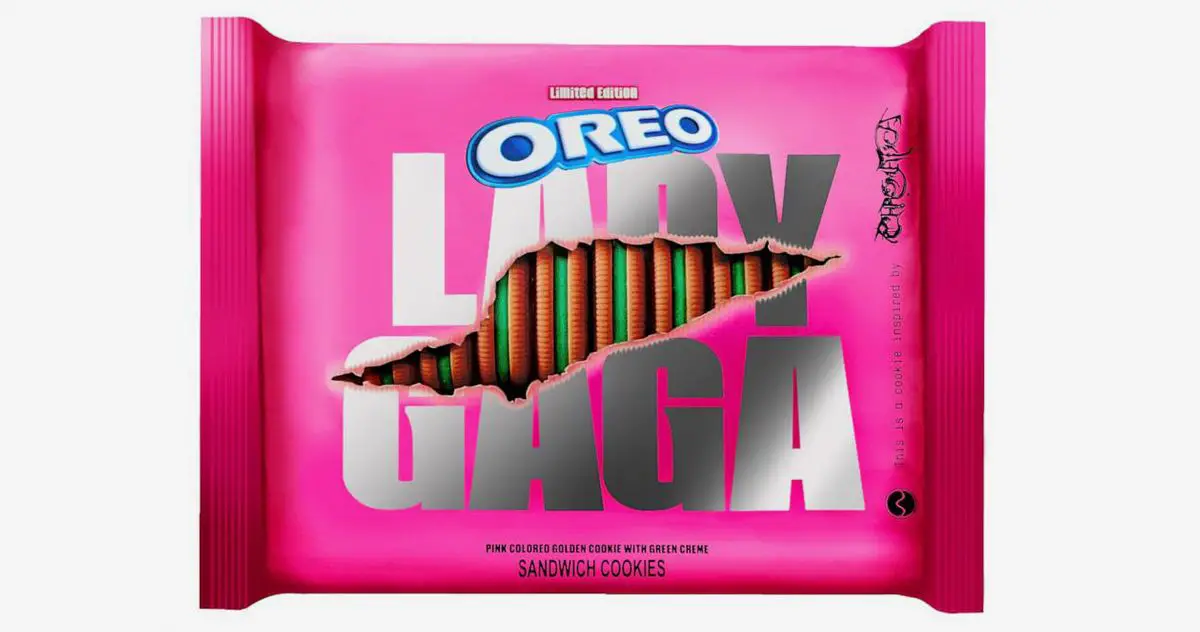 A limited-edition Oreo named after a pop music star regarding her hit album Chromatica: it has flavored vanilla cookies that are bright pink. They have different designs that are aspirations from the album and green cream filling. But you can't miss its mouthwatering taste.
39.

Lemon Crème Oreos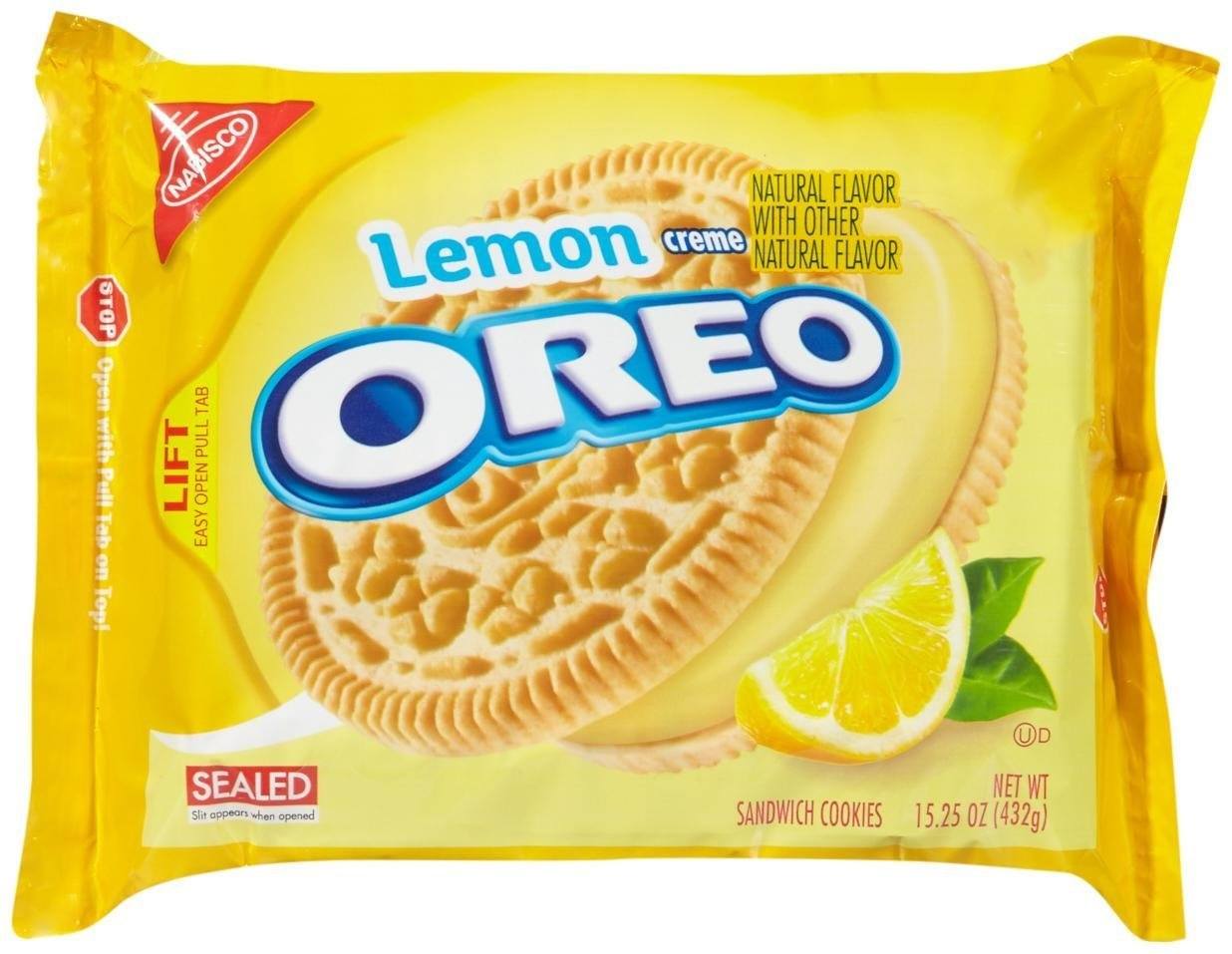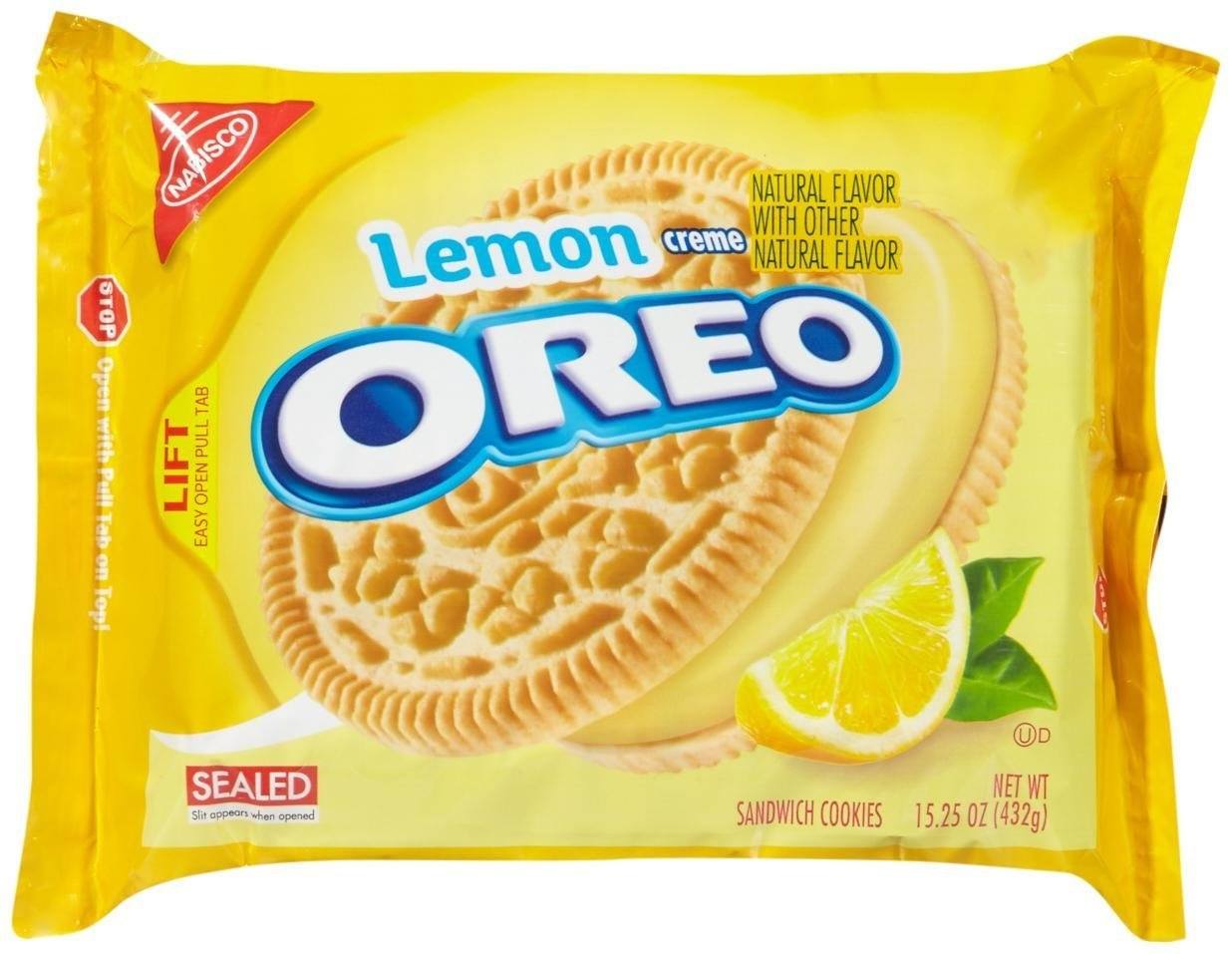 Lemon Crème Oreos is delicious, just like Pina Colada Oreos. It is not a traditional Oreo but excellent for those who are pleased with a lemon flavor. Originally, Nabisco had lemon flavor in the 1920s, so the Lemon Crème Oreo improved the initial taste. It comprises golden chocolate cookies that sandwich a lemon-flavored cream filling.
40.

Lemon Twist Oreos
It was a Nabisco invention in 1912, and it comprises lemon twist flavored cream sandwiched between sweet golden cookies. The snack is refreshing and is great for road trips, sharing, gathering, and treating yourself with your family. The sad news is that Lemon Twist Oreo does not exist. It is best enjoyed with a glass of milk.
41.

Limeade Oreos
It tastes precisely like the Lemon Oreos. It comprises of a green flavored cream sandwiched in two Vanilla Golden Oreos. However, they don't exist in the market. However, Limeade Oreo was incredibly yummy. It was also a limited edition that was officially launched back in 2014.
42.

Maccha Green Tea Oreos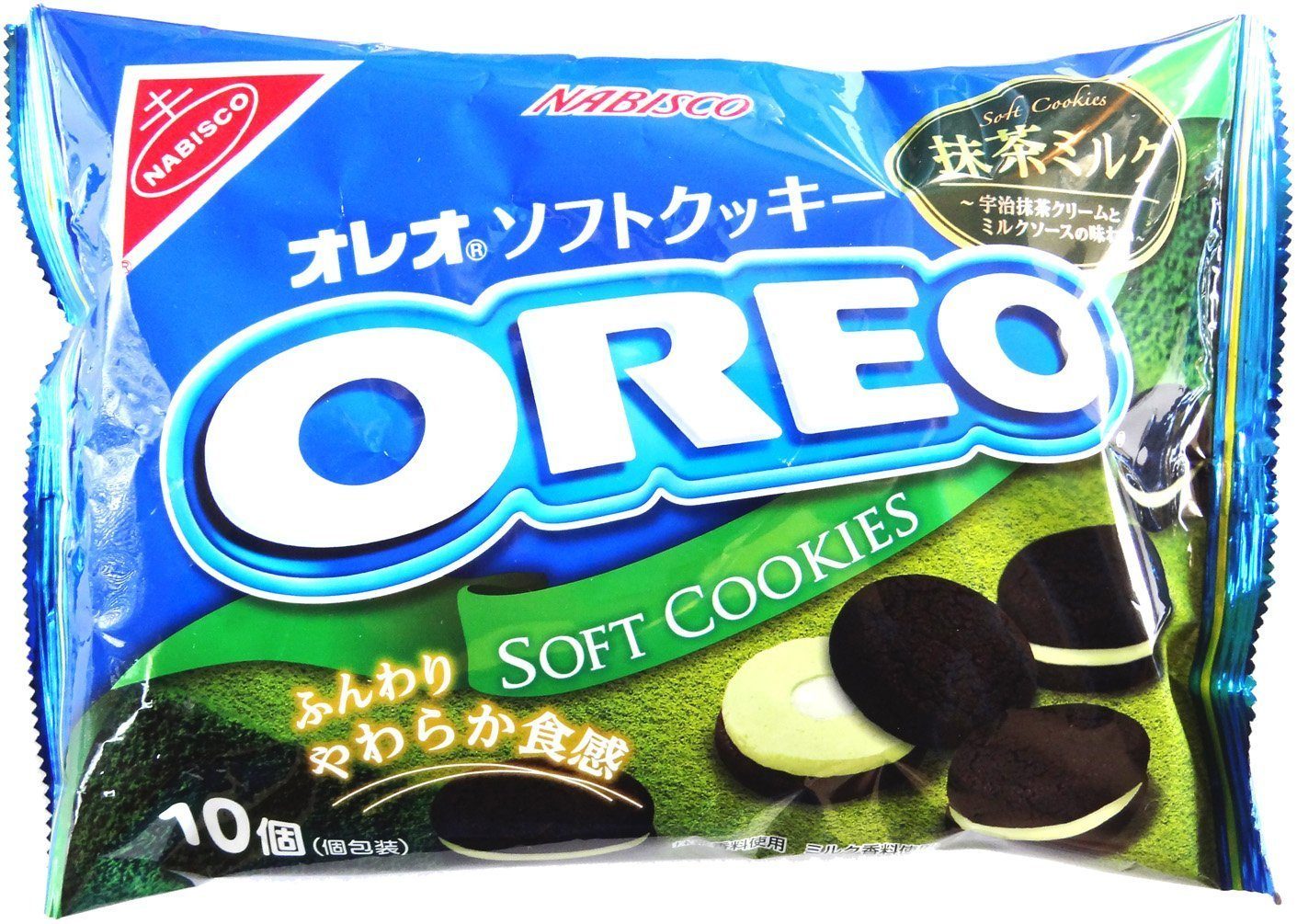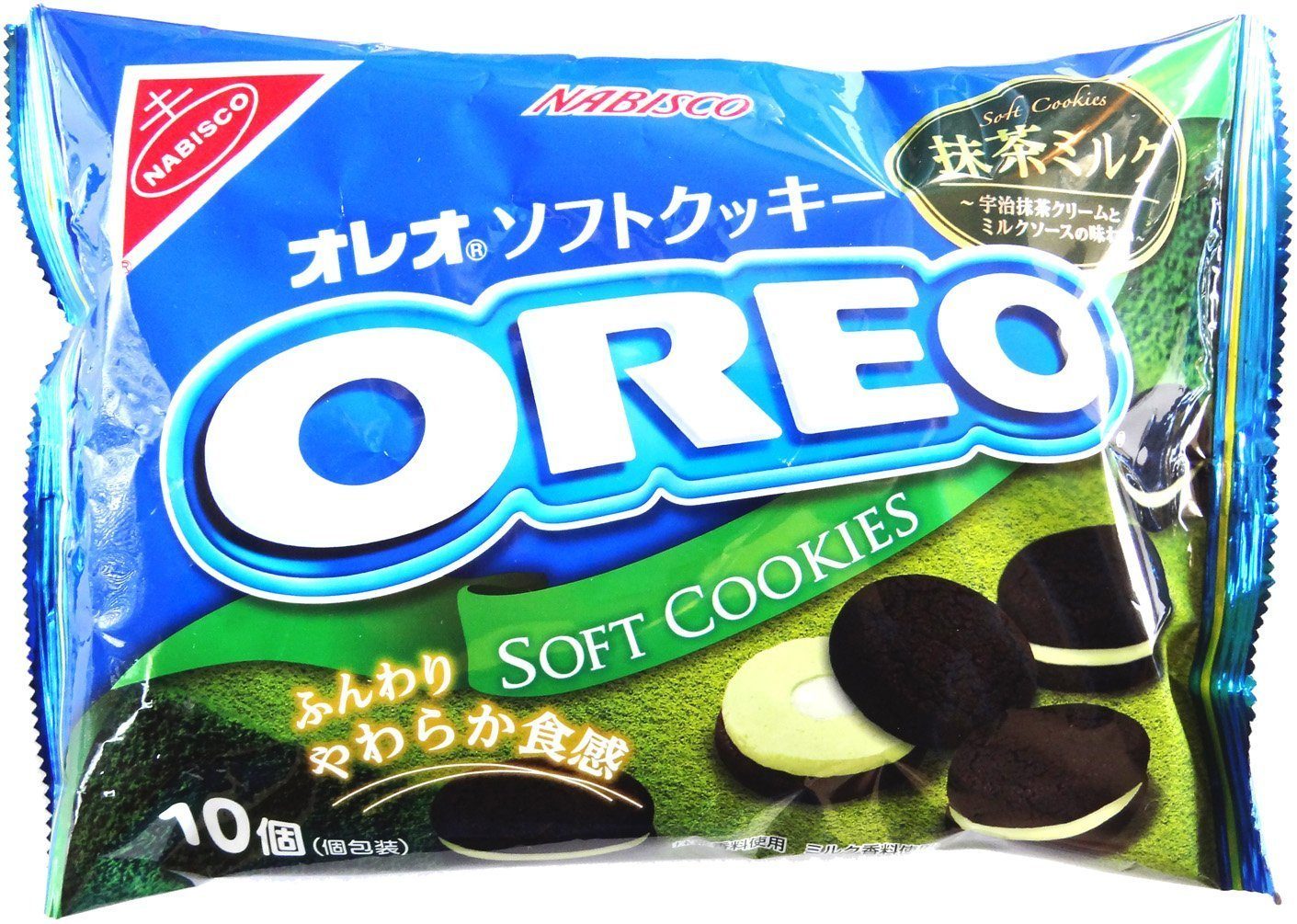 Its weirdness is in its taste because it doesn't taste like an Oreo. However, its fluffy and creamy texture resembles that of other Oreos. The Oreo features are two classic chocolate cookies and a green tea flavored cream filling with a unique spot at the center. The Oreo originated from Japan, and it is scrumptious.
43.

Maple Creme Oreos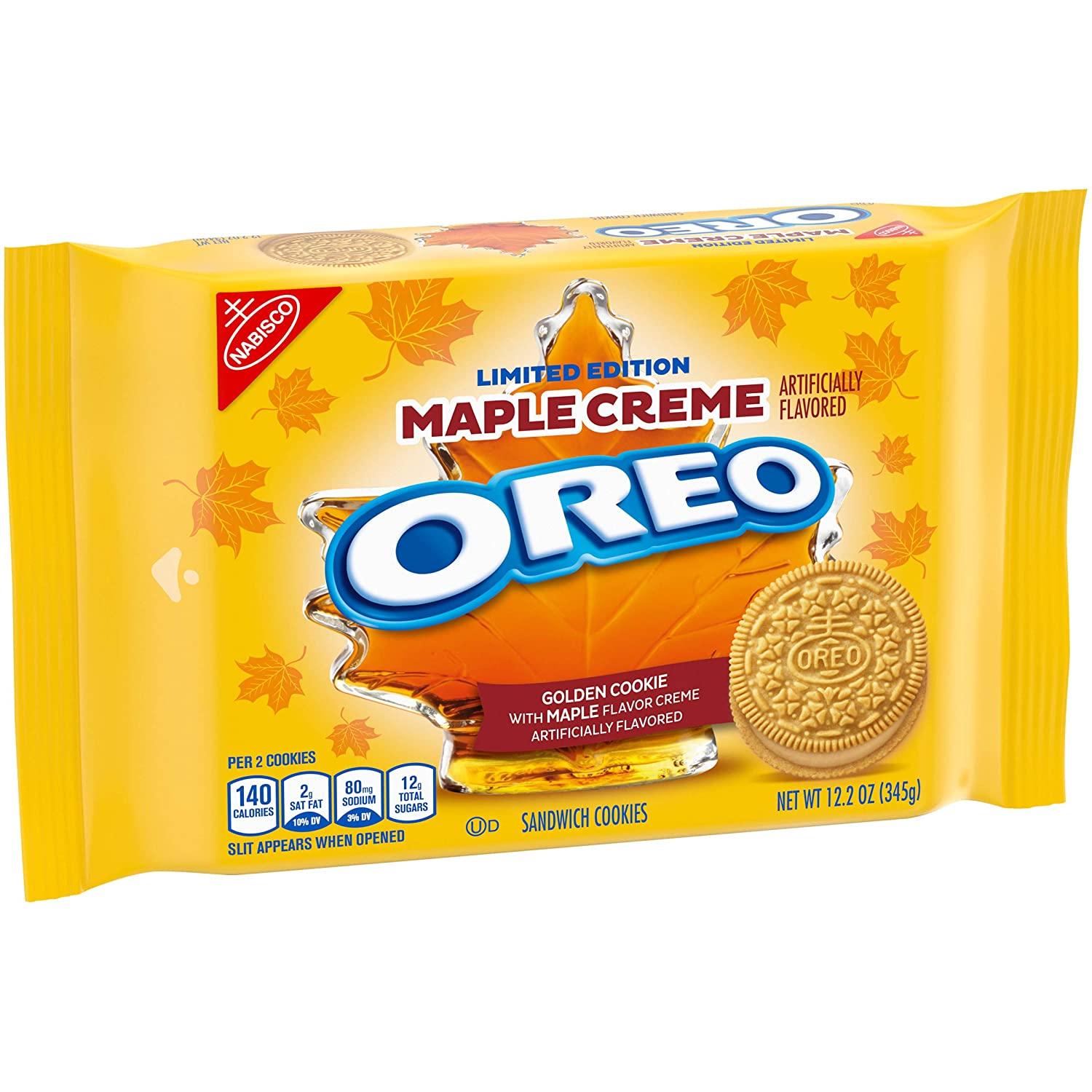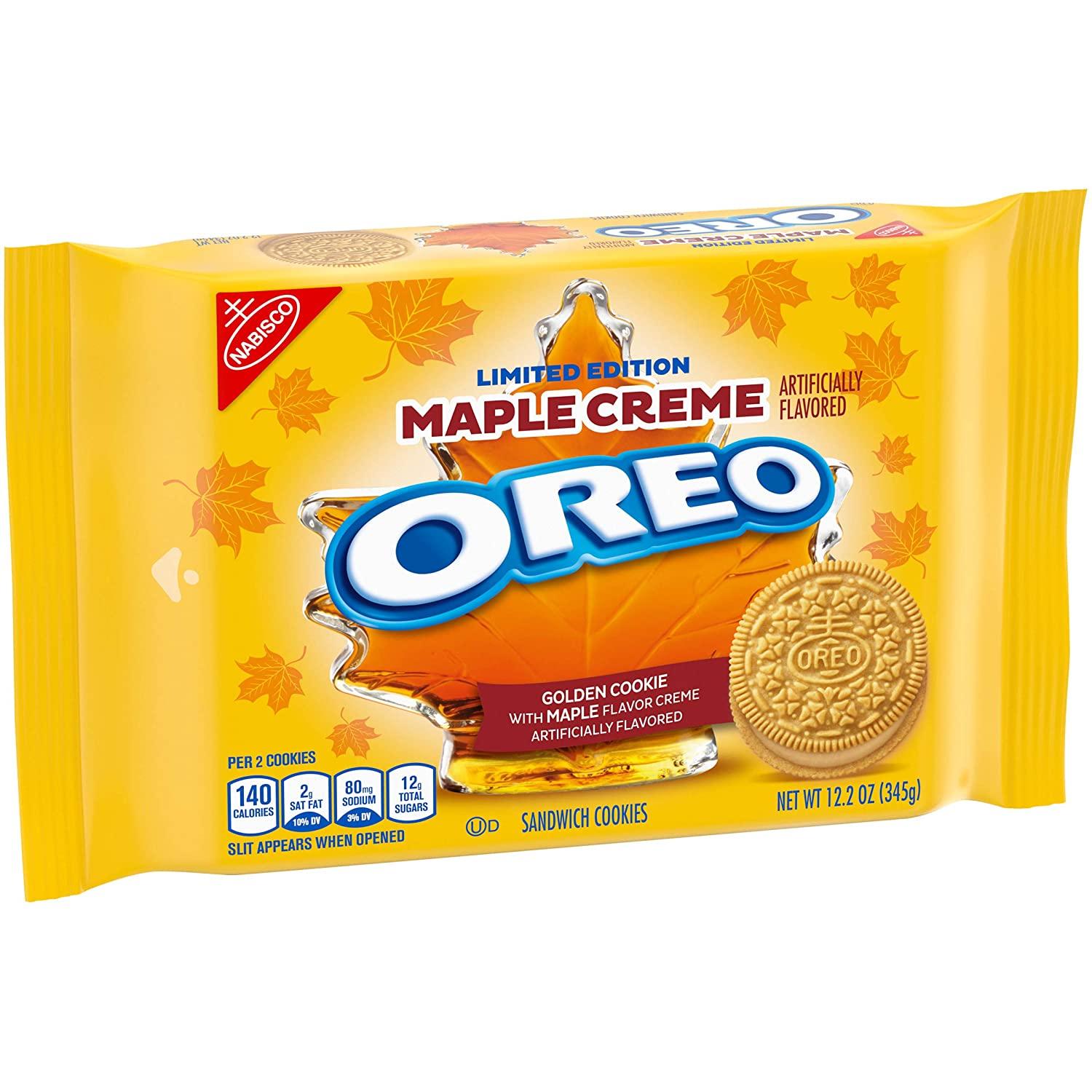 The dessert has tasty maple cream flavored filling that is sandwiched between two golden vanilla Oreo cookies. Maple Cream Oreo is a limited edition that is an appropriate treatment for parties, at home as breakfast, or in the office. Just take it with your favorite drink.
44.

Marshmallow Crispy Oreos
Just as the name suggests, the Oreo is mouthwatering. The features of Marshmallow Oreo are marshmallow flavored cream sandwiched between two Vanilla Golden Cookies and small pieces of crisps in the flavored cream. This adds more taste to the delicacy.
45.

Matcha Roll Cake Oreos
It is a limited release from Japan by Nabisco Company. The Nabisco Japan Crispy Oreo is characterized by two thin crispy chocolate Oreo cookies that sandwich yummy green matcha flavored cream filling. It has a little bitter taste that blends perfectly with delicious Oreo cookies. The green cream filling enhances its taste and makes the Oreo attractive. It is perfect with your favorite hot drink.
46.

McDonald's Cheeseburger Oreos
There is planned to be released very soon, so it has never existed there before. A cheeseburger or Oreo is excellent when taken alone. What of when the two are combined? A commentator said that an Oreo in a burger is very disgusting, and another one commented that it is the most Oreo out of other Oreos. The McDonald's Cheeseburger Oreo will originate from China. And it consists of a regular burger that sandwich crumbled chocolate cookies and minced meat between the two buns.
47.

Milka Alfajor Triple Oreo with Dulce de Leche and Vanilla Cream
This Oreo is consists of three layers and is bigger than the average oreo. Three classic chocolate Oreo cookies sandwich Dulce De Leche flavored cream filling in between two cookies at the top and vanilla-colored cream filling between two Oreo cookies at the bottom. The whole is covered with chocolate cream or traditional sugar cream, making it more delicious. If you treat yourself to it in the morning, you won't require lunch because it is fully satisfying. It is commonly produced in Argentina.
48.

Oreo Vanilla Triple Alfajor Mini Cake Oreos
It is made in Argentina. The mini cake Oreo comprises three layers, thus the name triple. Three yummy chocolate cookies characterize it; the first two cookies sandwich a vanilla flavored cream filling, and the second and third cookies sandwich another vanilla-colored cream filling. But the sad news is that the delicious Oreo cake is out of stock. The mini cake Oreo is covered with chocolate cream of traditional sugar cream at the top, making it more delicious. Such that by enjoying a single bite of the treat, you can't hesitate to finish off the entire dessert.
49.

Onion Flavored Oreos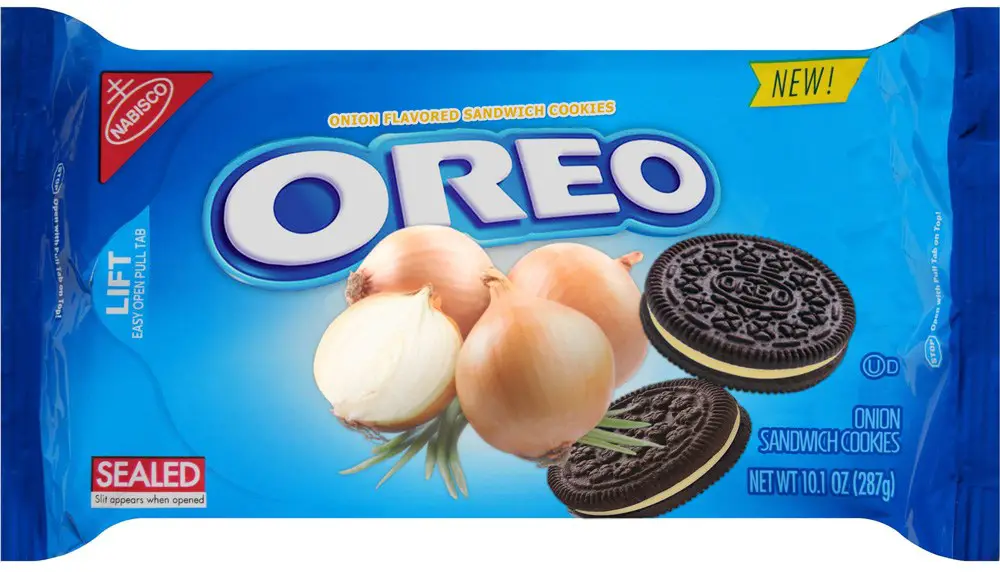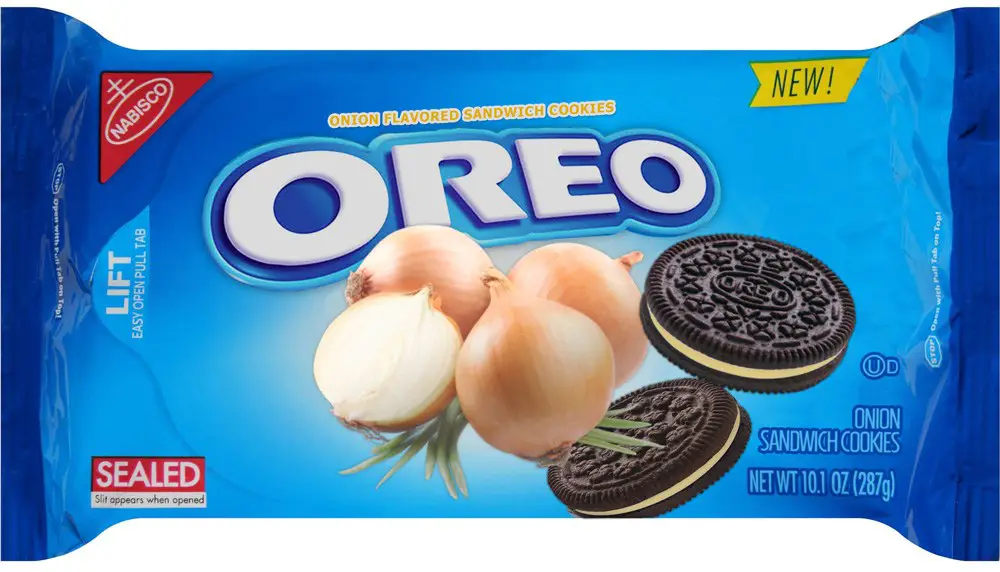 Just by a mention of its name, it sounds weird. It was launched by Nabisco, which left so many people in awe. It doesn't contain so much sugar. Thus, it is suitable for kids. Onion flavored Oreos consists of two yummy chocolate cookies that sandwich an onion flavored cream filling. It is a different and a perfect combination.
50.

Orange and Mango Oreos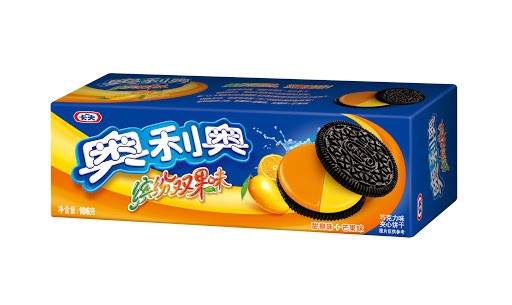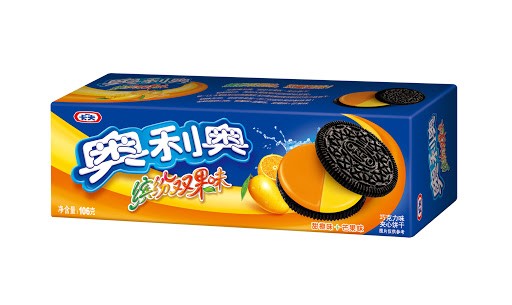 The dessert originates from China, which is a double fruit Oreo. Two regular chocolate Oreo cookies feature the Oreo: sandwich double cream flavors that are orange cream and mango cream filling. The orange color represents an orange fruit, while the yellow color represents a mango fruit. In the Oreo, the orange taste dominates much of its flavor. Thus, it tastes like an orange. The combination of an Oreo and orange is an okay match up. Would we buy it again? Nope.
51.

Orange Creme Oreos
Orange Cream Oreo is not available at the moment. Everybody loves cookies, and you should try this new flavor. It is found in Dubai, and it is excellent when taken with milk. Orange Cream Oreo comprises two chocolate Oreo cookies which sandwich a tasty orange-colored cream filling.
52.

Orange Ice Cream Oreos


It originated from Indonesia, Singapore, Malaysia, and Thailand. Its orange-colored cream is lovely. It is characterized by two yummy chocolate Oreo cookies sandwiching orange ice cream flavored filling. It is best enjoyed with milk or a drink of your choice.
53.

Oreo Pistachio Thins
It is at the top of the list of the best Oreos that have ever been discovered. Oreo Pistachio thins comprises of a green pistachio flavored cream filling placed between exquisite dark chocolate cookies. Its taste is similar to that of pistachio ice cream. Generally, Oreo Pistachio Thins are magnificent. Its taste is sweet and somehow floral.
54.

Oreo Vanilla Triple Alfajor Mini Cake
What's better than one cookie? Two! What's better than two? Three of course. And that's where the  Triple Alfajor Mini Cake comes into play to our taste buds. This sweet, delicious treat is not only satisfying to eat, it can fill you up if you eat more than three.
55.

Peanut Butter Fudge Cremes Oreos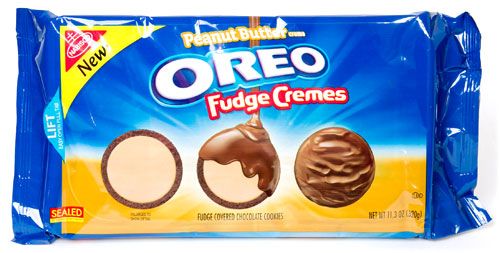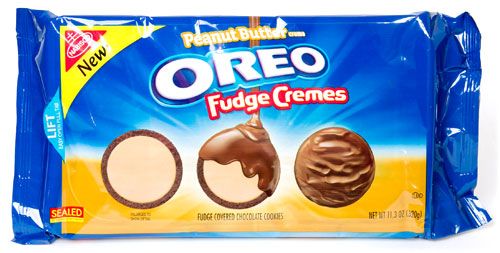 Nabisco Company released it in a limited edition. It comprises two tasty chocolate Oreo cookies that sandwich peanut buttercream and fudge cream filling, and the entire Oreo combination is perfect. It has a unique taste, and once you bite it, you can't hold back but enjoy the whole dessert. Take it for breakfast with milk or a favorite drink, and you will be pleased by its taste.
56.

Peeps Oreos
People mostly prefer treating themselves with Peeps during Easter. But Still, Nabisco dared to invent Peeps Oreos in the year 2017. Peeps Oreos were characterized by a decorated Peep chick and crème that was pastel-colored sandwich filling. But they have changed in color because, in 2017, the Oreo was pink in color, and in 2018 the cookie filling transformed into purple color. Though even if the cookie filling color changed, the taste was not great at all.
An Amazon analyst's view was that the Peeps Oreos tasted like plastic. Whether this statement is true, only the consumer will tell.
57.

Piña Colada Oreo Thins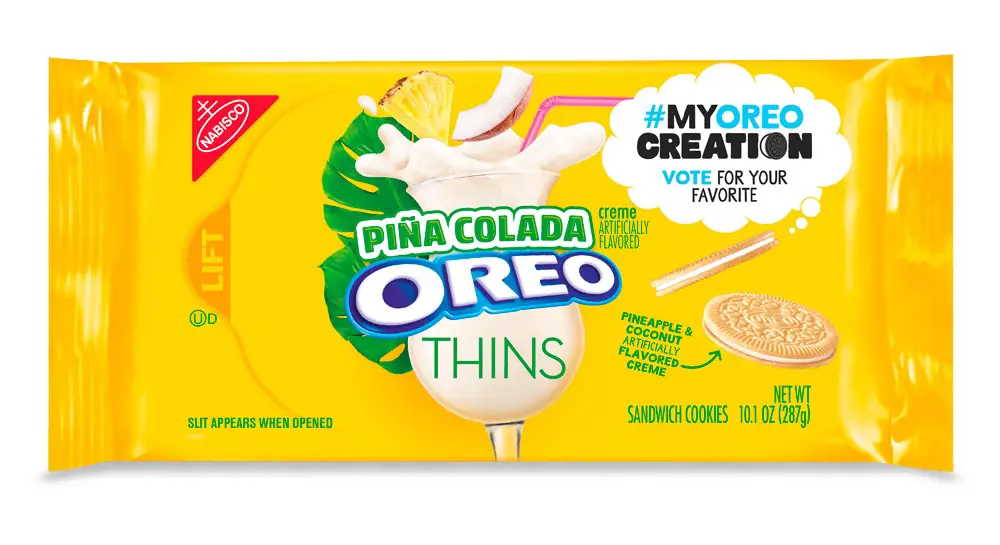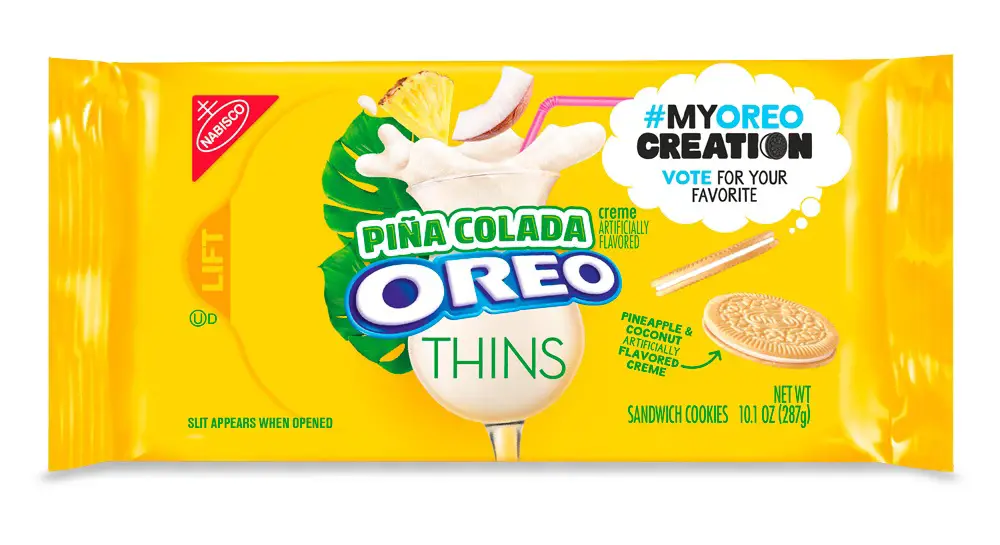 The Oreo was launched in April 2018 by Nabisco Company by a My Oreo Creation Contest. This flavor contains coconut and tropical pineapple cream sandwiched in the two chocolate cookies. Treat yourself to the Oreo dessert with the taste of Pina Colada but without the alcohol, boo hoo!
58.

Pumpkin Spice Oreos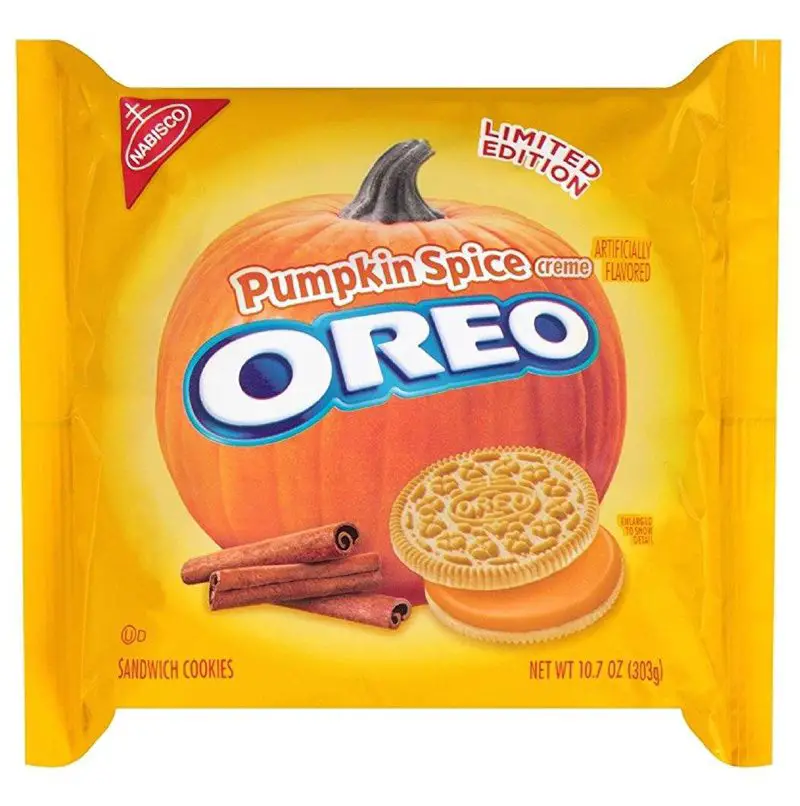 The Oreo is featured by two classic golden Oreo wafers that sandwich pumpkin spicy colored cream filling. It is beautiful due to its bright golden wafers and the yellow pumpkin spice color as well. Its taste goes in line with its attractive color. It is suitable for your health because it contains zero fats. It is well suited with milk for road trips, snaking, or sharing with family and friends. Just like many other Oreos, it is a limited edition launched by Nabisco.
59.

Raspberry-Blueberry Oreos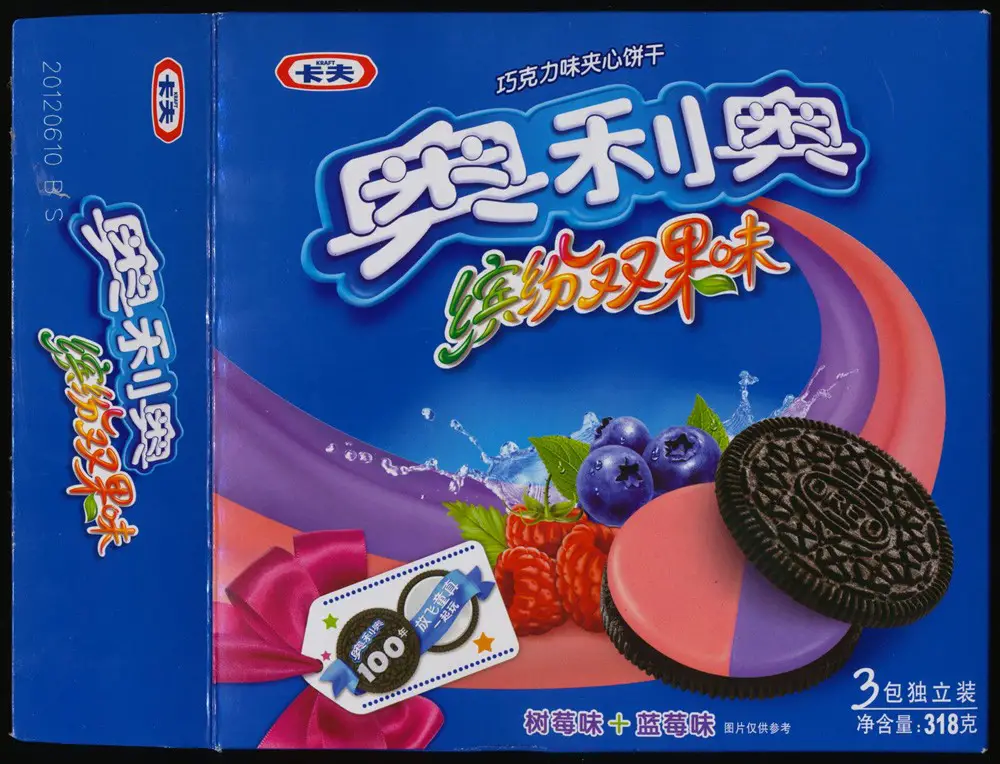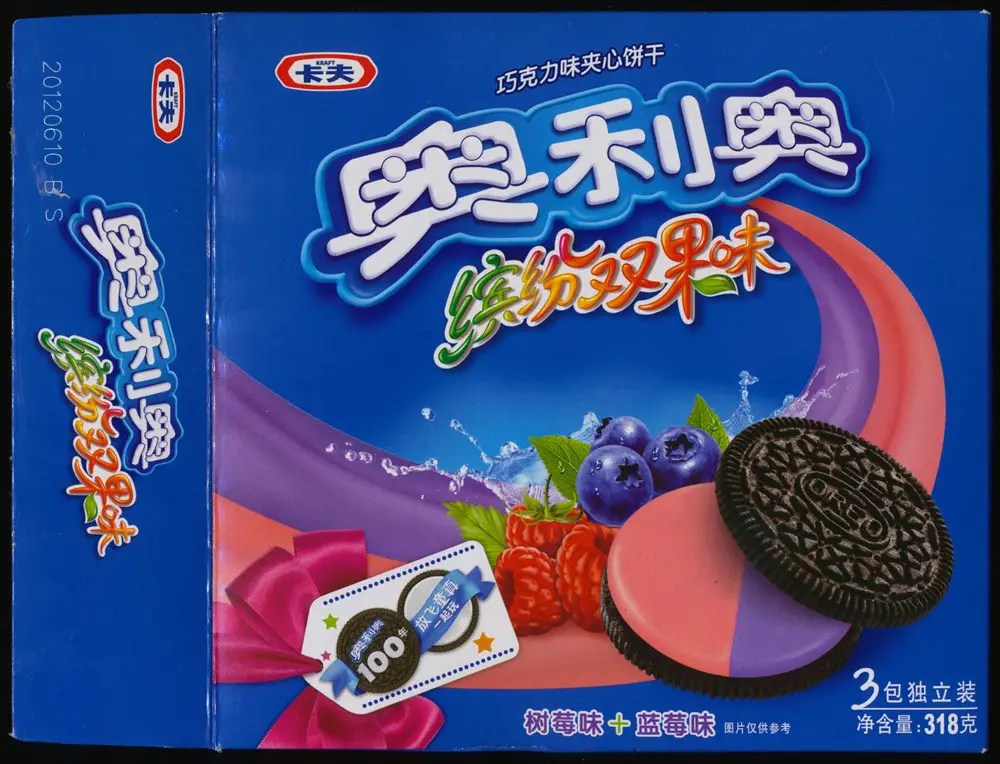 It is a dual flavored Oreo consisting of two fruit flavors. The Oreo is characterized by yummy chocolate Oreo cookies and raspberry cream flavored, and blueberry cream flavored filling in between the Oreo cookies. The two fruit flavors make the Oreo attractive and tasty.
60.

Rocky Road Trip Oreos
The name of the Oreo suggests that the cookie is gentle. Rocky Road Trip Oreo was released in 2018 by Nabisco Company, and it was a limited edition. Its characteristics by marshmallow bits and rocky road flavored cream sandwiched in between two friendly chocolate cookies. The Oreo combination is incredible, and it is cholesterol-free. Rocky Road Trip Oreos is the perfect choice for people who want to keep their shape by avoiding too many calories.
61.

Root Beer Float Oreos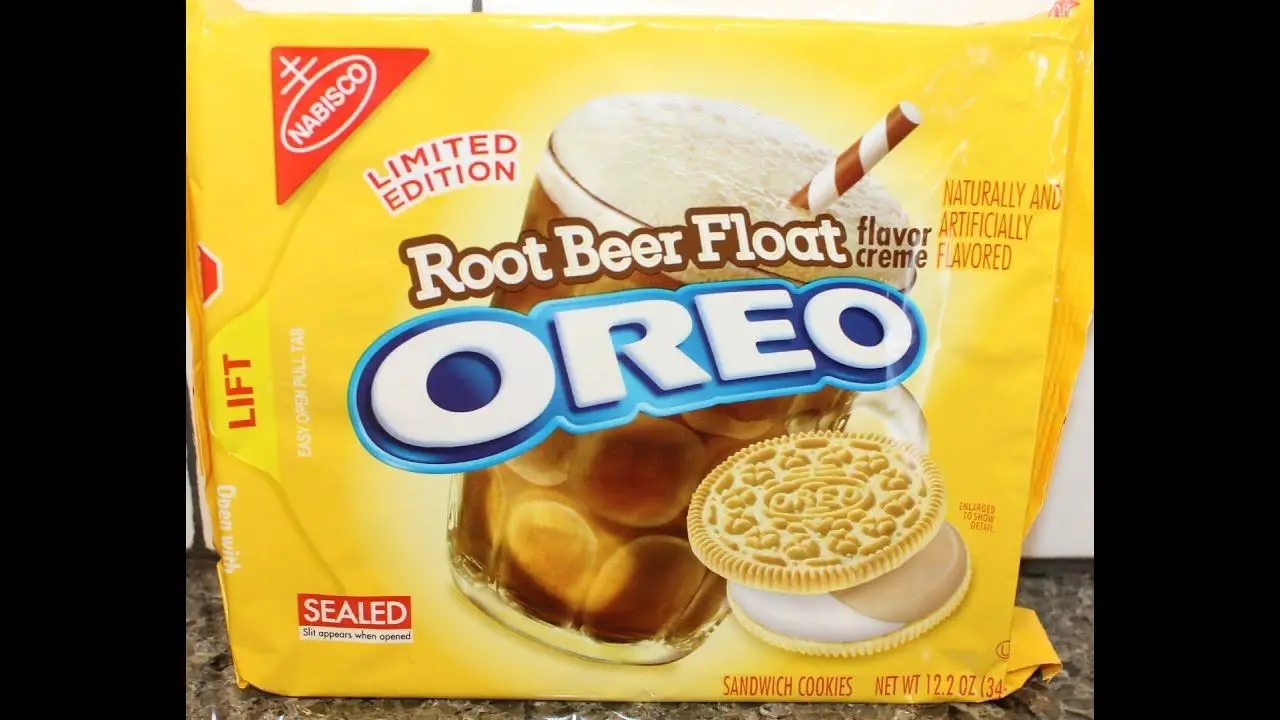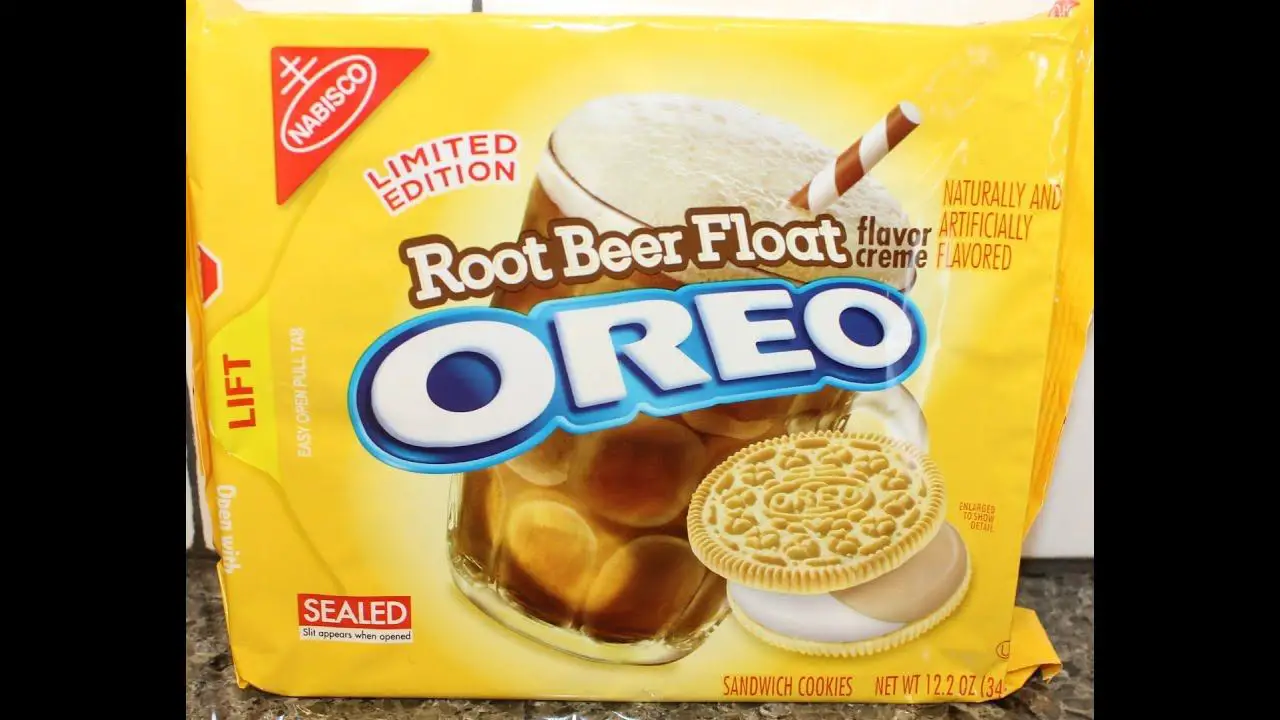 Root Beer Float Oreos was launched in 2014 in a limited edition. The Oreo presents great pleasure when taken with an iced drink filled with cream. Amazon analysts have said that the Oreo is extremely impressive, and its taste was that of another level. It has a strong root beer flavor. It is a perfect choice when you are having an adventure.
62.

Reduced-Fat Oreos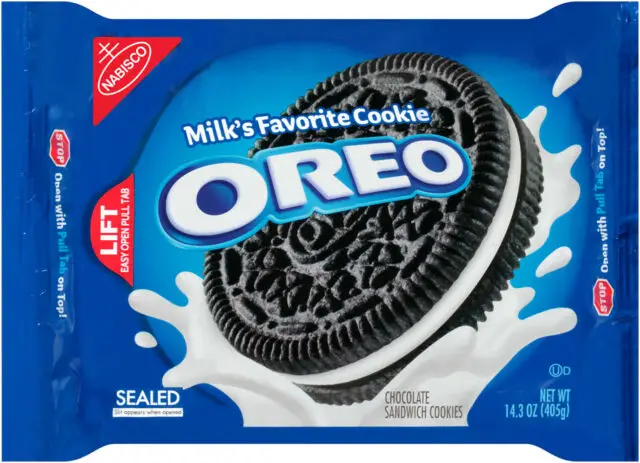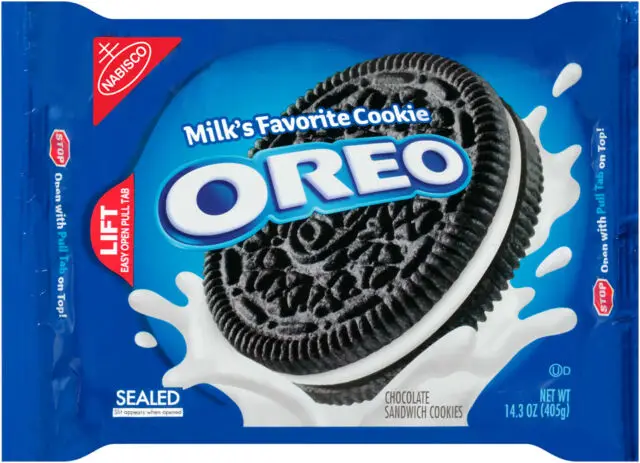 The Reduced Fat Oreo contains even less fat than the original Oreo. Why was this Oreo even created? A much-lesser version of the Oreo? Who knows what was running through the minds of the creators behind it. Next thing you know, there's a sugar-free Oreo… oh snap, there is 🙁
You can eat this reduced-fat Oreo with a drink or without any drink. Take it in the morning as breakfast, break time, or with coffee in the evening. The Oreo features a yummy cream sandwich that is sandwiched between two chocolate Oreo cookies. It is made with real cocoa and contains no Tran's fats; hence it is appropriate for your health.
63.

Sakura Chiffon Cake Oreos
It is a Japanese dessert that is so yummy and is a limited time edition launched by Nabisco Company. Sakura simply means a Japanese cherry-blossom spice. The Oreo combination is perfect. It is characterized by classic chocolate cookies and a pink colored cream filling sandwiched between the cookies. Just by its attractive look, the snack is mouthwatering.
64.

Sakura Matcha Oreos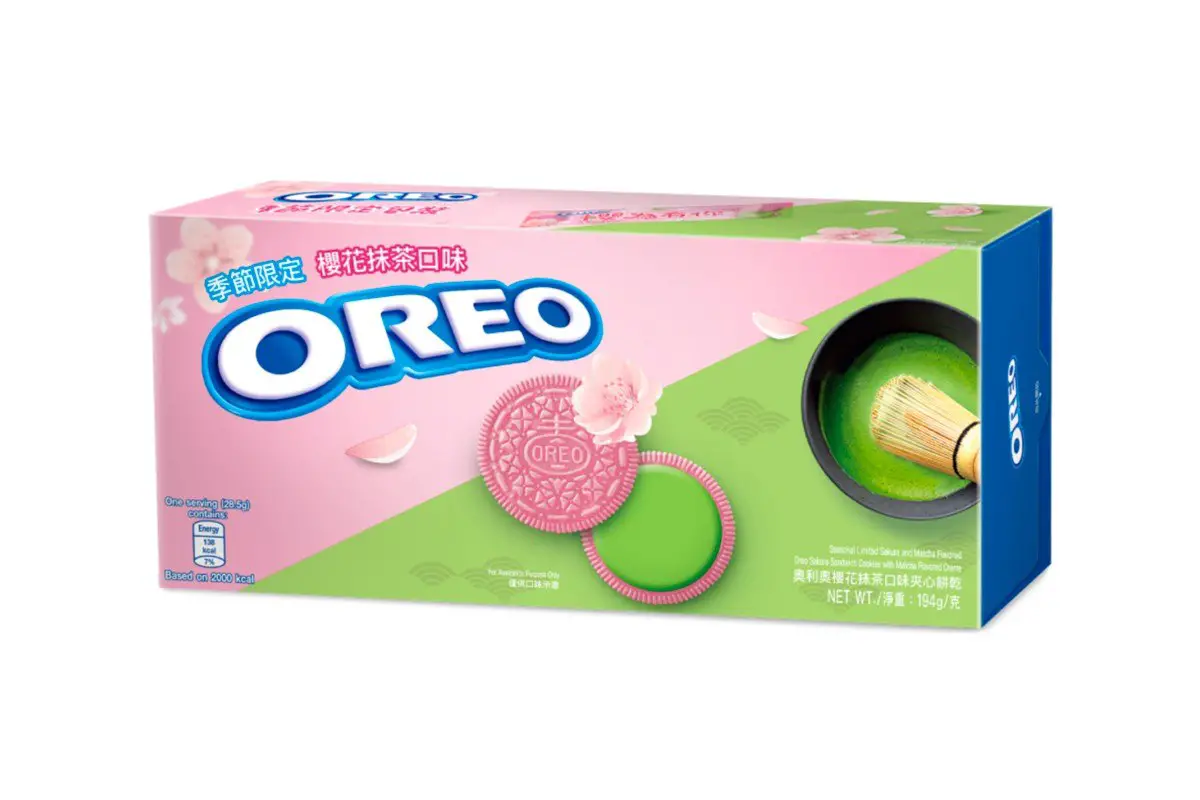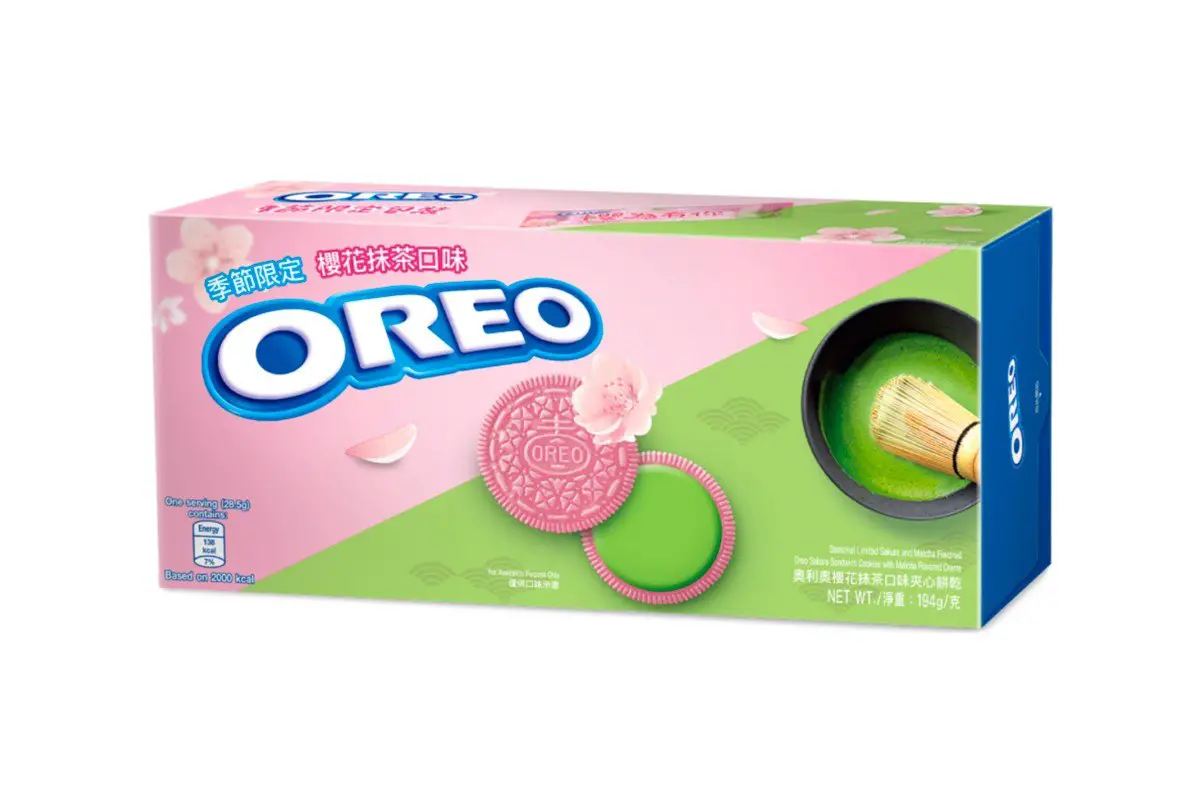 Also, a Japanese limited edition Oreo was released by Nabisco. The Sakura Matcha Oreo features crispy pink or white Oreo cookies that sandwich green tea-colored cream filling. The green tea cream filling is from the sakura tree. Generally, the combination is beautiful due to its bright colors. Also, its color doesn't vary from its taste, so it is incredibly delicious.
65.

Salted Caramel Oreos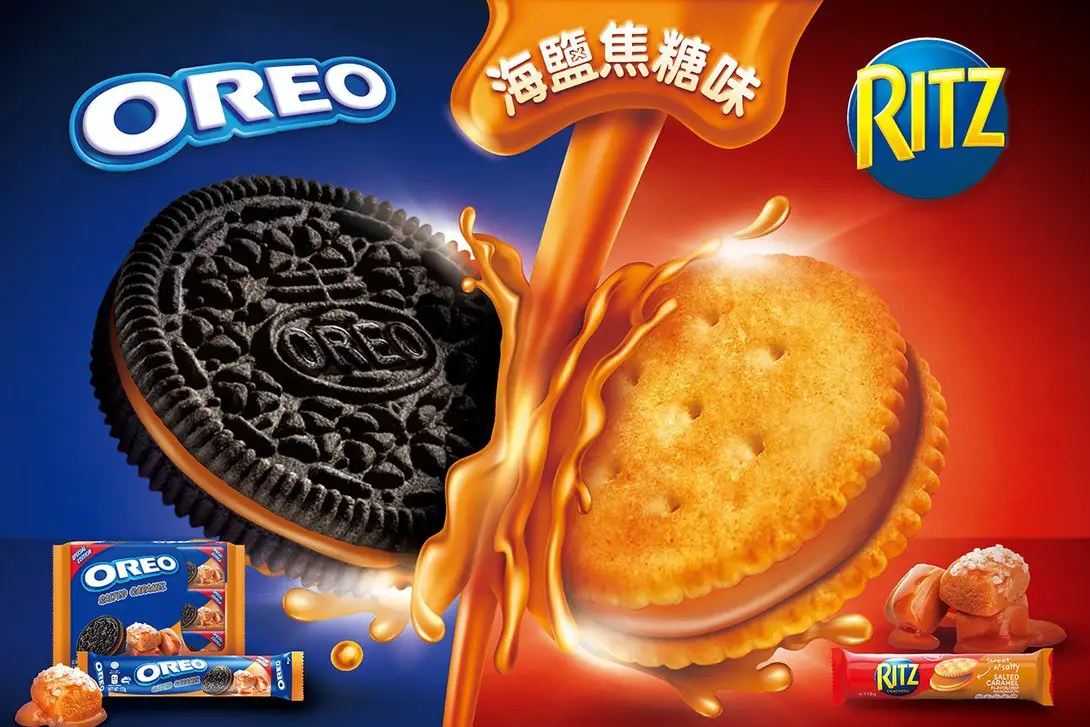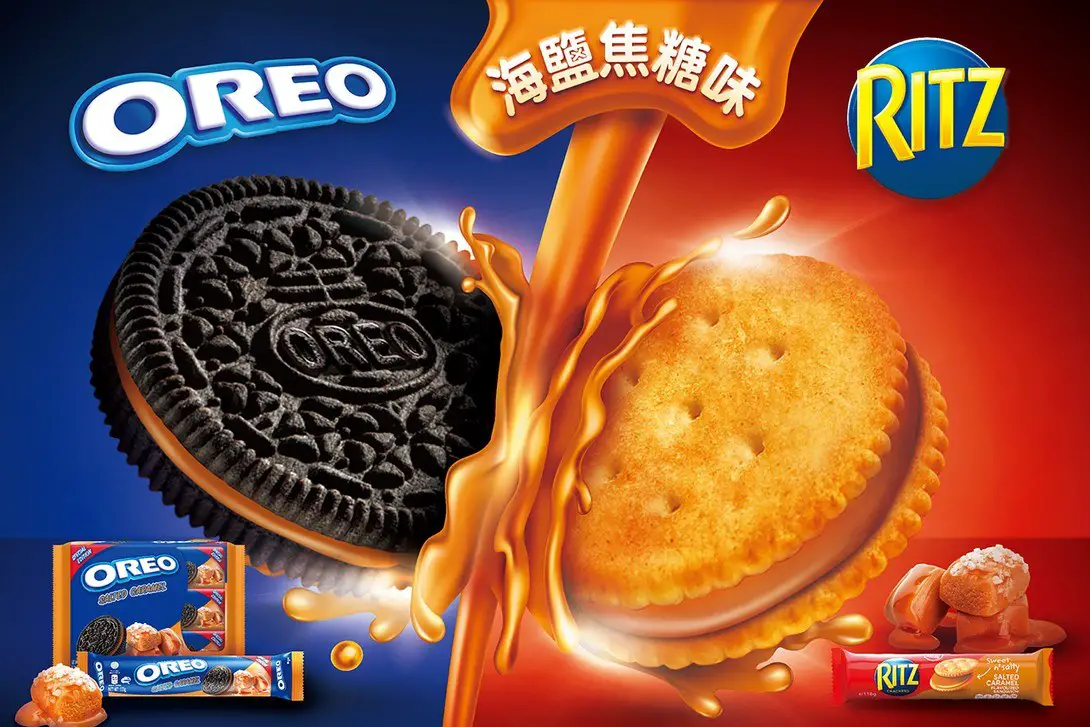 They consist of crispy golden Oreo thin cookies that sandwich salted caramel cream filling. The good news with the Oreo is that it is cholesterol-free. Therefore it should be your first choice, but it is an excellent health-wise. It is also a limited edition that was discovered by Nabisco Company. It usually is available in China.
66.

Spring Oreos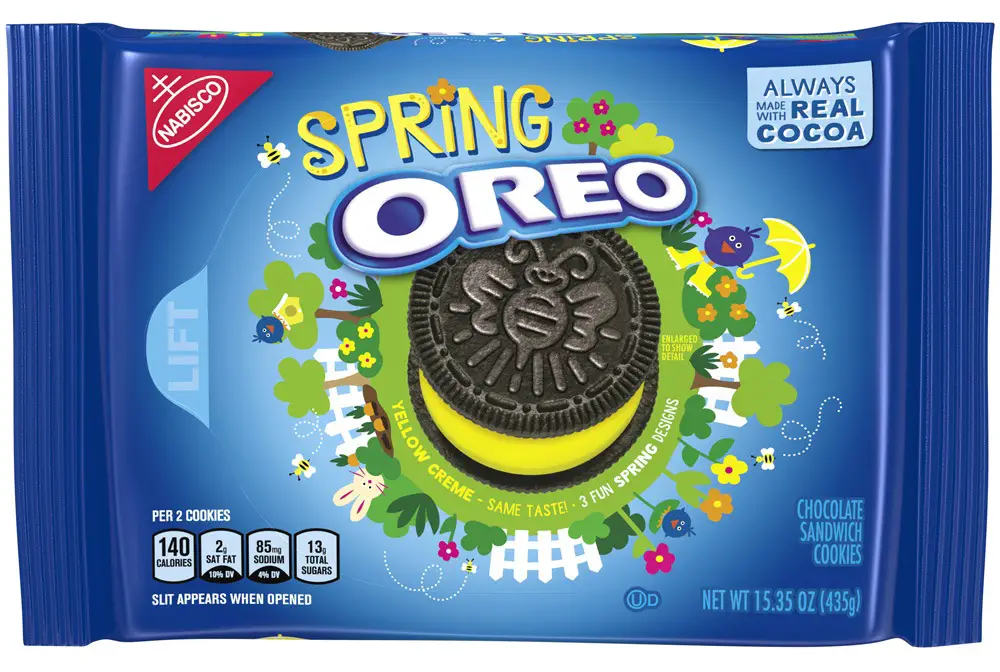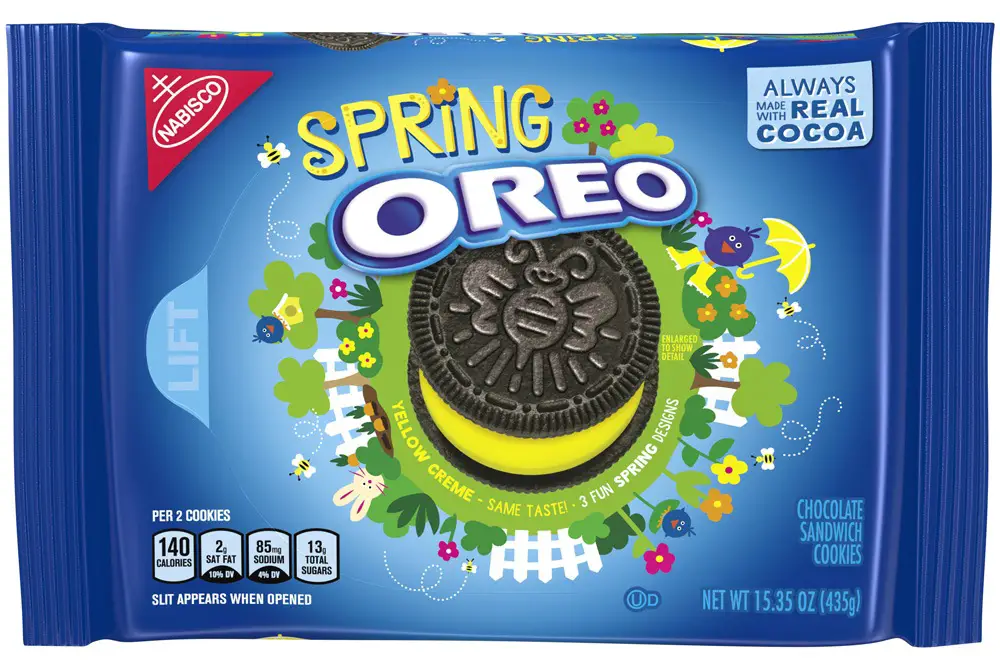 Spring Oreos resembles a regular Oreo in taste. You might even mistake it for the Original Oreo. But it differs from a regular Oreo because the Spring Oreos much delicious, and you can always find pleasure in the Oreo.
67.

Strawberry Cheesecake Oreos


The Strawberry fillings combine perfectly with the chocolate cookies more than with a golden cookie. It is a delicious dessert that was a hit. You can take it with your favorite drink and make it for various events. The combination consists of smooth strawberry cookies and velvet cream cheese that has pieces of cookies and cream. It is greatly loved.
68.

Strawberry Milkshake Oreos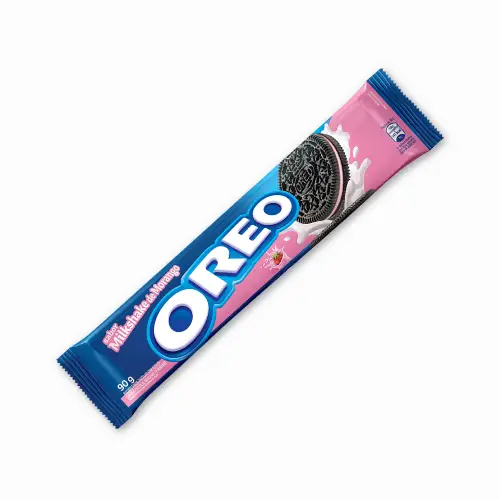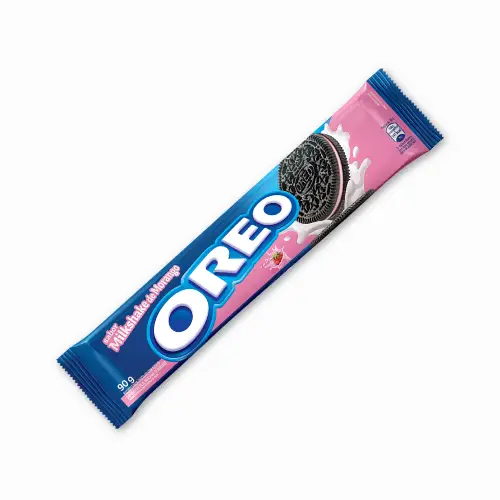 Some do not like them because they do not taste like chocolate or vanilla. But their taste is balanced anyway. Strawberry Milkshake is characterized by chocolate Oreo cookies that sandwich strawberry colored cream filling. It a weird discovery by Nabisco Company and was a limited edition. Strawberry Milkshake Oreo is perfect when taken with milk, but another drink of your choice is also great.
69.

Summer Oreos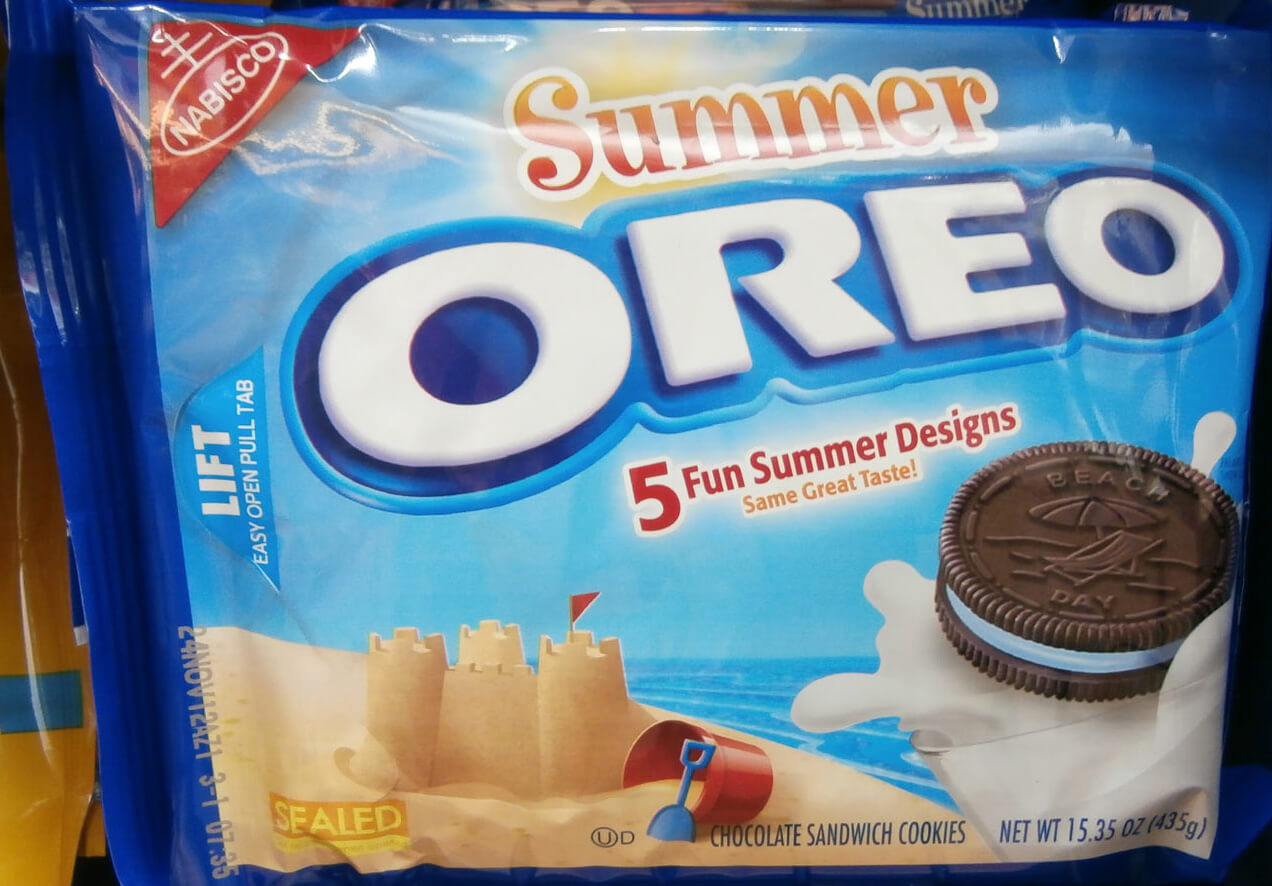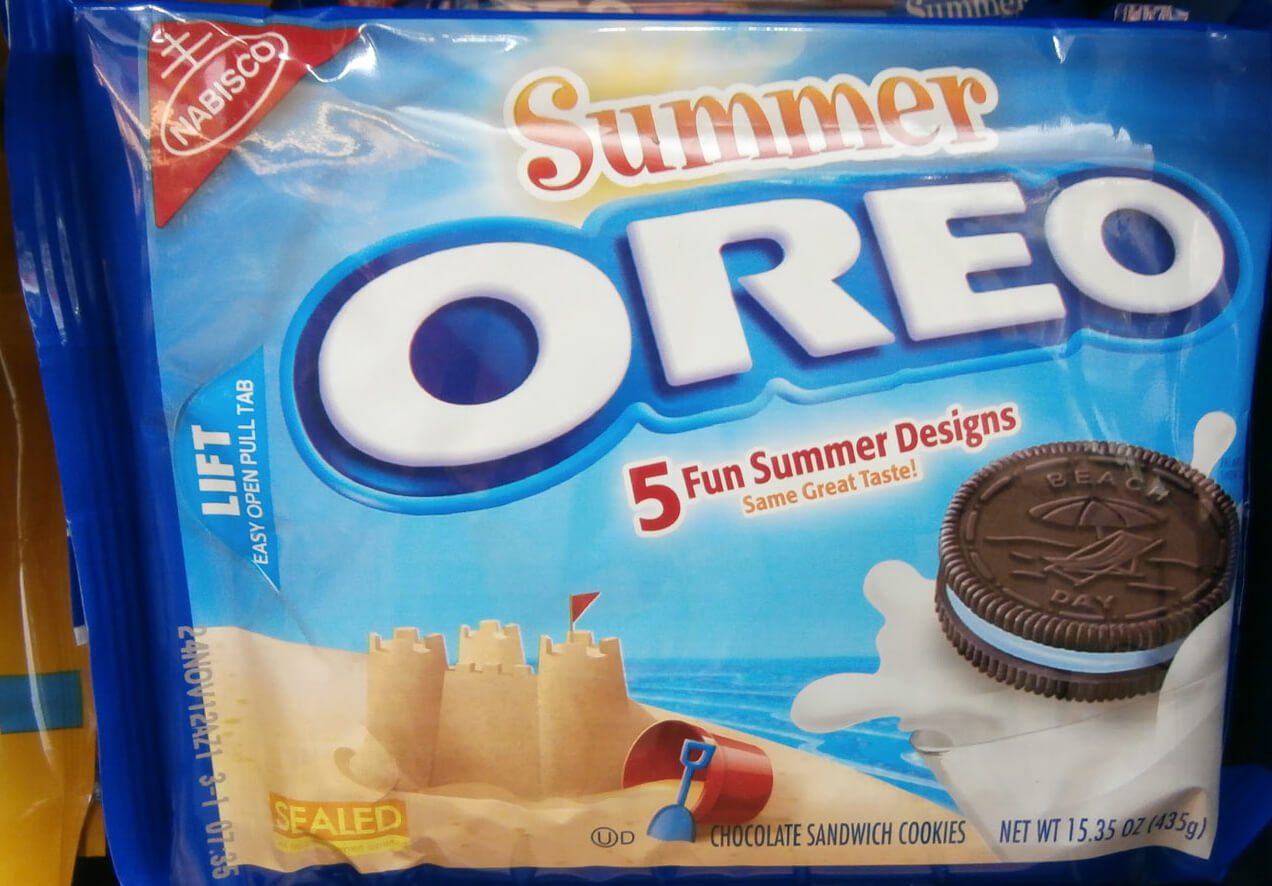 It is a limited edition that was launched by Nabisco. Summer Ores are artificially and naturally made as well. The scrumptious Oreo delicacy is comprised of two layers of cream filling, which is marshmallow flavored cream and chocolate-flavored cream filling. The two cream filling is sandwiched between two classic Graham chocolate cookies.
70.

Supreme Oreo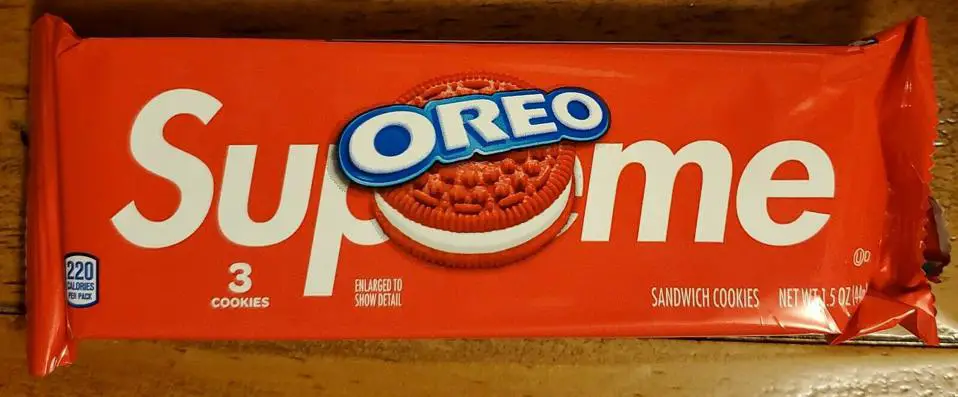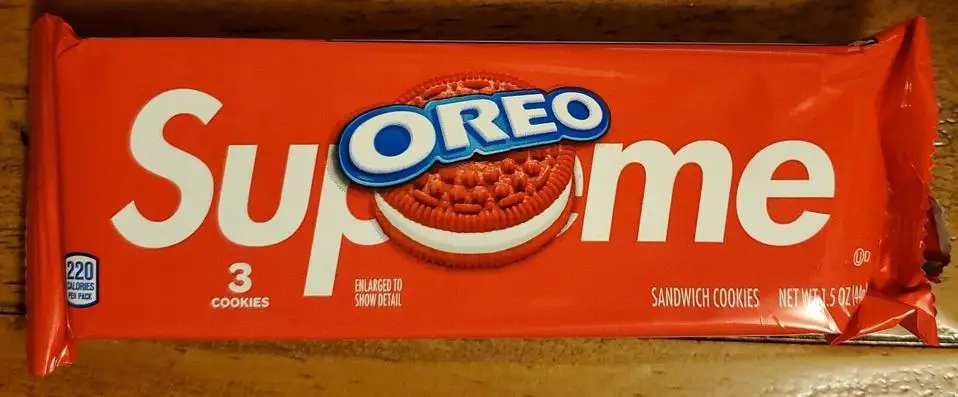 Just by looking at them from afar, they look delicious due to their red-colored chocolate cookies. However, the Supreme Oreo is very expensive. Nabisco released the Oreo on March 26. It is characterized by two red velvet chocolate Oreo cookies and a yummy cream filling making the combination delicious.
71.

Swedish Fish Oreos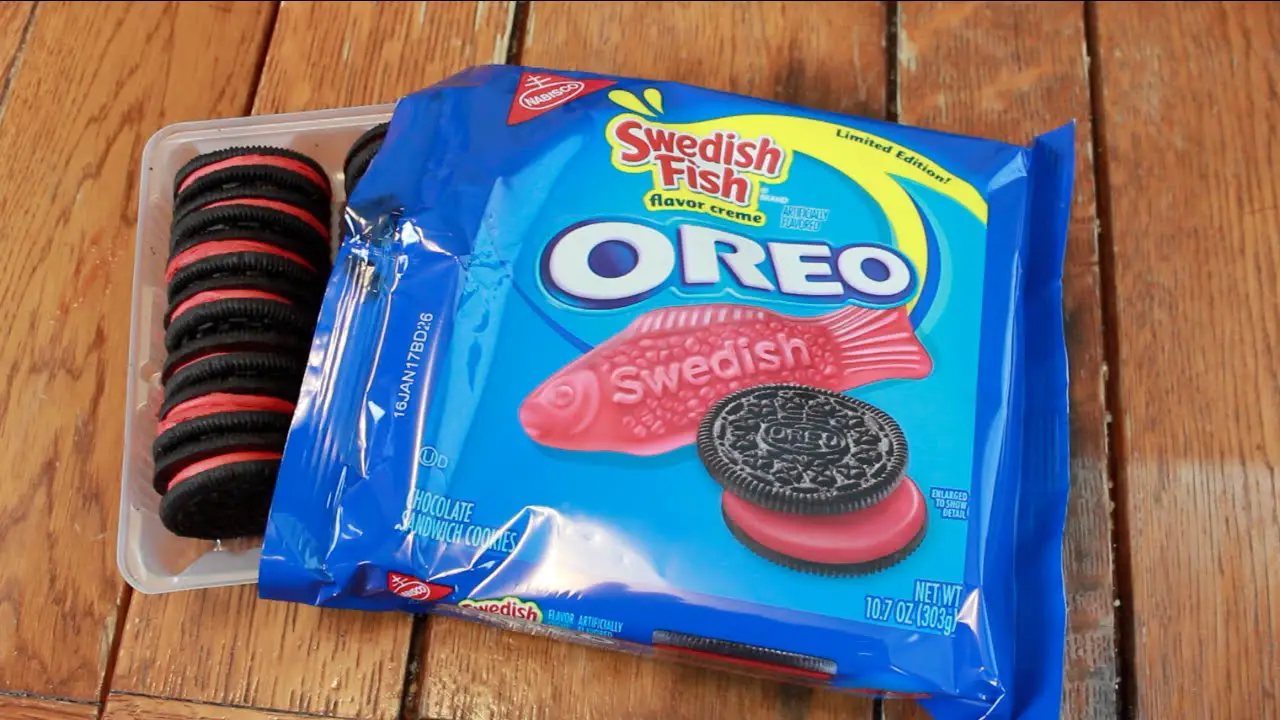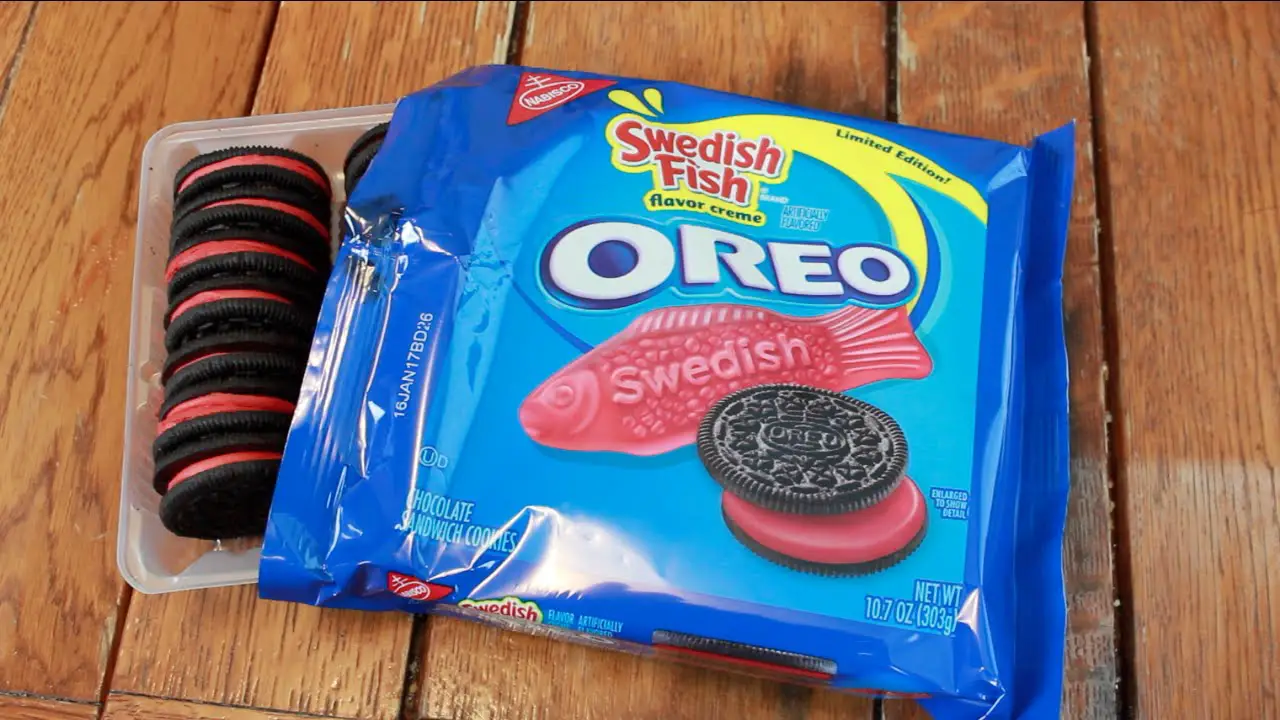 Swedish Fish and Oreo are always perfect even without combining them. Wondering what they would be like once they are paired. A specific biscuit company by the name Nabisco, in the year 2016, attempted to release Swedish Fish Oreos that comprised of chocolate cookies and sandwiched red Swedish Fish spiced cream. However, this Oreo was never famous.
One analyst said that the inventor ought to have written 'why' on the cookie, and it tasted like cherry cough syrup. However, the Swedish Fish Oreos are only found at Kroger stores.
72.

Tiramisu Oreos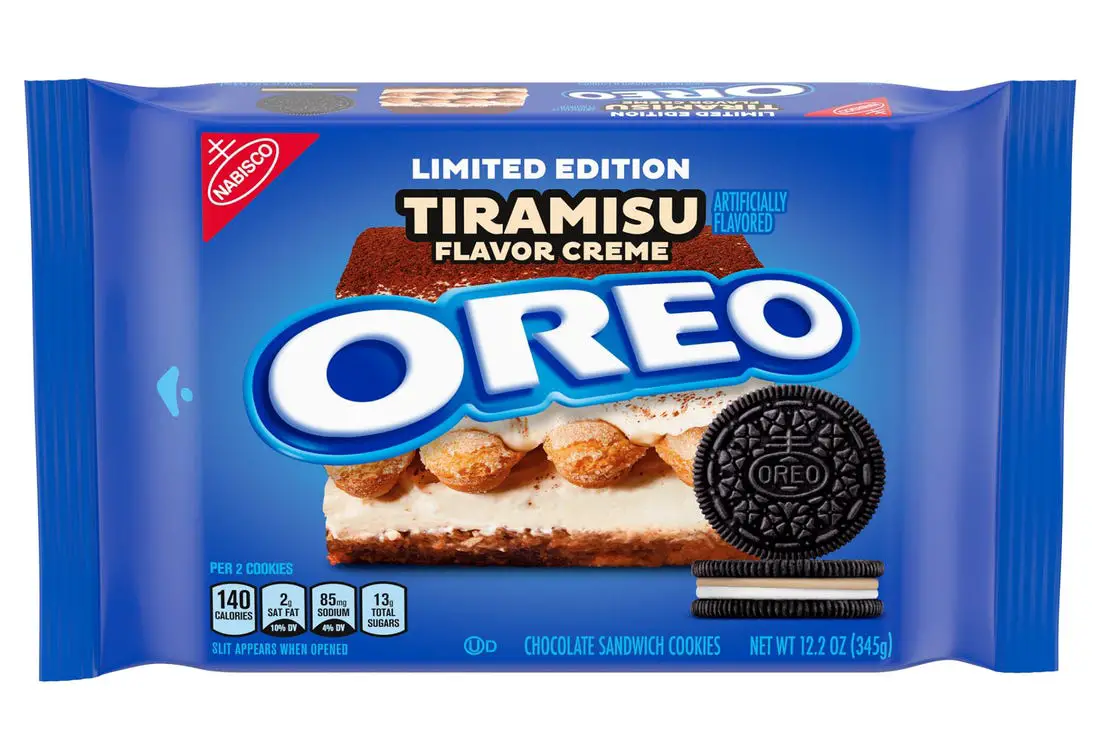 Tiramisu is generally a traditional Italian candy. Tiramisu Oreos is extremely impressive. It is a classic combination of two cream filling sandwiched in two chocolate cookies hence bringing out Tiramisu flavor. Treat yourself during a special moment with Tiramisu Oreo. Take it with a drink of your choice or just without any glass, you will be fine too. However, it is excellent with milk. It is found in Walmart, Albertsons, Kroger, Target stores, among others.
73.

Wafer Roll Oreos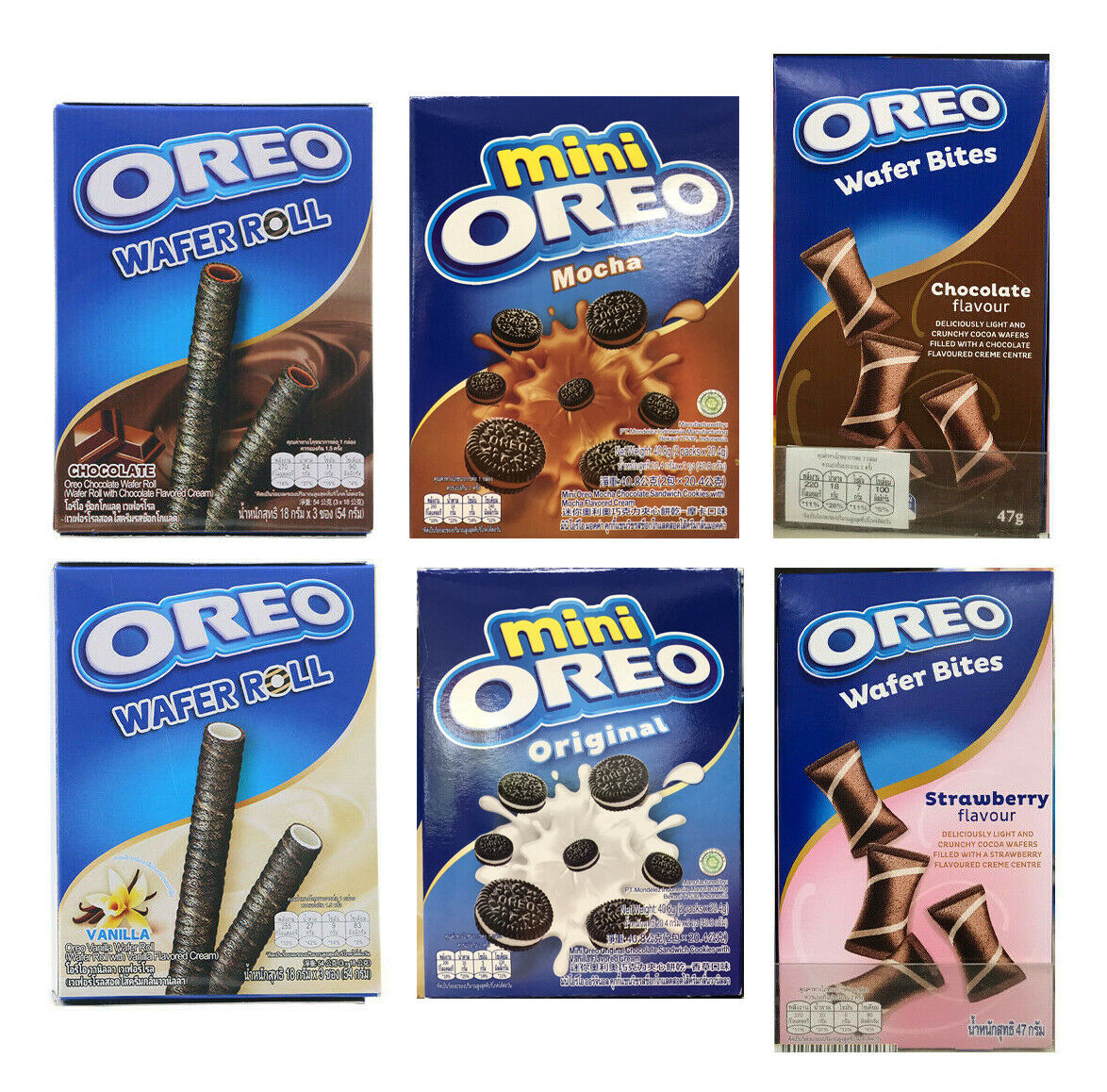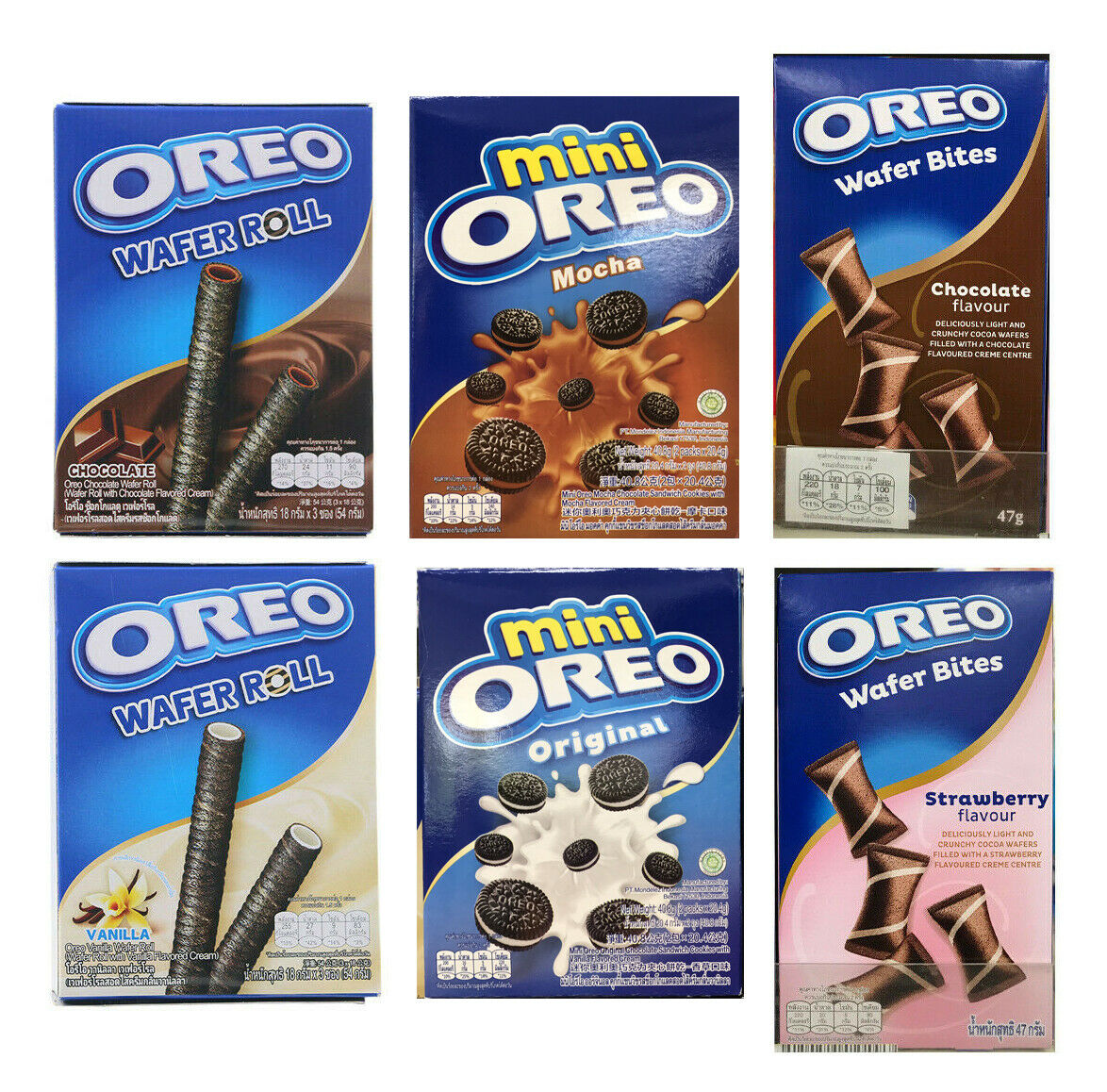 The Wafer Roll Oreos comes from Thailand. They could either be chocolate wafer rolls with strawberry cream or chocolate wafer rolls with vanilla cream in it. The Oreo cookie is different from other Oreos in terms of its shape; you can take it with milk or any other drink you find convenient with the Oreo.
74.

Waffles and Syrup Oreos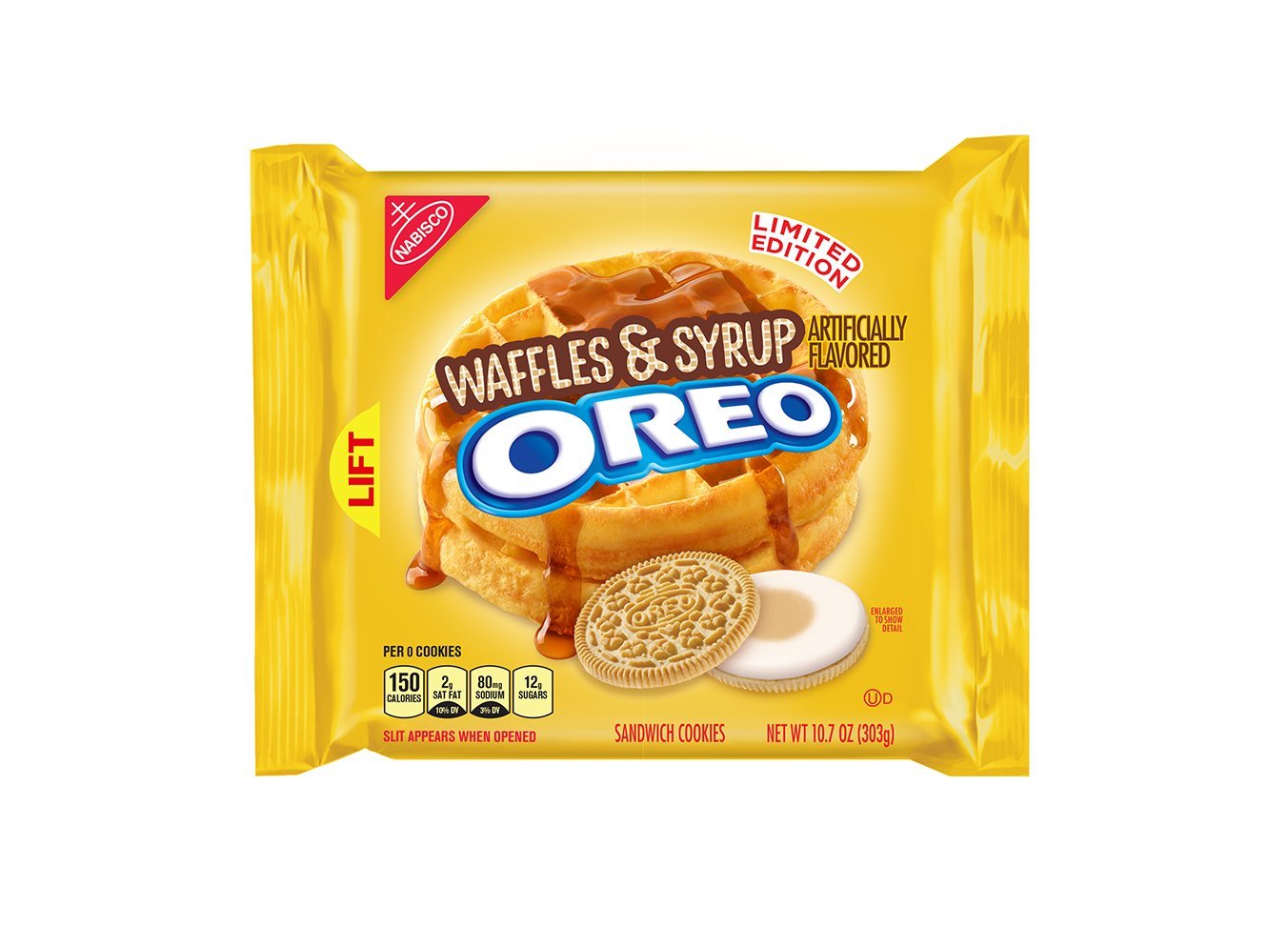 If you have had the desire and have been searching for the perfect refreshment, Waffles and Syrup Oreos is your answer. The Oreo was launched in 2017, and you would have found it only at Albertsons grocery stores, and they were incredibly yummy. However, Nabisco released a maple cream taste in 2019. Waffles and Syrup Oreo has a golden cookie, and a sandwiched waffle flavored cream with a syrup dot at the center.
75.

Wasabi Oreos
Certainly not as popular in the western parts of the world, wasabi Oreos is quite a different cookie for a diverse crowd. Wasabi Oreo was introduced in August 2018 in China by Oreo inventors Mondelez International. This green creme-filled cookie is characterized by spicy, salty, chocolate, and green milky taste. Wasabi is known to go together with sushi, but to make wasabi in an Oreo form is impressive. However, Wasabi Oreo is limited because it is only found in China.
The combination comprises yummy chocolate cookies that sandwich a green spicy cream filling. The color and taste of the spicy green cream are one of a kind, and it resembles the green tea flavor Oreo. The taste of the cream makes Wasabi Oreos tantalizing. You should try the Oreo, and you will undoubtedly crave more if you're into that type of flavor.
76.

Watermelon Oreos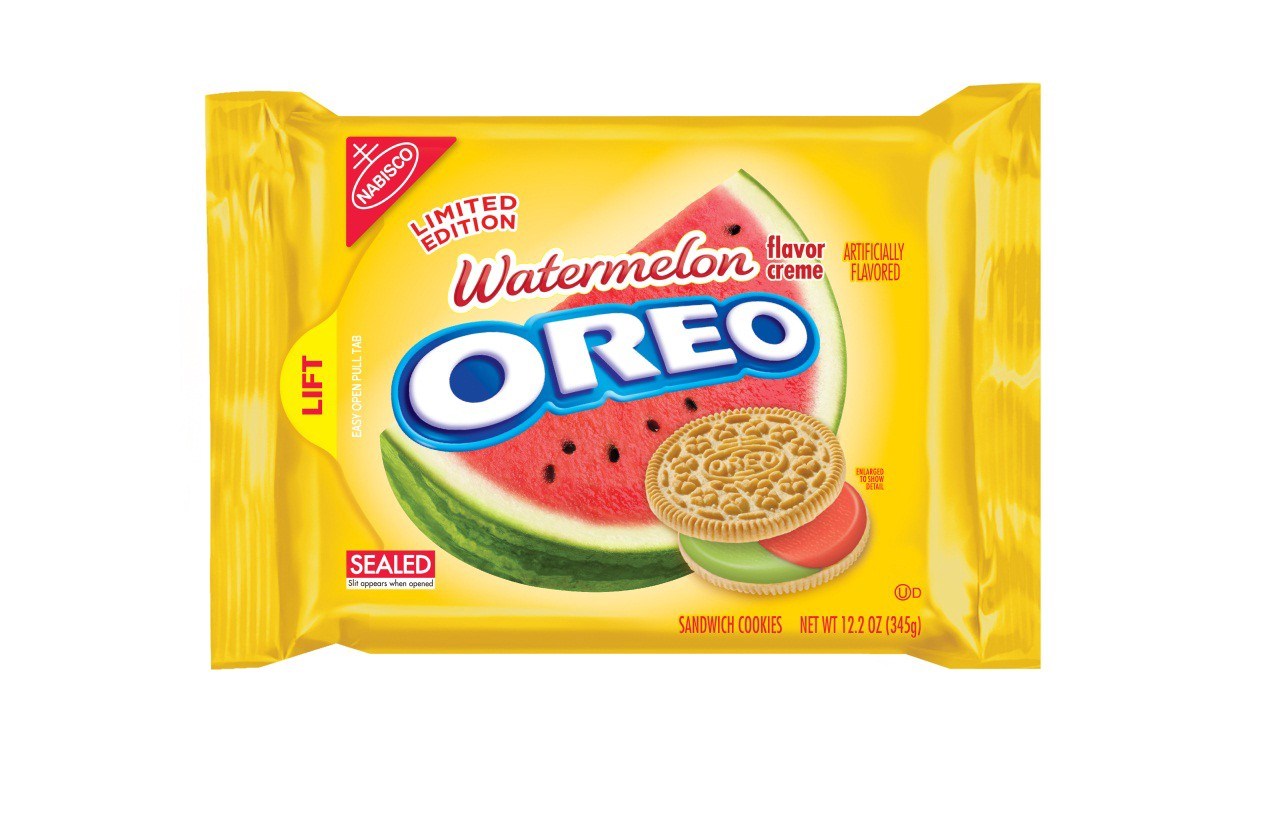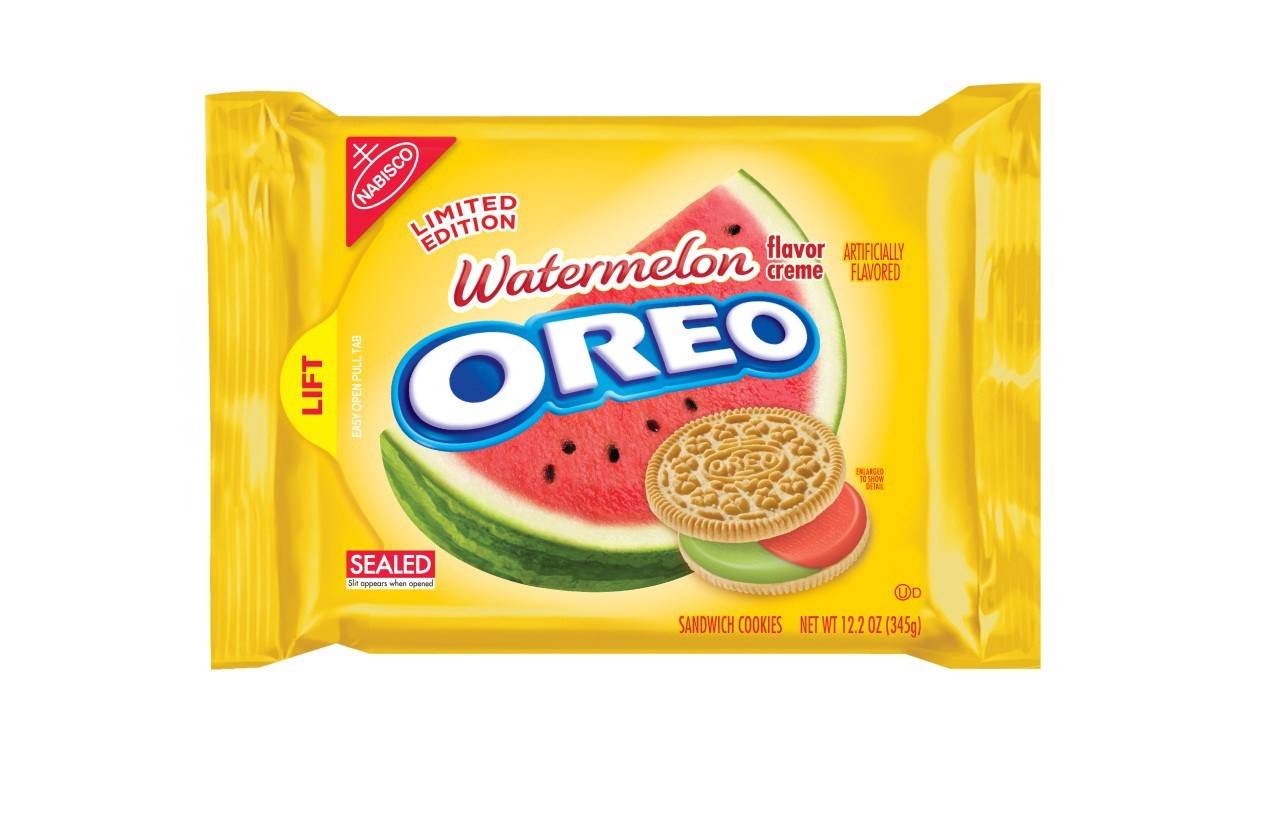 Watermelon is always great, especially during the hot season. But then what happens when an Oreo is combined with Watermelon? Do they deliver what a client would have expected? Nabisco released a limited edition version of it on 10th June 2013. Watermelon Oreo is a combination of classic vanilla cookies that sandwich pink and light green fruit spiced filling.
Nevertheless, A Junk Food Guy commented that the Oreo was marvelous such that he never expected what he found in the treat. Also, he said the Oreo had a sophisticated taste that a person found pleasure in.
Ka-boom! Mind-Blowing Oreo Cookie Facts
Hungry for more Oreo? How about twisting open these ten sweeeeet Oreo factoids here.
What Do You Think?
These weird Oreo flavors leave a distinctive, funny taste you might want to get rid of as fast as you can. Interestingly, some people have come to love the wired flavors and will go to any length to get it. Unfortunately, you won't always find the same taste you love because there are too many of them. Tell us what you think about these weird Oreo flavors mentioned in our list by commenting below!