Traveling and visiting new places is always fun, especially if you're doing it in glamping (glamorous camping) form to create a unique vacation experience. Spending time in the beautiful terrains to get out of town can make mesmerizable moments. And when we talk about Southern California, it is famous for such beautiful glamping sites. You will want to pack your bags because these popular glamping spots are highly rated and are to die for. Below mentioned are the best glamping destinations in southern California, where you can spend a luxurious time remembering for the rest of your life.
10.

The Forest Camping Hut
Website: airbnb.com/rooms/11552876
Located in: Elk, California, United States
Address: Exact location provided after booking
Phone: You can contact the owner through Airbnb
The forest camping huts are a few miles from the Pacific Ocean. It is a place that will reconnect you with nature. They provide you queen-sized beds, outdoor bathtubs, and showers. Apart from this, they have their restrooms, sinks, stoves, and a lot more. In short, they provide the warmest experience which you will remember throughout your life.
9.

Shelter Co.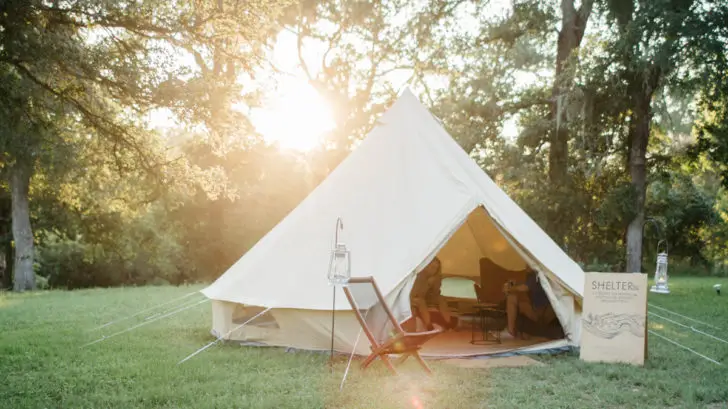 Website: shelter-co.com
Located in: You pick the location, they set up the tent and facilities!
Address (HQ): 4040 3rd Street San Francisco, CA 94124
Phone: (415)967-3630
Shelter Co. is a place that gives you an authentic camping experience by letting you choose where you want to set up your camp. The idea is that you select where you want to go (or ask their expert opinion) to set up your camp, and they will do the work as far as setting up tents and facilities. They are a California based company and have a calculated fee depending on which location you choose. They have many packages. The most basic package includes a completely furnished tent house, restroom facilities, and a lot more. They undoubtedly serve some best meals which you can enjoy in nature.
8.

Ventura Ranch Koa-Yurt
Website: koa.com/campgrounds/ventura-ranch/
Address: 7400 Pine Grove Rd, Santa Paula, CA 93060
Phone: (805) 933-3200
The Ventura Ranch Koa comes under the highest mountains of the country. This beautiful resort allows you to fall for nature all over again. Here they have some beautiful beaches of 15 miles and great views. They have fun activities, including jumping pillows, playgrounds, nature walks, and zip linings, which the organizers offer only. It is near Los Angeles, and undoubtedly they provide you some crazy and beautiful experiences of your life.
7.

Keough's Hot Springs

Website: keoughshotsprings.com
Located in: Wildcare Eastern Sierra
Address: 800 Keough Hot Springs Rd, Bishop, CA 93514
Phone: (760) 872-4670

Keough's hot spring is situated right outside the bishop's off scenic highway 395. There are some natural hot water pools, which gives you a great diving experience. The natural hot water springs flow right from the ground. The water is full of minerals and is excellent for the body. They offer tents with some mini-refrigerators, heaters and fire pits. The beds and the comforters are warm enough and give you a great experience. The best season to visit the place is "fall" when the leaves are changing colors. Most of the rooms hard to come by during the fall.
6.

El Capitan Canyon
Website: elcapitancanyon.com
Address: 11560 Calle Real, Santa Barbara, CA 93117
Phone: (805) 685-3887
El Capitan Canyon provides you a luxurious camping experience. The camping booth is 15 minutes north of Santa Barbara near the Capitan state beach. Here they have safari camps, with some wooden surfaces and screened windows and doors. They also have down style duvets and willow beds with some super warm blankets. They indeed provide some best meals which you can enjoy with some musical nights and dance.
5.

The Trailer Pond
Website: thetrailerpond.com
Located in: Alta Colina Vineyard & Winery
Address: 2825 Adelaida Rd, Paso Robles, CA 93446
Phone: (805) 227-4191
The trailer pond in Paso Robles allows you to experience the ancient era. It is a theme-based holiday venue where you can spend some of the best time of your life. It is situated right inside the vineyard to gives you the experience of nature. They have some fresh linen, towels, and a beautiful coffeemaker with some organic coffee beans in the yard. So if you are a person with Sobat yet exquisite taste, then this place is for you.
4.

High Sierra Camp, Yosemite National Park
Website: travelyosemite.com/lodging/high-sierra-camps/
Address: Pacific Crest Trail, Glen Aulin, CA 95389
Phone: (888) 413-8869
This place includes the five different camps around the quietest and peaceful area, Tuolumne Meadows, in Yosemite National Forest Park. Here you can hike as well as horse packing trip is also one of the options. They have camps from 6 to 10 miles as well. Due to the temperature, they provide cabin tents along with wood-burning stoves to keep the visitors warm. They serve hot breakfasts, lunches, and dinners along with some light snack which you can have on the way. Yosemite National Forest Park offers you the best hiking experience.
3.

Safari West Santa Rosa
Website: safariwest.com
Located in: Sonoma County
Address: 3115 Porter Creek Rd, Santa Rosa, CA 95404
Phone: (800) 616-2695
This glamping spot is a wildlife habitat that is home to 900 animals. They include giraffes, gazelles, and some other Savanna habitats. Here they allow night stays to experience the African safari, that too in California. To give you the best of experience, they have imported their tents from Africa. This canvas experience can be one of the best experiences of your life. It's a place where you can not fall asleep. So if you are a wildlife lover, then this is the place for you.
2.

Sequoia High Sierra Camp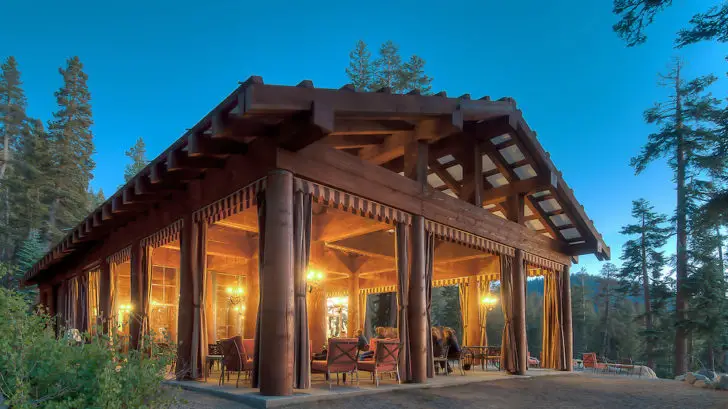 Website: sequoiahighsierracamp.com
Address: 65745 Big Meadows Dr, Sequoia Natl Pk, CA 93262
Phone: (866) 654-2877
The sequoia high Sierra camp is a remote camp where you can explore many things while hiking. There is a very famous one-mile hike where you will experience the unique glamping experience. The tents available there are quite lavish and luxurious; they provide you cozy beds and warm woolen blankets. The view at the time of breakfast is nothing less than heaven, where you can enjoy the alpine lakes or the vistas of high summits. This place is worth it for an adventure lover.
1.

Treebones Resort
Website: treebonesresort.com
Address: 71895 CA-1, Big Sur, CA 93920
Phone: (805) 927-2390
You can find the Treebones resort in central California in the very popular Big Sur. If you do not know where Big Sur is, the Santa Lucia Mountains are on the one side and cliffs edges. Here you will witness the live roaring sounds of sea lions and owls at night. They offer you some great farm to table cuisines which are incredibly delicious and fresh. Here you can enjoy some of the famous treasures such as jade next to the shore, sand dollar and willow beach, and many more. So, in short, this is a perfect holiday venue for the ones who are in love with beaches.
What Do You Think?
So you can visit all these luxurious resorts and enjoy glamping on your next trip. We hope you got ample knowledge about the top glamping gateways in southern California. What are your thoughts on these top glamping spots in southern California? Comment below your best pick!