There may be no bigger star in all of MMA than Conor McGregor thanks to his trash talk, swagger, and amazing fighting ability. Here are 8 interesting facts about the notorious Conor Mcgregor.
1. He was on welfare
Before the fast cars and mansions, Conor's life was anything but glamorous.
Coming from a middle-class family it was natural for Conor to pursue a blue-collar job. He was actually a plumbers apprentice for a time but soon quit hating the job. That's when he decided to pursue MMA professionally.
After making a name for himself in Ireland fighting, McGregor knocked out Marcus Brimage in just 67 seconds. That was his MMA debut fight and he won $60,000 for it.
Only days before he collected his weekly welfare check from the Irish government for only $189 euros.
2. First UFC fighter to hold two weight division belts at the same time.
Conor has had one of the quickest rises in ranks in all of MMA history. Conor had that superstar cocky attitude since day one and the skills to back it up.
He debuted in 2013 as a Featherweight and in 2015 Conor fought Jose Aldo has was undefeated for 13 years and the current champ. McGregor dispatched him in just 13 seconds.
Seemingly almost immediately McGregor was scheduled to fight Rafael dos Anjos, holder of the lightweight belt. Rafael dos Anjos had to pull out of the fight after getting injured but two eventually fought.
Conor again making the reigning champ seem like an amateur at UFC 205. Putting on a performance of a lifetime, Conor cemented his name in UFC history
3. Conor Mcgregor was bullied
Hard to believe now but Conor Mcgregor was bullied when he was younger. While walking to and from school in his hometown of Crumlin, Dublin he was regularly picked on by kids older than him.
Things sometimes would physical but being blessed with the gift of speed McGregor would manage to getaway. He even mentioned in an interview how he put a dumbbell in his backpack to use as a weapon just in case.
Thankfully that option was never used and because of this hardship he endured, it pushed him to begin training and eventually become the word class martial artist we all know today.
It's surprisingly common how many great MMA fighters were bullied and pick on when they were younger.
4. Founded Proper No. Twelve Irish Whiskey
McGregor founder Proper No. Twelve Irish Whiskey in 2018. Being the face of the company and from heavy promotion sales almost boomed immediately and in April 2019 it had reportedly sold over 200,000 cases worldwide.
Making it an overnight success and making Proper 12 the second best-selling Whiskey right after Jameson. Not bad for the new kid on the block.
In 2021 McGregor sold his majority stake of Proper No. Twelve to Proximo Spirits for a cool $150 million. Despite the sale, he has gone on record saying "Proper Twelve is my baby for life!" and will continue to promote the brand.
5. Owns multiple homes
Unsurprisingly with a fortune his size Conor Mcgregor owns multiple properties worldwide.
In 2015 Conor McGregor was spending a lot of time in the United States, specifically Las Vegas. With the exhausting demand of so many fights, it only made sense to rent a little something for himself in Sin City.
Nicknamed the "Mac mansion" the expensive 12,000 square-foot property spared no expense with a full luxury spa, 50ft infinity pool, and small private golf course. Not a bad place to avoid getting homesick.
Staying true to his roots he has a multi-million dollar mansion in his hometown of Dublin, Ireland. McGregor reportedly spent two million Euros in 2019 acquiring this house.
The sprawling property's highlights include five bedrooms, six bathrooms, and a horse riding facility for good measure.
Ireland is not known for its amazing weather so to beat those winter blues you can catch Mcgregor vacationing in his 1.3 million Euro holiday home in Marbella, Spain.
Purchased in 2018 the modern property sports a customized gym and spa along with a swimming pool that can be accessed straight from his own bedroom. A great ocean view is the cherry on top.
6. McGregor was ranked as the world's highest-paid athlete by Forbes in 2021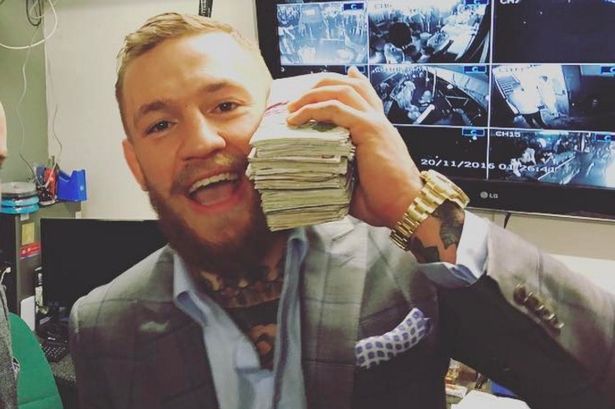 Earning $180 million for the last twelve months with the bulk of that coming from the sale of his whiskey company Proper No. Twelve for $150 million earns Mcgregor the top spot. It's his second appearance on this fabled list, coming in at No. 4 with $99 million in 2018.
This doesn't include the multitude of endorsements he has racked up. Outside of fighting McGregor has made $158 million, making him only the third athlete ever to earn over $70 million while still active in their respective sport.
Always looking for investments and a way to flaunt his cash McGregor has been tweeting recently about buying Manchester United, the Premier League's most valuable team. I'm sure he can find that in his couch cushions.
7. Fought one of the best boxers in the world
It was joked about at first but on June 14, 2017, it was announced to the world that the Irishman would compete against Floyd Mayweather Jr. who just happened to be one of the best boxers who has ever lived along with being undefeated.
McGregor started out strong winning a couple of the early rounds and confirming why he was a champ in MMA. It looked like the upset of the century could happen.
But Mayweather showed why Boxing and MMA are night and day despite being both combat sports. He gassed Conor out and soon was in complete control of the fight and eventually won in the 10 round by TKO.
Still no small feat to go toe to toe with Mayweather and go the distance, oh and it's your first professional boxing match. Despite the loss, Dana White praised McGregor in the post-fight press conference for landing 111 punches of 430 thrown (26%).
McGregor was guaranteed a purse of $30 million for the fight, not bad for a night's work.
8. Has an arrest record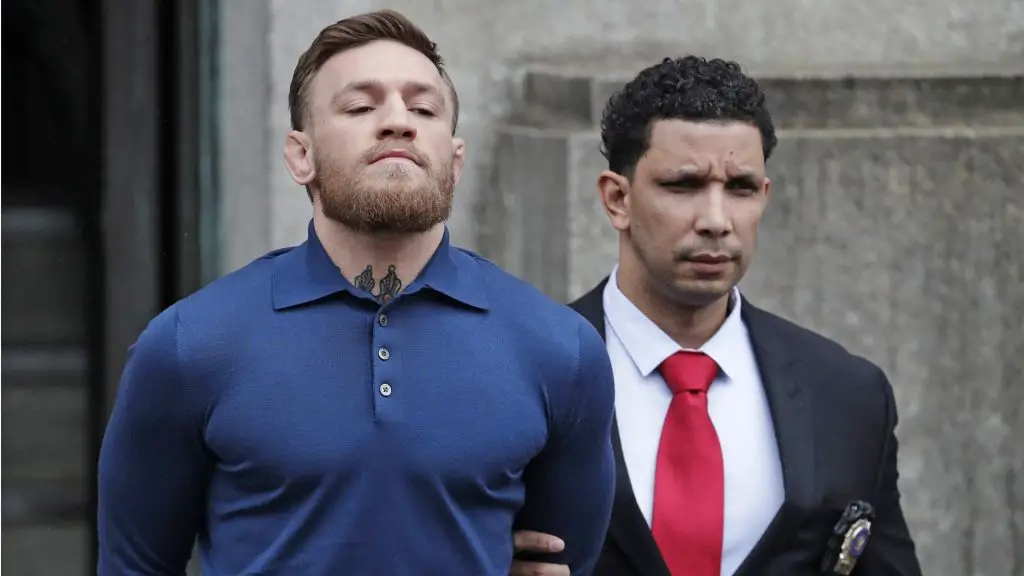 Despite massive piles of cash and a hectic fighting/training schedule, Conor has found himself on the wrong side of law multiple times. Some notable run-ins include:
Florida robbery arrest
On 11 March 2019, McGregor was arrested in Miami Beach, Florida after an altercation in which he was alleged to have taken a man's phone and smashed it on the ground. McGregor was promptly arrested and charged with strong-armed robbery along with criminal mischief.
McGregor was held in custody for several hours before being released on a $5,000 bond.
On 13 May, the criminal charges against McGregor had been dropped after the accuser's attorney said that his client had "been made whole" by McGregor.
Dublin pub assault
On 15 August 2019, a video surfaced showing McGregor punching an elderly man at The Marble Arch Pub in Dublin. McGregor was charged with assault and appeared in court on 11 October 2019. McGregor stated that he had repeatedly offered the victim a shot of his whiskey, which the victim repeatedly declined, then McGregor had punched him.
On 1 November, McGregor pleaded guilty to the assault and was fined 1,000 euros.
Corsica arrest
On 10 September 2020, McGregor was arrested in Corsica on suspicion of attempted sexual assault and indecent exposure for an incident alleged to have taken place in a bar. After being held in custody for two days, he was released without charge.
The investigation was later dropped due to insufficient evidence.
Wrap Up
Conor McGregor is a checkered character for sure but you have to give him credit for what he's accomplished in the octagon. He's a larger-than-life character who arguably raised UFC viewership considerably while bridging the gap into the boxing world. If you're a fan and looking to show your McGregor love then check out the shirts on Amazon below.